What to Expect From Big Tobacco In 2017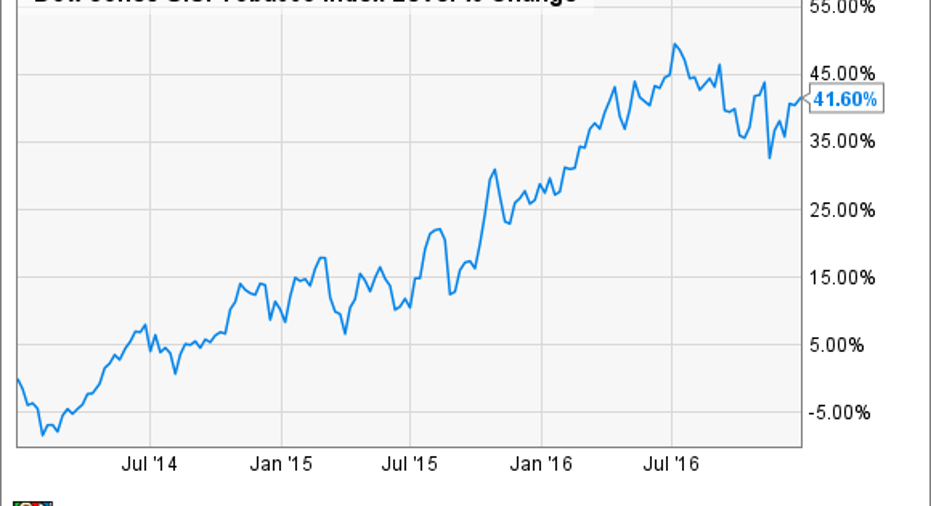 After posting a particularly strong run over the last few years, the U.S. tobacco industry turned in a solid performance again during 2016. However, these particular sin stocks have been facing pressure from regulators and a declining base of users in the U.S. Can the companies continue their run in 2017? Let's take a look.
Data by YCharts.
Raising prices, cutting costs
Although tobacco stocks have been doing well, tobacco use has been falling in the United States. Smoking, by far representing the largest category of tobacco products, has been steadily in decline.
In the past decade alone, the percentage of Americans who smoke has fallen from roughly 21% to around 17%. Half a century ago, the percentage of smokers in the U.S. was north of 40%. The trend could continue, as surveys conducted by the Centers for Disease Control and Prevention show that seven in 10 smokers want to quit.
Image source: Philip Morris International.
If Americans are smoking less, what's behind the rise in share prices? Sellers of tobacco products have more than made up for their declining base through price increases. From 2000 to 2014, the value of global cigarette sales increased 121% while, the total volume of cigarettes sold increased only 8%, according to the Campaign for Tobacco-Free Kids. That implies a more than doubling in price for a pack of cigarettes over that time frame.
That trend is showing no sign of letting up. Through the first nine months of the year, Marlboro maker Altria Group (NYSE: MO) has used price increases to grow its revenue from cigarettes by 0.9% in spite of shipments declining 1.7%. Look for price hikes to continue into 2017 and beyond.
Cost-cutting has also helped the bottom line. Altria announced a productivity initiative in January, and the efforts to get lean are underway. The company introduced a multiyear effort to consolidate manufacturing facilities and reduce headcount, which it anticipates saving the company $50 million a year by the time it's completed. Marketing, administration, and research costs also fell 3.6% year over year, and the company expects a total of$300 million in annualized savings by the end of 2017.
Consolidation and e-cigarettes
In tandem with price hikes and cost-cutting, U.S. tobacco has also been consolidating into fewer players. For example, Reynolds American (NYSE: RAI) purchased its rival Lorillard over the summer of 2015. The move was seen as helping drive cost savings and spark sales.
Reynolds itself has now been handed a buyout offer from British American Tobacco (NYSEMKT: BTI), which already owns about 42% of Reynolds. The proposed buyout would create the world's second-largest tobacco company. Reynolds is reviewing the offer and investors should stay tuned for a decision during the new year.
Reynold's VUSE brand e-cigs. Image source: Reynolds American.
The industry has also been pushing electronic cigarettes to stem the tide of lost smokers and that effort will continue in 2017. Reynolds American has its VUSE brand and Altria has its version of the product in Nu Mark.
Additionally, Altria has partnered with Philip Morris International in its development of its heated tobacco product iQOS. Philip Morris recently submitted iQOS to the Food and Drug Administration for regulatory review. Should the FDA approve it for sale, Altria owns the distribution rights in the U.S.
What to look for in 2017
Through price hikes, cost-cutting, and consolidation, U.S. tobacco companies have continued doing well. With the industry's most basic problem -- fewer smokers in many areas -- still front and center 2017 is likely to hold more of the same.
Also look for developments in the e-cig and heated tobacco front. The U.S. tobacco producers are hopeful that this area will provide long-term growth, but so far none of the companies are reporting specific numbers on their progress and regulatory rulings are in the offing.
10 stocks we like better than Altria Group When investing geniuses David and Tom Gardner have a stock tip, it can pay to listen. After all, the newsletter they have run for over a decade, Motley Fool Stock Advisor, has tripled the market.*
David and Tom just revealed what they believe are the 10 best stocks for investors to buy right now... and Altria Group wasn't one of them! That's right -- they think these 10 stocks are even better buys.
Click here to learn about these picks!
*Stock Advisor returns as of Nov. 7, 2016
Nicholas Rossolillo has no position in any stocks mentioned. The Motley Fool has no position in any of the stocks mentioned. The Motley Fool has a disclosure policy.