What This New Personal-Computer Market Forecast Could Mean for Intel Corporation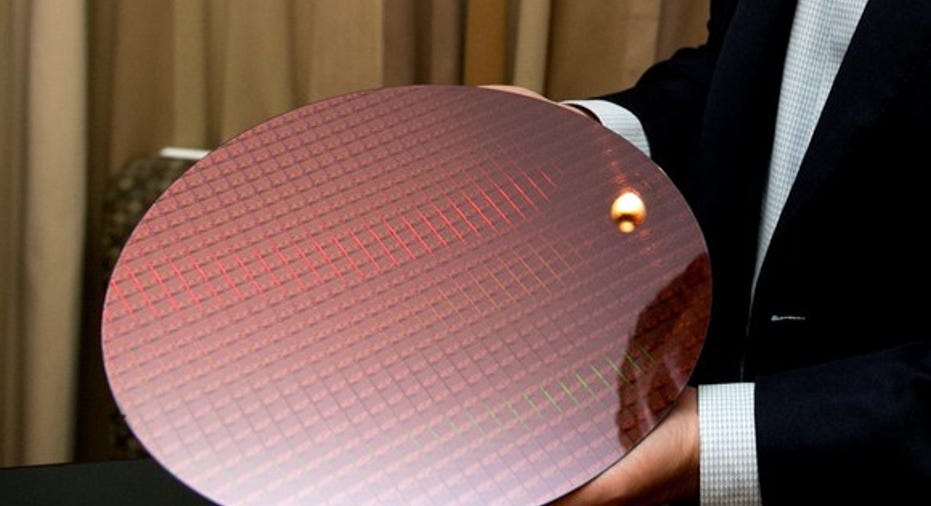 Market research company IDC recently published its revised outlook for the overall personal-computer, or PC, market. Although the figures that IDC gives merely represent predictions, and they are revised very often, it's useful for investors in Intel (NASDAQ: INTC) -- a company that generates more than half of its revenue from sales of chips into PCs -- to be aware of what the current industry predictions are.
IDC says it now expects PC shipments to drop 6.4% in 2016,an improvement over August's projection for a decline of 7.2%. For 2017, IDC still expects unit shipments to drop by 2.1%. However, the company rightly points out that "absolute volumes are slightly higher based on stronger 2016 shipments."
Let's look at the potential implications for Intel if these projections hold true.
A wafer of Intel processors aimed at personal computers. Image source: Intel.
A nice 2017 for Intel's Client Computing Group?
Intel's Client Computing Group, which mainly generates its revenue and profit dollars from sales of chips into PCs, has seen its revenue grow by about 1.35% year to date. That performance is significantly better than the year-over-year decline IDC expects for the personal-computer market, though we'll have to see where this segment ends up once the year is done.
Intel says that year to date, its notebook and desktop platform shipments dipped 1% and 5%, respectively. However, its average selling price in both categories has grown by 2%, helping to stabilize revenue even as unit shipments declined.
If IDC's predictions are correct, and that's a big "if," then the unit shipment story could get better for the chipmaker during 2017.
At its late 2015 investor meeting, Intel outlined its strategy to keep processor average selling prices flat to up as well, by continuing with its efforts to appropriately segment the market. It also discussed its intention to sell additional non-processor components such as Thunderbolt 3, Wi-Fi/WiGig controllers, and even storage drives based on its upcoming 3D XPoint memory technology to grow its dollar content per personal computer.
If Intel's strategy to grow chip average selling prices and grow its average content within PCs continues to play out during 2017, then that, coupled with a healthier market, could mean slight revenue growth next year for its client computing group.
A big caveat
Although IDC seems to be calling for the unit declines in the PC market to slow significantly in 2017 relative to 2016, it's important to note that predictions this far out about a volatile industry shouldn't be too heavily relied upon. For example, at the beginning of 2012, IDC predicted that PC shipments would grow 5.4% that year. Instead, shipments declined 3.2%.
Indeed, at a recent investor conference, Intel VP Stacy Smith said the company is "biasing [its] planning to be relatively cautious to drive for a market that kind of looks over the next several years how it's looked over the past several years."
I wouldn't be surprised, then, if when Intel gives its full-year 2017 guidance in January, it bakes in a more significant unit decline than what third-party market research companies such as IDC predict -- just to be safe.
10 stocks we like better than Intel When investing geniuses David and Tom Gardner have a stock tip, it can pay to listen. After all, the newsletter they have run for over a decade, Motley Fool Stock Advisor, has tripled the market.*
David and Tom just revealed what they believe are the 10 best stocks for investors to buy right now... and Intel wasn't one of them! That's right -- they think these 10 stocks are even better buys.
Click here to learn about these picks!
*Stock Advisor returns as of November 7, 2016
Ashraf Eassa owns shares of Intel. The Motley Fool recommends Intel. Try any of our Foolish newsletter services free for 30 days. We Fools may not all hold the same opinions, but we all believe that considering a diverse range of insights makes us better investors. The Motley Fool has a disclosure policy.