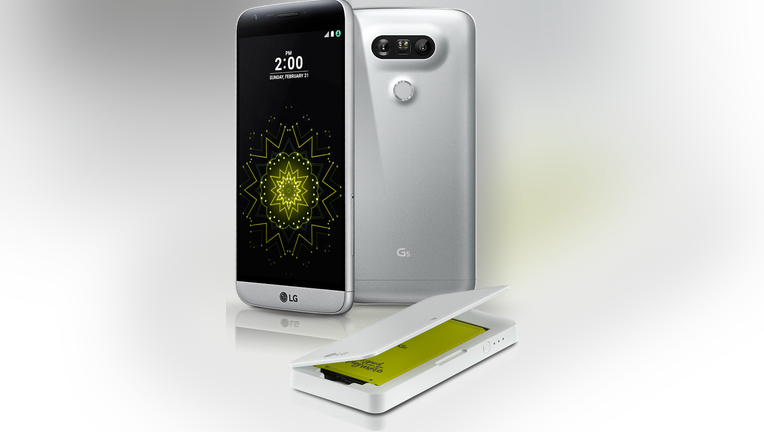 The LG G5. Image credit: LG.
It is well known that Apple won't be switching to OLED-based displays with the iPhone 7/7 Plus phones that are set to launch this year; KGI Securities' Ming-Chi Kuo says that the first OLED iPhone will arrive in the 2017 timeframe, complete with an all-new industrial design.
However, just because Apple won't be moving to an OLED display this year doesn't mean that the iDevice maker won't bring a significant improvement in display performance to its upcoming flagships. After seeing a review of the recently released LG G5 -- a flagship packing an LCD -- it's clear what sorts of advancements we will see with the iPhone 7 Plus' display.
Big contrast ratio boost; brightness jumpAccording to Apple, the display on the iPhone 6s Plus features a typical contrast ratio of 1300:1 and a typical max brightness of 500 nits. At the time that the iPhone 6 Plus launched (the 6s Plus carries over the same display from the 6 Plus), this was quite respectable for a high-end LCD.
These days, though, it's pretty dated.
The LG G5 -- according to a review from Phone Arena -- delivers some very seriously impressive performance numbers. Measured contrast ratio comes in at a very solid 2220:1, a significant boost from what the iPhone 6s Plus' display comes in at. Maximum brightness in nits measures in at 816 nits, which is quite impressive.
Given what LG was able to achieve here, I have little doubt that Apple -- which tends to deliver very impressive displays with its "new number" iPhones -- will be able to meet or exceed the display specifications seen with the LG G5 -- at least with its higher-end iPhone 7 Plus.
A display resolution jump, tooThe iPhone 6 Plus/6s Plus feature displays with 1920x1080 resolutions. Given that LG was able to pack a quad-HD (2560x1440) LCD with excellent contrast and very high brightness into a phone with "just" a 2800 mAh battery (the iPhone 6s Plus has a 2715 mAh battery; iPhone 7 Plus will likely be larger), I have little doubt that Apple will increase the resolution on the iPhone 7 Plus' display to 2208x1242 (the native rendering resolution on the iPhone 6 Plus and 6s Plus).
This should be a solid update ahead of the OLED iPhoneAlthough I must admit to be extremely excited for the rumored follow-on to the iPhone 7 Plus, which is expected to come with a curved OLED display, the iPhone 7 Plus should be a solid upgrade over the current iPhones.
With a new, much better LCD, thinner body, better internals, and probably a much better camera subsystem, the iPhone 7 Plus/Pro phones should be a nice upgrade for users with iPhone 6-class iPhones or older. The new OLED-packing iPhone in 2017 should be a big enough advance to grab iPhone 6s owners and holdouts with older generation iPhones.
More from The Motley Fool
The innovation from Apple will accelerateOver time, I believe that Apple will bring innovations to its new phones, whether it be in displays or elsewhere, at an extremely rapid clip -- far faster than it has in the past. This level of innovation will be necessary in order to combat the effects of "good enough" iPhones.
Make no mistake: convincing people to upgrade from phones like the iPhone 6-series and beyond is going to become increasingly tough. Apple's marketing and engineering teams have significant challenges ahead of them in the coming years, and it will be interesting to see if Apple can succeed where its competition has failed.
The article What the LG G5 May Tell Us About the Apple Inc. iPhone 7 Plus originally appeared on Fool.com.
Ashraf Eassa has no position in any stocks mentioned. The Motley Fool owns shares of and recommends Apple. Try any of our Foolish newsletter services free for 30 days. We Fools may not all hold the same opinions, but we all believe that considering a diverse range of insights makes us better investors. The Motley Fool has a disclosure policy.
Copyright 1995 - 2016 The Motley Fool, LLC. All rights reserved. The Motley Fool has a disclosure policy.