What the Heck Happened to General Motors?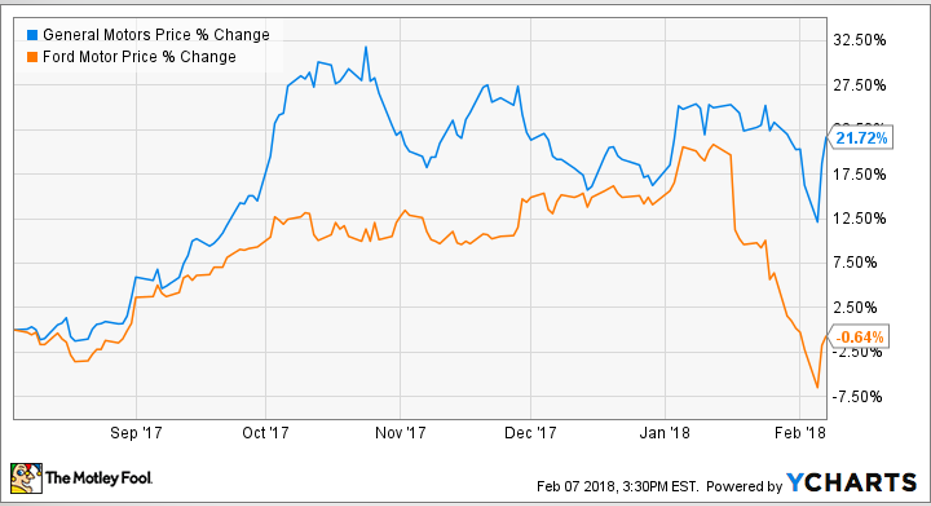 General Motors (NYSE: GM) deserves to be commended for its efforts to step ahead of its Detroit competitors over the past couple of years. The company has taken excellent steps by investing in Lyft, developing a smart mobility brand with Maven, and acquiring companies to bolster its development of autonomous vehicles. GM's fourth-quarter was solid too, unlike the results of its chief rival Ford Motor Company, so long as you understand that its massive net loss isn't the number investors need to focus on. Let me explain.
Numbers never lie?
General Motors felt a little pressure on its top-line revenue that was down 5.5% to $37.7 billion during the fourth-quarter, but the eye popping figure was its net loss of $4.9 billion compared to the prior year's net income of $1.9 billion -- a massive $6.8 billion decline. For the full-year 2017 General Motors recorded net income of $0.3 billion (from continuing operations), an eye popping 96.3% decline from 2016. However, those income figures are obviously not the full story for General Motors, and its adjusted figures show a much more accurate picture of the company's underlying business.
General Motors' EBIT-adjusted earnings checked in at $3.1 billion, which was a strong 18.7% gain over the fourth-quarter of 2016, and its adjusted earnings-per-share jumped an even higher 21.3% to $1.65 per share, well ahead of analysts' estimates calling for $1.38 per share. GM's full-year 2017 EBIT-adjusted checked in at $12.8 billion which was equal to the prior year result.
What happened?
The discrepancy from General Motors' GAAP and non-GAAP is easily explainable. Simply put: 2017 was a year of transition for Detroit's largest automaker as it focused on more profitable regions and product lines while selling its Opel/Vauxhall and GM Financial European operations, as well as exiting South and East Africa, and India. The move to sell Opel/Vauxhall was a major decision and closes the book on decades of losses in the region, but it came with a non-cash charge of $6.2 billion which dragged down full-year GAAP earnings.
That was only one of the drags on GM's full-year earnings, as U.S. tax reform forced the company to remeasure its deferred tax assets and brought about a $7.3 billion non-cash charge. Those two charges pulled down GM's GAAP earnings by a whopping $13.5 billion in 2017, making the full-year loss $3.9 billion.
Now what?
"The very strong results we reported this morning demonstrate the earnings power of our core business and extend our track record of meeting our commitments," CEO Mary Barra said on a conference call with investors. "GM begins this year as a stronger, more resilient company because of the decisive actions we have taken in the past few years."
Despite sales plateauing in the lucrative North American auto market, General Motors is still firing on all cylinders. It's generating strong cost reductions in its operating segments and has momentum behind it throughout 2018 with a fresh lineup of new crossovers and SUVs which management expects to support margins while it prepares to roll out the 2019 Chevrolet Silverado and GMC Sierra.
The automaker is also preparing its next step that will determine whether GM can return value to shareholders over the long-term. GM announced it would increase its investment in autonomous technologies in 2018 by $600 million to $1 billion. Management also plans to invest $1.1 billion in its smart mobility brand, Maven, in hopes to launch a steering wheel free Cruise AV in a self-driving taxi fleet in 2019, which would be pretty incredible.
Ultimately, General Motors posted an excellent fourth-quarter and full-year 2017 that shouldn't be overshadowed by headlines of its net loss. The company is positioned to offset plateauing U.S. new vehicle sales by shifting its mix to favor SUVs and trucks, even more so than in previous years, and has made key strategic moves to remain a step ahead of the competition in developing autonomous vehicle technology and smart mobility projects that could one day generate entirely new streams of revenue. If management can keep this momentum going in 2018, it could be the year Wall Street finally comes around and gives Detroit's automaker some well-deserved respect.
10 stocks we like better than General MotorsWhen investing geniuses David and Tom Gardner have a stock tip, it can pay to listen. After all, the newsletter they have run for over a decade, Motley Fool Stock Advisor, has tripled the market.*
David and Tom just revealed what they believe are the 10 best stocks for investors to buy right now... and General Motors wasn't one of them! That's right -- they think these 10 stocks are even better buys.
Click here to learn about these picks!
*Stock Advisor returns as of February 5, 2018
Daniel Miller owns shares of Ford and General Motors. The Motley Fool owns shares of and recommends Ford. The Motley Fool has a disclosure policy.