What Tesla Motors, Inc. Is Saying About Model 3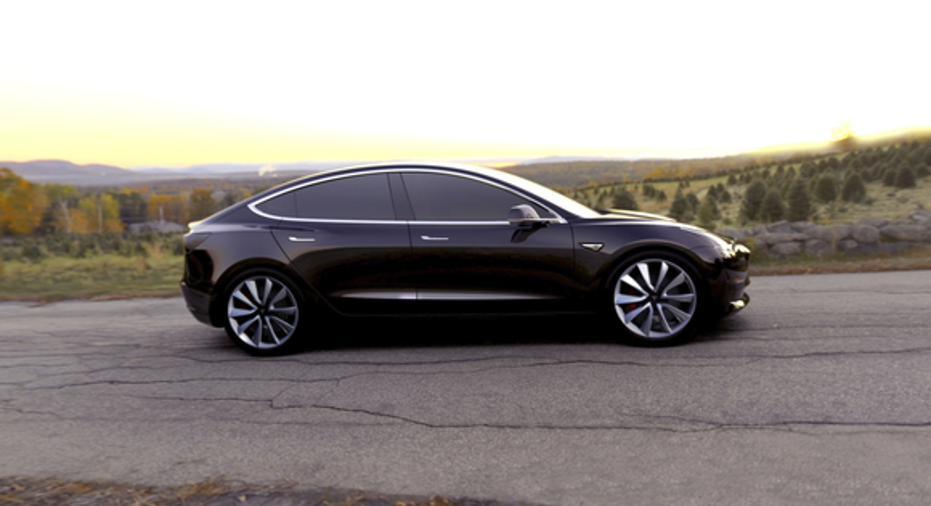 Electric-car maker Tesla Motors' (NASDAQ: TSLA) upcoming $35,000 Model 3 is very important, if not critical, for the company's success. Pairing Tesla's massive under-construction Gigafactory and plans for production capacity to support hundreds of thousands of Model 3s, Tesla is essentially betting the company on the vehicle.
Model 3. Image source: Tesla Motors.
Given Model 3's integral role in an investing thesis for Tesla stock, it's important for investors to keep tabs on what management is saying about the vehicle ahead of its planned launch in the second half of 2017.
On that note, here's some of management's recent commentary on Model 3.
Suppliers believe in the Model 3
If Tesla's comments about its supplier relationships for the Model 3 program are any indication of suppliers' dedication, these important stakeholders clearly seem to be betting Tesla's first mass-market vehicle will be a success.
Tesla CFO Jason Wheeler and CEO Elon Musk spoke of suppliers' willingness to work with Tesla in the company's most recent earnings call (via a Reuters transcript):
Later in the call, Musk excitedly commented on suppliers' overall commitment to the program:
Investors are likely particularly interested in Tesla's ability to execute well when it comes to logistics and supplier relationships since these are areas that held back initial Model X production after the vehicle launched in late 2015.
Model 3 is designed to scale
Musk also emphasized during the company's third-quarter earnings call that the Model 3 production strategy is designed from ground up to scale:
Spending is about to jump
So far, Tesla has averaged about $250 million a quarter on capital expenditures -- a conservative figure considering Tesla anticipated spending about $2.25 billion during the entire year. But higher spending is around the corner.
Capital expenditures will increase "as Model 3 start to ramp in Q4," Wheeler said during Tesla's third-quarter earnings call.
Tesla expects volume production in 2017
It's been clear for some time that Tesla planned to begin delivering its Model 3 in late 2017, but now management seems to be more optimistic about the program, saying Model 3 is on track for volume deliveries during the second half of the year.
Model 3. Image source: Tesla Motors.
"Gigafactory construction and Model 3 development both remain on plan to support volume Model 3 production and deliveries in the second half of 2017," management said in the company's most recent quarterly shareholder letter.
With the help of Model 3, Tesla expects total annual vehicle production to increase from its current annualized run-rate of 100,000 units, to 500,000 units in 2018. While Tesla is confident in its plans for this ambitious growth, investors should continue to keep an eye on execution, particularly as Tesla begins more significant investments in its production capacity for Model 3.
10 stocks we like better than Tesla Motors When investing geniuses David and Tom Gardner have a stock tip, it can pay to listen. After all, the newsletter they have run for over a decade, Motley Fool Stock Advisor, has tripled the market.*
David and Tom just revealed what they believe are the 10 best stocks for investors to buy right now...and Tesla Motors wasn't one of them! That's right -- they think these 10 stocks are even better buys.
Click here to learn about these picks!
*Stock Advisor returns as of November 7, 2016.
Daniel Sparks owns shares of Tesla Motors. The Motley Fool owns shares of and recommends Tesla Motors. Try any of our Foolish newsletter services free for 30 days. We Fools may not all hold the same opinions, but we all believe that considering a diverse range of insights makes us better investors. The Motley Fool has a disclosure policy.