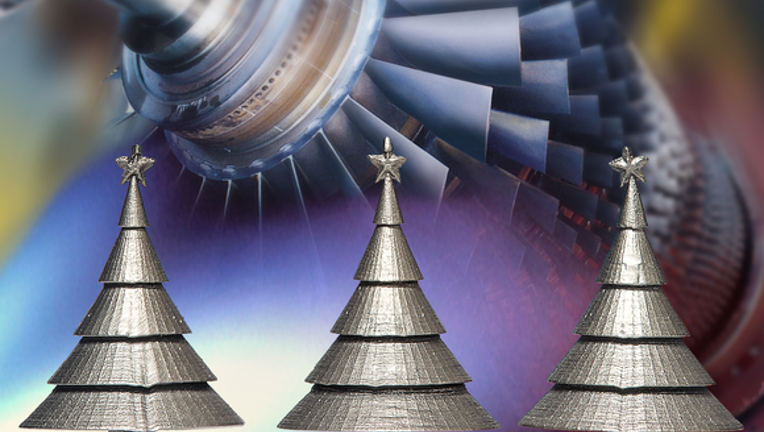 It's always interesting to hear what competitors are saying about end markets and their competitive positioning, and there aren't many more iconic rivals in the industrials space than General Electric Company and Siemens . Let's look at Siemens' latest earnings and commentary on end markets, and compare where the two companies are headed.
A CHRISTMAS TREE MADE FROM A SIEMENS GAS TURBINE. IMAGE SOURCE: SIEMENS.COM/PRESS.
Siemens promises, Siemens deliversSiemens reports its full year at the end of September, and it closed the year with solid order growth -- some of it coming from places where others have been weak. Reported revenue increased 4% in the quarter but declined 4% on an organic basis. Meanwhile, actual orders increased 15%, buoyed by acquisitions. Nevertheless, organic order growth was a solid-looking 6%.
Turning to guidance for 2016, management predicted a full-year EPS range of 5.90 euros to 6.20 euros, implying a 13.9% to 19.7% increase on the adjusted EPS of 5.18 euros in 2015. If you're wondering how Siemens reported 8.84 euros in basic EPS in 2015, the answer lies in the 3.66 euros in EPS from the divestment of its hearing-aid and home-appliances business.
Furthermore, Siemens expects profit margin of 10% to 11% in its industrial business -- a repeat of the guidance for 2015 that Siemens met by coming in with 10.1% for the full year. However, the most interesting part was management's commentary in its earnings press release on its fiscal 2016 :
Indeed, Siemens isn't alone in predicting a better outlook in the second half of 2016, with Emerson Electric also expecting an improvement. With Emerson, it's a case of management assuming a similar environment to this year and expecting companies to naturally start spending again. If Siemens' outlook is correct, then General Electric will surely benefit, too.
Which sectors outperformed?Siemens's fourth-quarter order growth was somewhat surprising, in that Europe and emerging markets outperformed the United States. For example, Europe/C.I.S./Africa and Middle East orders increased 13%, while U.S. orders decreased 1%, even as the Americas overall increased 8%.
Q4 Organic Growth
DATA SOURCE: SIEMENS PRESENTATIONS.
The commentary on power and gas -- where Siemens competes extensively with General Electric -- was particularly interesting. Management discussed the gas turbine market amid disclosing that there was "overcapacity" in the large turbine sector, where "every turbine is a competitive event." Meanwhile, the small turbine market -- where General Electric is believed to have taken market share from Siemens -- is possibly going to see a recovery in Siemens' fortunes now that the integration with Dresser-Rand has taken place, a warning for General Electric.
Elsewhere, upstream oil spending was declared as "not showing much signs of life," while gas, specifically LNG, was "progressing well" with "very, very active" interaction with customers on orders -- comments that should remind investors that energy spending isn't just about upstream oil services.
Indeed, at the start of 2015, General Electric CEO Jeffrey Immelt claimed that "60% of the portfolio revenue" in oil and gas services would be OK.
The takeawayAll told, it was a decent report for Siemens, with good organic orders growth. Commentary on overcapacity and pricing pressure in the turbine market suggests that General Electric's purchase of Alstom's energy assets is a good move -- it's usually a good idea to consolidate an industry with overcapacity.
It also spells a warning for General Electric, particularly in the small turbine market, as Siemens finishes integrating Dresser-Rand. Meanwhile, commentary on the state of gas infrastructural spending, particularly LNG, and oil downstream is a reminder that there are growth opportunities in the energy sector outside upstream oil services.
The article What Siemens' Results Mean for General Electric Company originally appeared on Fool.com.
Lee Samaha has no position in any stocks mentioned. The Motley Fool owns shares of General Electric Company. The Motley Fool recommends Emerson Electric. Try any of our Foolish newsletter services free for 30 days. We Fools may not all hold the same opinions, but we all believe that considering a diverse range of insights makes us better investors. The Motley Fool has a disclosure policy.
Copyright 1995 - 2015 The Motley Fool, LLC. All rights reserved. The Motley Fool has a disclosure policy.