What Sarepta Therapeutics' CEO Said That Made the Stock Soar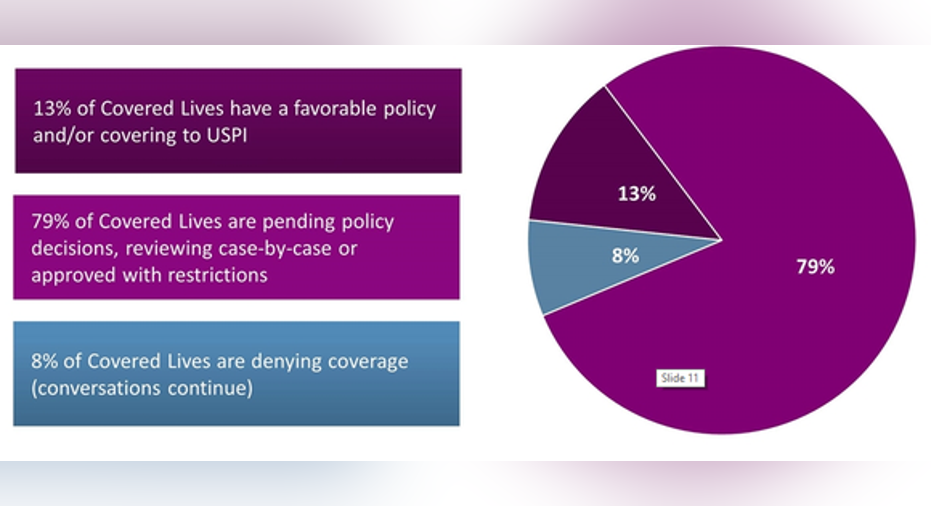 A half hour of Sarepta Therapeutics (NASDAQ: SRPT) CEO Ed Kaye's time speaking at the J.P. Morgan Healthcare Conference paid off big-time. The biotech's shares soared over 15% as Kaye spoke at the conference and went even higher afterwards. Here's what he said that caused Sarepta's stock to take off.
Image source: Getty Images.
Commercial launch for Exondys 51
Some had fretted about Sarepta's commercial launch of Duchenne muscular dystrophy (DMD) drug Exondys 51. The drug squeaked by with regulatory approval in the U.S., and some payers had decided against covering Exondys 51, most notably Anthem (NYSE: ANTM).
There was a legitimate concern that others would follow Anthem's lead. The big insurer cast doubt on whether Exondys 51 actually works in its medical policy statement, stating that "the clinical benefit of treatment for DMD ... has not been demonstrated."
If payers won't pay for the drug, physicians won't prescribe the drug -- and patients won't take it. Anthem's negative decision raised fears that Sarepta's launch of Exondys 51 could be a huge flop.
Ed Kaye put those fears to rest to a large extent. He said that sales for Exondys 51 totaled roughly $5.4 million in the fourth quarter. That's not a bad start. Even better, Kaye noted that over 250 young boys have started the process to receive treatment with the DMD drug. Around 60% of these patients are covered by commercial insurance, with 40% covered by Medicaid.
Path to growth for Exondys 51
Kaye also outlined Sarepta's strategy for increasing usage of Exondys 51. One key part of the company's approach is convincing payers to cover the drug. He showed a chart that indicated the news so far isn't as bad as it might seem.
Image source: Sarepta Therapeutics.
The most important number on this chart, according to Kaye, was the 79% of payers who have not yet made a final decision on coverage of Exondys 51. Kaye said that Sarepta is making efforts to educate payers on the drug (and on DMD). He noted that discussions about access for Exondys 51 are going well.
Moving forward in Europe is another important part of Sarepta's strategy. There are more patientswho have a confirmed mutation of the dystrophin gene amenable to exon 51 skipping (and are therefore candidates for Exondys 51) in Europe than in the U.S. Sarepta has submitted for regulatory approval to theEuropean Medicines Agency and expects a decision by late 2017 or early 2018.
Treating more DMD patients
While Kayes' comments about Exondys 51 sparked Sarepta's stock to jump higher, long-term investors might be even more interested in the biotech's opportunities for the future. Kaye particularly highlighted Sarepta's Essence late-stage clinical study for exons 45 and 53.
The important thing to note about this study is that people with deletions of exons 45 and 53 represent another 16% of DMD patients. Exondys 51 can only treat roughly 13% of DMD patients. The Essence study is currently enrolling and is scheduled to run for 96 weeks.
Sarepta is also partnering with other organizations on additional DMD treatment options. Kaye mentioned several of these partnerships, including one with Summit Therapeutics (NASDAQ: SMMT) announced in October. This deal gave Sarepta exclusive rights to Summit'sutrophin modulator pipeline, particularly experimental DMD drugezutromid, which is in a phase 2 clinical study.
A key advantage of utrophin modulation is that it has the potential to modify the diseaseregardless of patients' underlying dystrophin gene mutation. Shouldezutromid prove to be successful, it would open the doors for treatment of all DMD patients.
Kaye also announced positive findings from a preclinical study of its next-generation antisense platform PPMO. The experimental cell-penetrating peptide produced significant dystrophin increases in mice and nonhuman primates. Based on these results, Sarepta intends to advance PPMO to clinical testing.
Looking ahead
There are still major risks for Sarepta going forward. However, Ed Kaye certainly helped alleviate some of the biggest worries about the near-term prospects for Exondys 51. Nonetheless, the company still must win regulatory approval in Europe and convince more payers to cover the drug.
My guess (and it's only a guess) is that Sarepta will succeed on both counts. Sarepta's presentation at the J.P. Morgan conference might change some opinions about the company's chances.
10 stocks we like better than Sarepta Therapeutics When investing geniuses David and Tom Gardner have a stock tip, it can pay to listen. After all, the newsletter they have run for over a decade, Motley Fool Stock Advisor, has tripled the market.*
David and Tom just revealed what they believe are the 10 best stocks for investors to buy right now... and Sarepta Therapeutics wasn't one of them! That's right -- they think these 10 stocks are even better buys.
Click here to learn about these picks!
*Stock Advisor returns as of January 4, 2017
Keith Speights has no position in any stocks mentioned. The Motley Fool recommends Anthem. The Motley Fool has a disclosure policy.