What Republic Services' Management Wants You to Know for 2017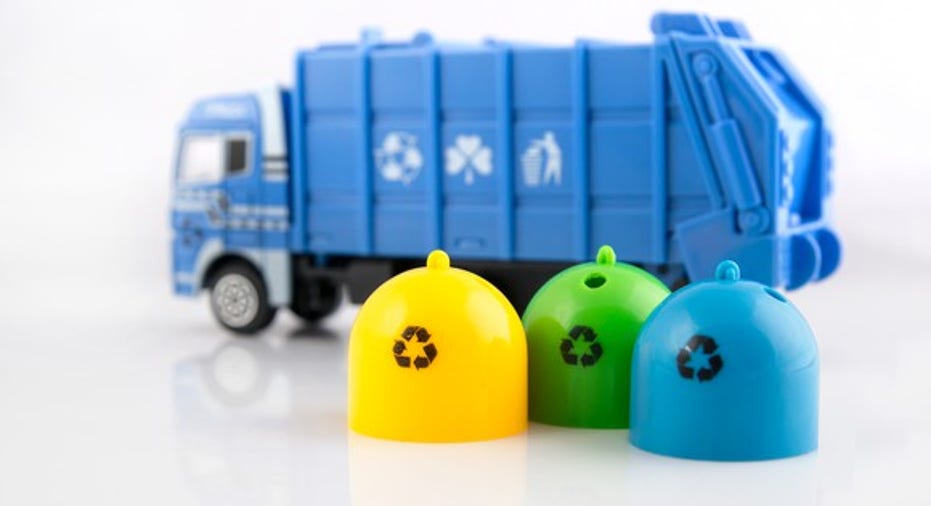 The stock of the country's second-largest waste management company,Republic Services(NYSE: RSG), has been on a tear this year, up nearly 30%. That rivals the performance of its larger competitorWaste Management(NYSE: WM), which is up about 33% for the year.
But Republic Services has a plan for 2017 (and beyond) that it hopes will allow it to continue to outperform. Here's what investors should be looking for this year.
Republic Services is the nation's second-largest trash hauler. Image source: Getty Images.
By the numbers
To begin with, Republic Services' management is predicting improved earnings and free cash flow in 2017. In a November investor presentation, it projected 2016 adjusted diluted earnings per shareof $2.19-$2.20 and adjusted free cash flow of $840 million-$850 million. For 2017, it expects adjusted diluted EPS of $2.31-$2.36, about a 5%-8% increase. It anticipates adjusted free cash flow of $875 million-$900 million, which would represent an approximate 3%-7% increase.
The company certainly has a recent history of continuous improvement. Its stock price has steadily marched upward over the past five years, more than doubling since 2011. It has also increased its dividend every year, raising it from an annualized $0.84 per share in 2011 to $1.24 per share this year. Italso claimed to have handily beaten its peers in creating shareholder value. In its November presentation, it reported a one-year total shareholder return of 12.4% ("over 8x the S&P 500") compared to a "competitor average" of 5.3%.But that figure is misleading, because it uses the average of competitors Waste Management,Waste Connections(NYSE: WCN), andProgressive Waste during calendar year 2015 only, and a lot has happened since then.
Waste Management's total return has actually outperformed Republic Services' over the past one, five, and 10 years. Its dividend yield is slightly higher, too. Meanwhile, Waste Connections bought Progressive Waste in June in a corporate inversion that caused its stock price to drop,so such a comparison would be meaningless for 2016.
That's not to say that Republic Services is a dud. Far from it. In recent years, its stock has beaten the market, thanks in part to the $2.1 billion in cash that the company has returned to shareholders through dividends and share repurchases over the last three years. Management not only plans to increase those cash returns to shareholders but to further boost the company's performance. Let's look at how it plans to do it..
A new kind of contract
During the company's Q3 2016 earnings call, CEO Don Slager made this interesting statement when talking about revenue-enhancing initiatives: "[W]e now have approximately $375 million in annual revenue that has been converted to a waste-related index or fixed rate increase of 3% or more for the annual price adjustment."
Traditionally, according to Slager, waste management companies enter into five- or seven-year contracts, with annual increases chained to the Consumer Price Index, which averages a 1.5% increase per year. This, he said, is illogical because annual cost increases in the industry average 2% per year. "We're not going to enter into new agreements that have decreasing value over time."
Of course, $375 million in annual revenue is a drop in the bucket for a company that posted $9.1 billion in annual revenue in 2015. Slager wasn't willing to predict how fast it could continue to convert its customers to these newer types of contracts:
Savvy investors will keep an eye on how well the company is doing in this regard. If it can indeed successfully build higher annual rate increases into a majority of its contracts, it would have a tremendous impact on its bottom line in 2017 and beyond. If it can't, well, it might benefit rivals like Waste Management and Waste Connections as customers look for better value elsewhere.
The customer is always right
Speaking of customers, Slager made sure to highlight how the company is finding new ways to improve its customer experience to prevent them from going elsewhere:
Luckily, investors have an easy way to tell whether these efforts are paying off by keeping an eye on the company's customer churn rate. If it goes down, it will be a good sign that Republic Services is executing its customer service plans.
Investor takeaway
Republic Services continues to perform well, meet its goals, and return cash to its shareholders. Its performance, however, has been comparable to that of Waste Management's. The company is hoping to change that through new contract arrangements and customer service efforts. It should be easy to check on whether they are bearing fruit. In the meantime, investors can sit back and enjoy a steadily increasing dividend. Republic Services looks like a good choice for those in need of a strong dividend payer in their portfolio.
10 stocks we like better than Republic Services When investing geniuses David and Tom Gardner have a stock tip, it can pay to listen. After all, the newsletter they have run for over a decade, Motley Fool Stock Advisor, has tripled the market.*
David and Tom just revealed what they believe are the 10 best stocks for investors to buy right now... and Republic Services wasn't one of them! That's right -- they think these 10 stocks are even better buys.
Click here to learn about these picks!
*Stock Advisor returns as of Nov. 7, 2016
John Bromels owns shares of Waste Management. The Motley Fool owns shares of Waste Management. The Motley Fool recommends Republic Services. The Motley Fool has a disclosure policy.