What Is Mark Cuban's Net Worth?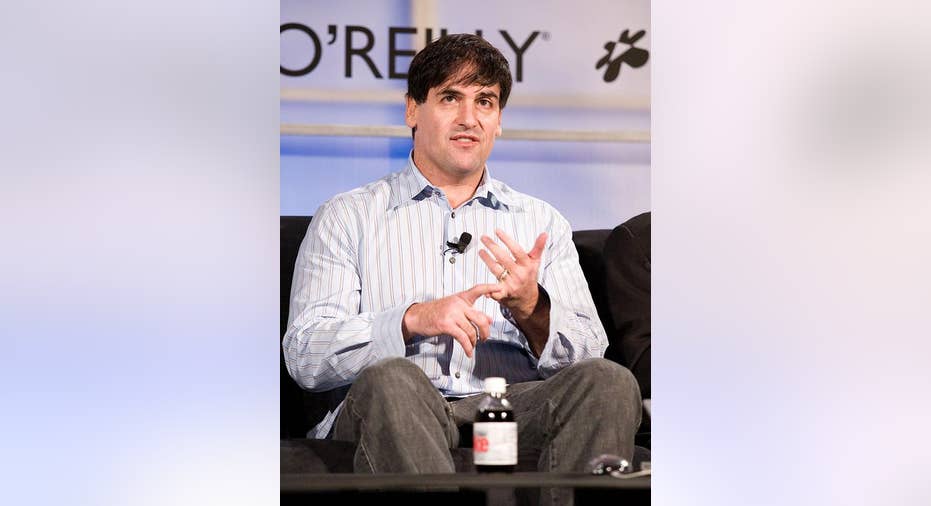 Mark Cubon in 2005. Image by James Duncan Davidson/O'Reilly Media, Inc. via Wikimedia Commons.
Mark Cuban is one of the most visible executives in America and has an estiamted net worth of roughly $3 billion. The entrepreneur got his start in the tech sector and can be seen on the popular Shark Tank television show, yelling courtside at Dallas Mavericks games, and opining on the latest in business happenings on social media.
How did Mark Cuban build his net worth?In 1982, Cuban started Micro Solutions, a computer consulting company that bundled various software packages and sold network solutions. He sold the company eight years later and netted an estimated $2.2 million after taxes from the sale. Cuban's follow-up project would ultimately propel him to the billionaire's club. Along with partner Todd Wagner, Cuban founded an early network audio platform called Audionet that would ultimately evolve into a radio streaming site called Broadcast.com, which Yahoo! bought for $5.7 billion in 1997 -- the height of the dot-com acquisitions frenzy.
Cuban was correct that streaming would ultimately become a cornerstone of the Internet, but Broadcast.com never caught on to any great degree, and its technologies and assets wound up being of relatively little use to Yahoo!
In 2000, Cuban purchased a majority stake in the Dallas Mavericks basketball team for $285 million, and since then he has gone on to be one of the most visible and active owners in the NBA. The Mavericks organization got its first championship in 2011, and aForbescalculation of 2016 sports team values estimates that the Mavericks are worth $1.4 billion.
Cuban further parlayed his business success into a role as a prominent media personality, with the entrepreneur starring in one season of Disney's short-livedThe Benefactorreality show in 2004, and making a number of entertainment cameos before signing on for an ongoing role as one of the investor-judges on the popularShark Tank series produced by Sony and aired on ABC and other channels. Cuban joined the show in its third season and helped usher in a big ratings increase that put the show on a path to massive popularity. The billionaire is one of the most loved "Sharks" on the series and reportedly used his influence to encourage the show's production company to remove a controversial clause that required show entrants to give up either 2% of annual profits or a 5%stake in their company.
A leak of Sony emails in 2014 produced documents that showed that Cuban was unhappy with a proposed contract for seasons 5, 6, and 7 of Shark Tank because of salary issues and a contractual claim by Sony to ownership of catchphrases and mannerisms on the show. If Cuban were to have accepted Sony's proposed contract, he would have made roughly $870,000 in salary for the show's fifth season, so the entrepreneur has probably made a season salary above that range for the last couple of years of the show.
Cuban is also the owner of Magnolia Pictures, the distributor of films including Blackfish, Jiro Dreams of Sushi, andFreakonomics.He owns Landmark movie theaters and is an investor in a wide range of businesses and start-ups.
One of Mark Cuban's many investments attracted the eye of the Securities and Exchange Commission and became the subject of an insider trading case against him. The SEC's case suggested that Cuban had sold his $7.9 million position in a website called Momma.com based on non-public information, but a jury cleared Cuban of the insider trading charges. The businessman has cited the legal proceedings as a drain on his net worth and a potential threat to his reputation, but was offered the opportunity to settle the case for a fee that would have amounted to less than the cost of his defense and refused it, citing his principles as the reason for not taking a deal.
What's next for Mark Cuban's net worth?Mark Cuban is invested in many companies, but he typically chooses to invest in start-ups over public companies and has stated that he prefers to keep a large portion of his assets in cash, because of the potentially volatile nature of stocks.
His position in various businesses and his prominent media presence give Cuban a range of avenues for expanding his net worth, as does his ownership of the Mavericks. The most valuable NBA franchise is estimated to be the New York Knicks at roughly $3 billion, but most big-market NBA teams are seeing big valuation growth, and this rising tide combined with other favorable trends in the Mavericks' market could bolster Mark Cuban's net worth.
There has also been some speculation and commentary from Cuban himself that suggests that the entrepreneur and media personality may get involved in politics. A transition into a political position probably wouldn't offer a significant boost for Mark Cuban's earnings, but it could be an exciting new avenue for the achievement-driven entrepreneur.
The article What Is Mark Cuban's Net Worth? originally appeared on Fool.com.
Keith Noonan has no position in any stocks mentioned. The Motley Fool owns shares of and recommends DIS. The Motley Fool recommends YHOO. Try any of our Foolish newsletter services free for 30 days. We Fools may not all hold the same opinions, but we all believe that considering a diverse range of insights makes us better investors. The Motley Fool has a disclosure policy.
Copyright 1995 - 2016 The Motley Fool, LLC. All rights reserved. The Motley Fool has a disclosure policy.