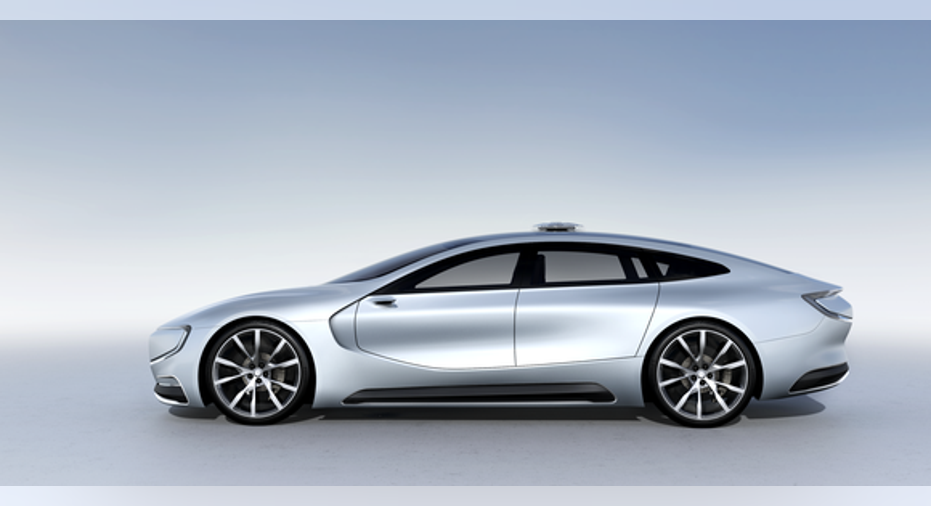 Image source: LeEco.
What if I told you Apple (NASDAQ: AAPL) wasn't the first major smartphone company to ditch the 3.5 mm headphone jack? The Cupertino-based tech giant got a lot of flak while patting itself on the back for having the "courage" to ditch the old port, but the China-based electronics giant, LeEco, beat Apple to it over the summer (for better or worse) in not one, but three of its smartphones.
And what if I told you that Matt Damon's next movie, The Great Wall, is being partially funded by that same Chinese tech player -- the same one that wants its new electric car to compete with Tesla (NASDAQ: TSLA) and has raised $1 billion to take on the company.
LeEco (short for LeEcosystem) is not afraid to make bold claims against American tech companies, and its recent announcement that it's going to sell its full suite of hardware products in the U.S. means we're about to find out if it can really back up all the talk.
Where LeEco wants to compete
In short, LeEverywhere. The company made its name selling televisions, quite literally: It was officially known as LeTV until it recently changed its name. The company sells televisions under its own name in China, and over the summer expanded into the U.S. when it bought Vizio's TV division for $2 billion.
As I mentioned before, it also makes smartphones. Its top of the line Le Pro 3 sports a 5.5-inch display and sells for just $400. It's cheaper Le S3 comes in at just $250, and both can tap into the company's own cloud service to boot.
One of LeEco's phones, the Le S3. Image source: LeEco.
LeEco CEO Yueting Jia (who goes by YT Jia) hasn't shied away from sharing his thoughts on Apple's shortcomings. Earlier this year, he asserted that Apple was "outdated" and said, "In China, you can see that Apple has already begun to lose the rapid sales growth momentum." He went on to call Apple's innovation "extremely slow" and pointed to the iPhone SE as a failure to innovate.
OK, so Yueting's not too keen on Apple. But his company is also taking aim at Tesla. It unveiled the prototype for its electric car, LeSEE, back in April, and is investing over $1.8 billion to build a factory in China to manufacture them. That's in addition to the $1 billion it just raised in September to help develop the vehicle. LeEco says the plant will eventually reach an annual production of 400,000 vehicles, though it has not yet said when it expects the LeSEE will go into production.
LeEco is convinced the American market is ready for its products. In a blog post, Jia said:
The company's electric car prototype, the LeSEE. Image source: LeEco.
He's setting out to change that with his company -- and it'll be more than just dabbling in the U.S. market. LeEco has plans to hire 12,000 employees in Silicon Valley, up from just 500 right now. Its U.S. headquarters will be housed in a 48-acre complex it bought from Yahoo! for $250 million, and it plans to build its own 3 million square-foot facility soon as well
Believe or not, this is a content play
Despite all of its hardware devices, a car, and even an electric bike, LeEco is formidable content owner, and its underlying purpose in creating hardware and services is to bring that content to more screens.
In his U.S. launch blog post, Jia said that the company is focused on "... building a vertically integrated and open ecosystem that combines platform, content, devices and applications. Effectively, we are making it possible to seamlessly deliver content to any screen at any time."
LeEco is focused on getting content into users' hands. Image source: LeEco.
LeEco will use its video-subscription service and film production company to help with that, along with its library of 5,000 movies and 100,000 TV shows. The company doesn't own all of that content, but rather licenses it, just like Netflix(NASDAQ: NFLX) and Amazon do for much of their video content. And the company is making more deals all the time, with Lionsgate, MGM, Showtime and others topping its most recent content-partnership list.
"By integrating the best content with the best hardware through our EUI -- ecosystem user interface -- we are creating an 'Eco Lifestyle,' a truly connected experience and life," said Jia.
It's still unclear whether or not that will model work in the U.S. or not. As research firm TrendForce wrote a few months ago:
LeEco is small by many tech conglomerate standards. It brought in just $15 million in profit in the first quarter of this year. But with the company already expanding into Hong Kong, India and Russia, it's clear LeEco is bent on expanding its hardware and content synergies on a worldwide scale -- and now those synergies will be put to the ultimate test as the company tries to take on America's biggest tech giants.
A secret billion-dollar stock opportunity The world's biggest tech company forgot to show you something, but a few Wall Street analysts and the Fool didn't miss a beat: There's a small company that's powering their brand-new gadgets and the coming revolution in technology. And we think its stock price has nearly unlimited room to run for early in-the-know investors! To be one of them, just click here.
Chris Neiger has no position in any stocks mentioned. The Motley Fool owns shares of and recommends Apple, Netflix, and Tesla Motors. The Motley Fool has the following options: long January 2018 $90 calls on Apple and short January 2018 $95 calls on Apple. Try any of our Foolish newsletter services free for 30 days. We Fools may not all hold the same opinions, but we all believe that considering a diverse range of insights makes us better investors. The Motley Fool has a disclosure policy.