What Is Bernie Sanders' Net Worth?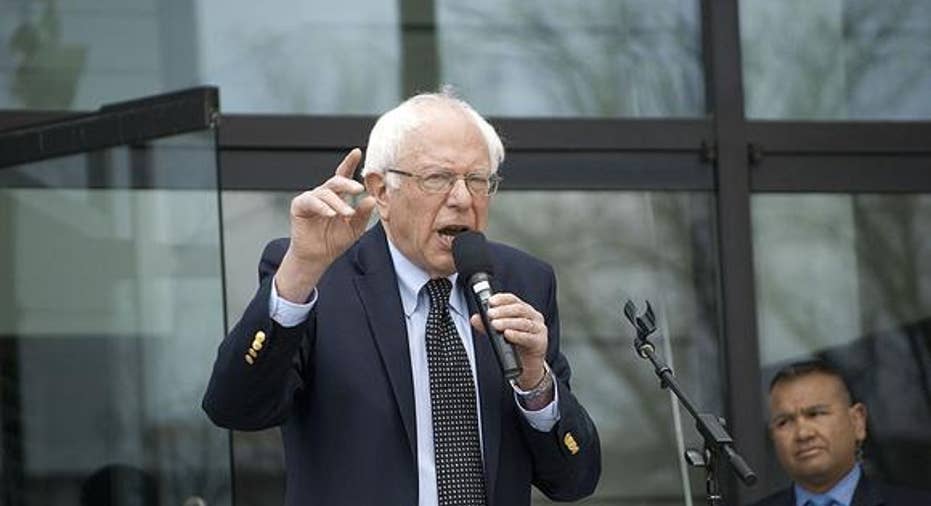 Image source: Scott P, Wikimedia Commons
U.S. Senator and presidential candidate Bernie Sanders has built political prominence but little personal wealth through his years in elected office. While Sanders has not given a public announcement on the total value of his holdings, analysis of presidential campaign personal asset disclosure forms, his Senate salary, and the value of properties and assets shared with his wife suggests that the candidate has a net worth somewhere in the neighborhood of $800,000.
Bernie Sanders net worth breakdownSanders' July 2015 personal filing lists assets valued at between $194,026 and $741,000 in his wife Jane Sanders' name -- with the majority of these assets held in investment funds. The filing also lists credit card debt between $25,002 and $65,000.
The personal asset disclosure forms do not list properties held by Bernie and Jane Sanders, which include a home in the Washington D.C. neighborhood of Capitol Hill where the median home price is roughly $726,000 and a home in Vermont that realtor.com values at approximately $320,000.
The campaign asset disclosure does not include the Sanders household's 2015 after tax income -- which would have been in the neighborhood of $180,000 assuming it were similar to the family's tax filing in 2014.
Adding the estimated values of the Sanders family's homes in Vermont and Washington D.C. to the median value of the asset estimate listed in his campaign personal asset filing and an after-tax estimate of the Sanders household's 2015 income suggests that Bernie and Jane Sanders hold assets valued at roughly $1.7 million. Subtracting the median of the candidate's listed credit card debt range suggests that the couple holds somewhere in the neighborhood of $1.65 million in assets, assuming both houses are owned outright. A halving of these marital assets indicates that Bernie Sanders has a net worth somewhere in the neighborhood of $800,000.
How did Bernie Sanders build his net worth?While Bernie Sanders has spent much of his life working in politics, his path to national political prominence was somewhat atypical. The politician devoted much of his early adulthood to political activism, and took a series of jobs including carpenter and freelance writer before making a name for himself in politics.
Sanders ran for mayor of Burlington, Vermont in 1981, winning the seat. He would go on to win reelection three times and serve in the role until 1989. Sanders was then elected to the House of Representatives in 1990 and served in the role until 2007 when he took office in the Senate.
When Sanders first entered the Senate, annual compensation for the position came in at roughly $165,000, and has since risen to $174,000 in 2016.
Jane Sanders has also contributed significantly to the household's net worth, serving as President of Burlington College from 2004 to 2011 before reportedly receiving a severance package of roughly $200,000. A 2011 survey of 550 private colleges produced a median annual salary of roughly $410,000 for college presidents, and while Burlington College is unlikely to be on the high end of the compensation spectrum, an annual salary of $100,000 would be a conservative estimate of what Jane Sanders may have been paid in the role. In addition to working with her husband in politics, she continues to serve on Vermont political advisory boards, and reportedly receives roughly $5,000 annually for participation on a state radioactive waste commission.
What's next for Bernie Sanders' net worth?Regardless of whether Sanders is elected to higher office, the candidate has a number of avenues to growing his wealth. The 74-year old politician is well-liked in Vermont and could likely win reelection for his seat in 2018, and the rise of Sanders as a national figure opens opportunities for book deals and speaking engagements.
Even if Bernie were to retire from public life, the Sanders family looks to have appreciating property assets. The D.C. neighborhood of Capitol Hill is seeing rapidly rising property values, and property values are also on the rise in Burlington. Bernie and Jane Sanders also receive pensions from previously held government positions.
If Sanders were to be elected president, the candidate would make $400,000 for each year served in the role. Prior to his presidential run, Sanders indicated that he may be interested in another bid to become governor of Vermont, a role that would see him paid roughly $145,000 annually-- or roughly $30,000 less than he currently earns as a senator.
The article What Is Bernie Sanders' Net Worth? originally appeared on Fool.com.
Try any of our Foolish newsletter services free for 30 days. We Fools may not all hold the same opinions, but we all believe that considering a diverse range of insights makes us better investors. The Motley Fool has a disclosure policy.
Copyright 1995 - 2016 The Motley Fool, LLC. All rights reserved. The Motley Fool has a disclosure policy.