What Is Apple, Inc. Building?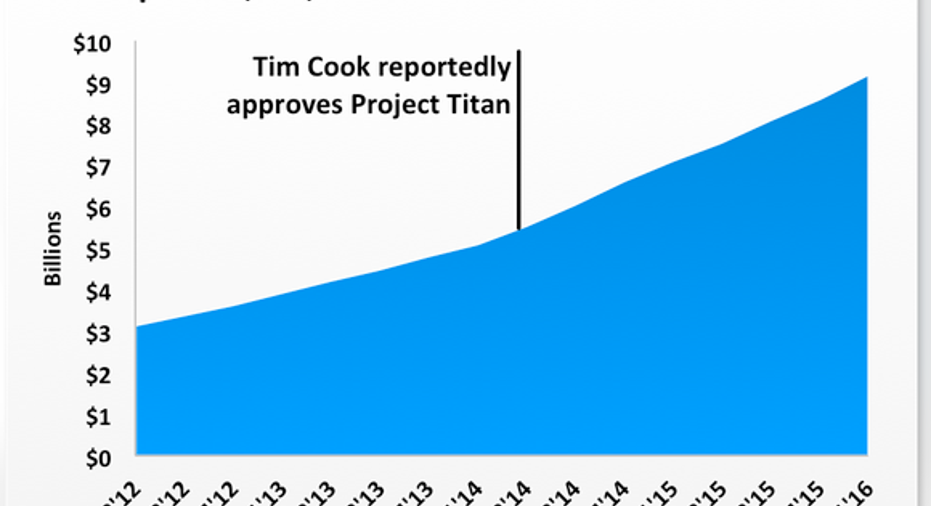 Apple Campus 2 isn't the only thing that the Mac maker is working on. Image source: Apple.
I know this is a silly question before I ask it, but what is Apple building?
The reason I ask is because Apple's overall R&D expenses continue to march steadily higher -- by a lot. Once upon a time, the Mac maker's quarterly R&D expenditures might only comprise a modest 2% of revenue, an impressively efficient figure considering the product innovations we were seeing come out of the company, and the subsequent revenue growth.
These days, R&D comprises a whopping 4% of trailing-12-month sales.
Data source: SEC filings. Calendar quarters shown.
I say "whopping" regarding Apple's rising R&D costs mostly in the context of the company itself. Many tech peers often spend upwards of 10% to 15% of sales on R&D. There's not necessarily a causal relationship, either, where more R&D spending inherently translates into greater innovation. Sometimes excess spending is just plain wasteful if you don't generate innovative new ideas.
More recently, the pace of innovation does seem to have slowed. 3D Touch was fairly "meh" as far as iPhone headliners go. The bigger 12.9-inch iPad Pro looks promising in the enterprise, but as a larger iPad it probably wasn't too expensive to develop. Apple Watch still has a ways to go before it becomes a truly compelling new product category.
The obvious answer
Sometimes the most obvious answer is the correct one: Apple is working on a car. There's been no shortage of headlines about Apple's rumored car ambitions. If anything, we can't seem to stop hearing about the Apple Car, even though it's many years away from launching, if it even does at all. There's always the possibility that Apple will scrap the plans, but for now it appears that Project Titan, as it's code-named, is charging full steam ahead.
But look how Apple's R&D expenditures have soared in recent years in absolute dollar terms, too. This next chart is particularly effective if you consider when CEO Tim Cook reportedly approved Project Titan (per the initial Wall Street Journal report in February 2015):
Data source: SEC filings and WSJ. Calendar quarters shown.
The iPhone maker is now approaching $10 billion in TTM R&D expenses (currently $9.2 billion, to be precise). This is a ton of money going into R&D, even for Apple. Especially for Apple, considering its historical efficiency with R&D spending.
Even as Apple is starting to run into some macroeconomic headwinds, Cook is undeterred. On the January conference call in response to a question from Cross Research analyst Shannon Cross, he said, "Yes, on the R&D, Shannon, we're continuing to invest without pause. We have some great things in the pipeline and we very much believe strongly in investing through downturns, such as the one that everyone is going through."
Will we ever see the car, Tim?
The article What Is Apple, Inc. Building? originally appeared on Fool.com.
Evan Niu, CFA owns shares of Apple. The Motley Fool owns shares of and recommends Apple. The Motley Fool has the following options: long January 2018 $90 calls on Apple and short January 2018 $95 calls on Apple. Try any of our Foolish newsletter services free for 30 days. We Fools may not all hold the same opinions, but we all believe that considering a diverse range of insights makes us better investors. The Motley Fool has a disclosure policy.
Copyright 1995 - 2016 The Motley Fool, LLC. All rights reserved. The Motley Fool has a disclosure policy.