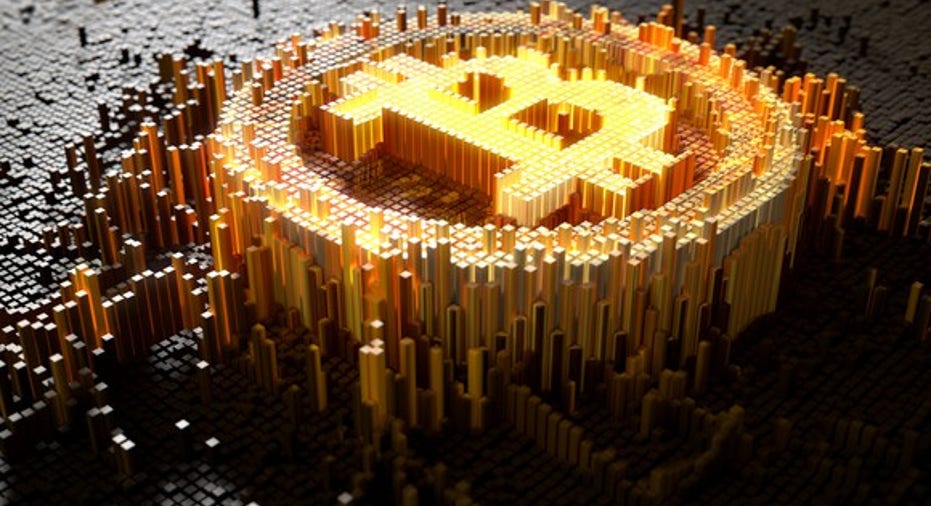 Bitcoin has existed for less than a decade, but it has achieved amazing popularity across the globe, and its value has risen along with its use. Shortly after its creation in 2009, one could buy the virtual currency for less than a penny per bitcoin. Now, a bitcoin is worth about $1,250, and many believe that the upward trend for bitcoin could continue indefinitely. Despite there being plenty of skepticism about the inherent value of bitcoin, the currency has survived dramatic volatility without losing favor among its core users.
The history of bitcoin's value
During the first couple of years of its existence, bitcoin saw dramatic gains in price. From its penny valuation in 2009, bitcoin rose to $0.10 by 2010 and first hit the $1 mark in early 2011. That ignited a huge wave of new demand for bitcoin, sending the currency up to more than $10 by mid-2011.
Image source: Getty Images.
Yet at that point, bitcoin showed its propensity for big ups and downs. Within just a few months, bitcoin prices dropped 80%, punishing those who had gotten in at the top and were looking for quick gains. Still, those who stuck with bitcoin earned back their losses, with the currency reaching the $10 mark again in late 2012.
From there, the next wave of interest in bitcoin took the currency to the $100 mark and beyond, climbing to nearly $200 by early 2013. The bankruptcy of the Mt. Gox bitcoin exchange briefly took a big toll on prices, cutting bitcoin's value in half, but before the year was out, the digital currency climbed above $1,000 as market participants increasingly believed that bitcoin would achieve global currency status and prove to be a better alternative to traditional government-issued currency. The frequency of financial crises across the globe during the first several years of bitcoin's history certainly helped feed that theory and added to bitcoin's appeal.
Since then, bitcoin has remained volatile, but not to the same extent as it was earlier in its existence. Prices sank to around $200 in 2015, but the currency picked up steam again more recently. This year, bitcoin regained the $1,000 level and has climbed as high as nearly $1,300.
The true measure of bitcoin's worth
One concern that some have expressed about bitcoin is that the currency has no intrinsic value. Gold coins, by contrast, represent a given weight of an actual commodity with practical applications, and gold investors take comfort in the fact that their bullion is worth something beyond monetary terms. That's not true of bitcoin, which one receives as a reward for solving complex mathematical problems.
Yet bitcoin advocates note that the same is true of paper currency. It used to be that Federal Reserve notes were tied to the value of gold or silver, but those days are long gone. Just as a dollar bill only has whatever value a buyer and seller assign to it, so too does bitcoin have practical value to the extent that those who make exchanges of the digital currency agree on what it's worth.
One reason why bitcoin has become more valuable likely has to do with the fact that one can use it more widely now than early in its history. Many major technology and retail companies accept bitcoin in the same way they would older currencies, and small businesses have jumped on the bitcoin bandwagon as well. Moreover, with relatively low transaction fees for transfers, bitcoin has become a popular way to move money while avoiding the costly charges that banks and other financial institutions often impose.
Keep an eye on bitcoin
Bitcoin has seen dramatic price increases recently, but the one thing investors in the currency can be certain of is that volatility in both directions will continue. With some calling for continued exponential growth in the value of bitcoin while others believe it's a bubble waiting to burst, the market for bitcoin is sure to be exciting for the foreseeable future.
10 stocks we like better thanWal-MartWhen investing geniuses David and TomGardner have a stock tip, it can pay to listen. After all, the newsletter theyhave run for over a decade, the Motley Fool Stock Advisor, has tripled the market.*
David and Tomjust revealed what they believe are theten best stocksfor investors to buy right now... and Wal-Mart wasn't one of them! That's right -- theythink these 10 stocks are even better buys.
Click hereto learn about these picks!
*StockAdvisor returns as of April 3, 2017The author(s) may have a position in any stocks mentioned.
The Motley Fool has a disclosure policy.