What Investors Should Know About Ford Motor Company's Stance in Russia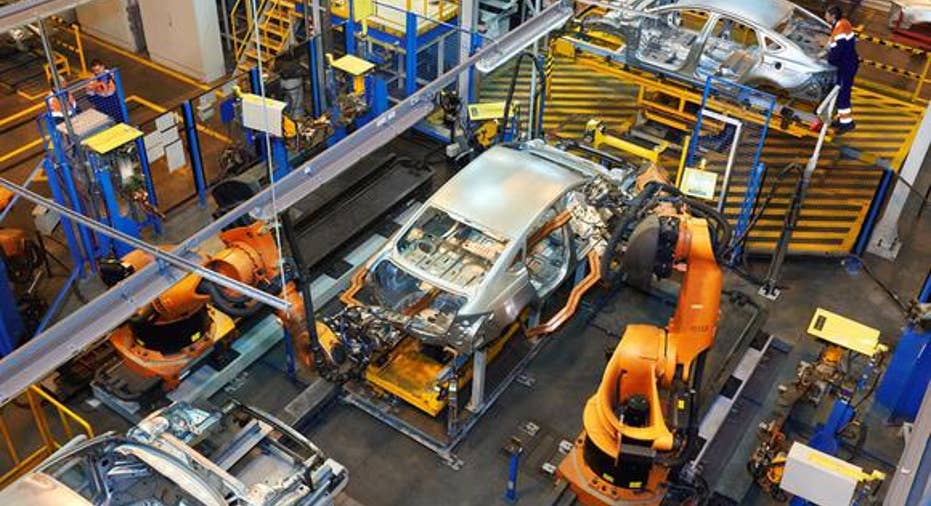 All-new Mondeo built by Ford Sollers in Russia. Image source: Ford Motor Company.
In 2013, many predicted Russia's auto market was going to overtake Germany's to become the largest in Europe, and that it would be close to becoming the world's fifth-largest auto market by 2020. Only two years later, lower oil prices and a weakening economy have all but shredded that hope in the near-term.
That puts automakers in a tough spot with few options: Continue to invest in the country for its future potential, or pack up and leave to avoid current turmoil. However, it appears Ford Motor Company has come up with a middle-ground solution.
Hit the road It didn't take long for Ford's crosstown rival, General Motors , to close up shop in Russia -- a country which, half a decade ago, was a critical part of the automaker's global growth strategy. In the spring, GM announced that it would stop selling all Opel and most Chevrolet vehicles in the Russian market by the end of this year, and that it would indefinitely idle its six-year-old St. Petersburg plant. That action forced GM to take a $600 million charge, mostly during this year's first quarter, but on the bright side, it hasn't negatively affected the automaker's goal to return its entire Europe operations to profitability in 2016.
Ford, on the flip side, isn't pulling out of Russia in the same style GM did. While Ford's sales in the country fell 40% year over year to just over 34,000 units through November, the company is considering exporting its vehicles from Russia.
"Export is something we're looking at," said Mark Ovenden, head of Ford Sollers, Ford's joint venture in Russia, according to Reuters. "I would like to look at it beyond a few thousand [vehicles] and see whether there is a more strategic export opportunity for us."
How feasible is exporting vehicles? On the surface, this appears to be a fine strategy, but investors should consider it more of a bandage than a lucrative solution. That's because these exports have to go somewhere, and that likely means sending them from Russia to Ford's traditional 20 European markets, and probably more toward eastern Europe.For the record, Ford's sales in its traditional 20 Euro markets reached just over 1,181,000 units through the first 11 months of 2015. According to Reuters, Ford can produce as many as 350,000 cars annually in Russia, which is a lot more supply than demand, considering Ford's sales in Russia through November only reached roughly 34,000. Obviously, Ford isn't planning to churn out an extra 300,000 units in Russia and dump them elsewhere in Europe, but chances are Ford won't have the demand outside of Russia to make this a very profitable strategy in the near-term. That doesn't mean Ford's strategy is wrong, it just means that without a lucrative option, it's not a shock that GM decided to bail on Russia in the near term.
Ford and GM have much in common, and they often follow similar strategies. This time, however, the two are taking wildly different stances. GM took a hefty special-items charge to close up shop indefinitely at a time when the company is looking to increase its return on invested capital, and plowing capital into Russia wouldn't help its cause.
I applaud the long-term stance taken by Ford, and it could pay dividends in a decade, but it's certainly a risky strategy at the moment, when Russia's tumbling automotive market (and overall economy) has such a dim outlook. On the bright side, profits are rolling in at Ford now that its 2015 F-150 is hitting full stride and SUV sales continue to boom in America -- it can afford to play the long game in Russia.
Stay tuned, because whether Russia begins returning to its potential as a large automotive market or continues to crumble will be of importance to both Ford and GM investors as the automakers try to return to profitability in their Europe region.
The article What Investors Should Know About Ford Motor Company's Stance in Russia originally appeared on Fool.com.
Daniel Miller owns shares of Ford and General Motors. The Motley Fool recommends Ford and General Motors. Try any of our Foolish newsletter services free for 30 days. We Fools may not all hold the same opinions, but we all believe that considering a diverse range of insights makes us better investors. The Motley Fool has a disclosure policy.
Copyright 1995 - 2016 The Motley Fool, LLC. All rights reserved. The Motley Fool has a disclosure policy.