What Investors Need to Know About the Wal-Mart-JD.com Deal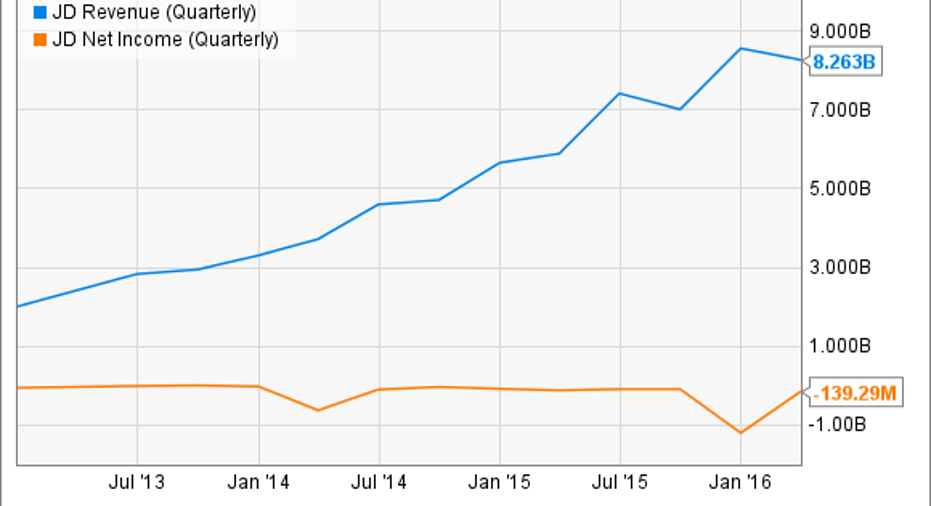 Image source: Wal-Mart.
After struggling to make a significant impact in the Chinese e-commerce market, Wal-Mart Stores is selling Yihaodian, its Chinese e-commerce platform. But instead of an outright sale, Wal-Mart is selling the site to JD.com in exchange for a 5% stake in JD, valued at roughly $1.5 billion.
Wal-Mart will stay on to support Yihaodian's direct-sales business, and Wal-Mart will gain access to JD.com's supply chain, product catalogs, and logistics network and vice versa. JD.com investors were optimistic that the deal will spur further growth in the company, but Wal-Mart investors didn't seem to think much of the deal.
Wal-Mart needs to change things up in China
Wal-Mart's efforts in China haven't exactly paid off. The company operates about 400 stores in the country despite opening its first store there 20 years ago. It has 10 times as many stores in the United States. Moreover, foot traffic to Chinese stores has fallen for nine straight quarters. Despite a relatively strong first quarter, same-store sales growth in China was negative in seven of the previous eight quarters for Wal-Mart, lagging U.S. same-store growth.
Wal-Mart hasn't been able to grow Yihaodian very much since taking a 51% stake in the company in 2012. It purchased the other 49% last year for $760 million. Overall, the website accounts for just 1.5% of online sales in China. Wal-Mart's sale of Yihaodian for a $1.5 billion stake in JD.com -- about the same value it paid to buyout the company last year -- is indicative of Wal-Mart's inability to significantly grow the business.
Joining forces with JD.com, the second-largest online retailer in China, will help Wal-Mart change things up. It will still operate the direct-sales portion of Yihaodian, but it will have the support of JD.com's logistics network behind it. JD has dozens of warehouses and tens of thousands of delivery workers at its disposal. That could speed up shipping and improve availability, ultimately increasing sales.
Wal-Mart will also establish a presence on JD.com. Its Sam's Club brand will open a flagship store on the website, servicing the entire country. Additionally, Wal-Mart will be listed as a preferred retailer on JD.com's O2O JV Dada, China's largest crowd-sourced delivery platform, which it expects to drive traffic to physical stores.
JD.com expands into a new vertical
JD.com has managed to grow its share of the Chinese direct-to-consumer online sales to 23% over the past few years. Its revenue grew more than 40% year over year last quarter. But despite strong revenue growth, JD.com still isn't profitable.
Image source: YCharts.
With the Yihaodian deal, JD gains access to a growing vertical in household goods and groceries. It gains access to Wal-Mart's fresh food and imported goods via Yihaodian's direct sales channel. Yihaodian also provides a strong geographic presence in eastern and southern China, which JD.com says complements its existing geographical footprint.
With its relatively small sales, Yiahaodian alone is unlikely to push JD.com much closer to profitability. But it gives it a jumping off point for sales in a new region and product category that JD.com can learn from and scale.
Meanwhile, it turns a competitor in Wal-Mart, with tons of cash to support its operations in China, into an ally. Wal-Mart won't create or operate any new online stores besides its Wal-Mart and Sam's Club online presence in China.
JD.com certainly appears to have gotten a good deal out of this transaction, but Wal-Mart's side of the deal isn't that bad, either. Granted, it has a much better chance of significantly impacting the smaller Chinese company than the American retail monolith.
The article What Investors Need to Know About the Wal-Mart-JD.com Deal originally appeared on Fool.com.
Adam Levy has no position in any stocks mentioned. The Motley Fool has no position in any of the stocks mentioned. Try any of our Foolish newsletter services free for 30 days. We Fools may not all hold the same opinions, but we all believe that considering a diverse range of insights makes us better investors. The Motley Fool has a disclosure policy.
Copyright 1995 - 2016 The Motley Fool, LLC. All rights reserved. The Motley Fool has a disclosure policy.