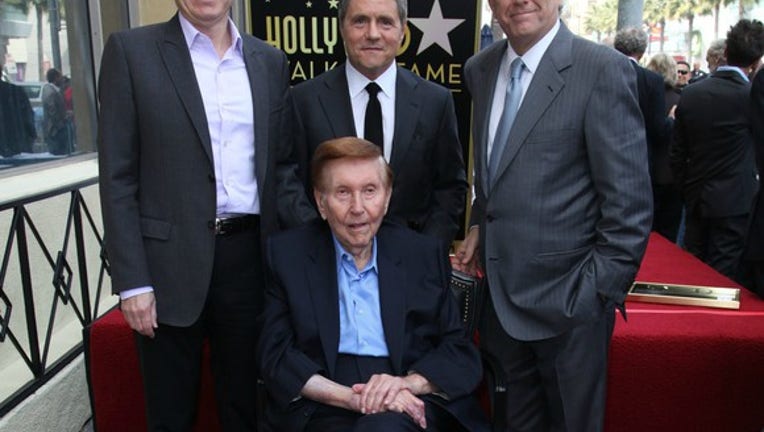 Although Sumner Redstone has left his formal positions at Viacom and CBS , he still controls both through National Amusements, a privately held company that holds 80% of the voting stock in the two public entities.
There are questions concerning the 92-year-old mogul's mental faculties. In May, however, Judge David J. Cowan of Los Angeles County Superior Court dismissed a court case brought by Redstone's former lover and caregiver, Manuela Herzer, that challenged his mental capacity regarding healthcare decisions.
The lawsuit was only questioning Redstone's capacity when it came to aspects of his personal life, but had he lost, it could have touched off a series of challenges to his control of voting shares in CBS and Viacom. Though the former active chairman has stepped aside from day-to-day operations, he still retains voting control "and remains in control until he is declared incompetent or dies," The New York Times reported.
Redstone hasn't been seen in public since an appearance at his own 92nd birthday party in May 2015. His video deposition in the competency lawsuit was not made public, but a transcript of it was, along with an evaluation by a geriatric psychologist. Judge Cowan, in his evaluation of that testimony, said "it is also not in dispute that Redstone suffers from either mild or moderate dementia."
In the deposition transcript, Redstone is often vulgar, repeatedly has to be prodded to answer through an interpreter, and at times seems unaware of what is happening around him.
Redstone, seated, is shown during happier times as he received a star on the Hollywood Walk of Fame. Standing above him, left to right, are Viacom CEO Philippe Dauman, Paramount Pictures CEO Brad Grey, and CBS CEO Les Moonves. Image source: Viacom.
What's at stake here?
In the event that Redstone dies or is legally declared unable to make decisions for himself, his stake in National Amusements and control of CBS and Viacom will shift to a seven-member trust. There is a battle under way for control of the trust that may or may not be led by Redstone's daughter, Shari Redstone, vice chairman of CBS and Viacom.
On May 20, two members of that trust, Viacom CEO Philippe Dauman and Viacom board member George Abrams, received faxed notification that they've been removed from both the trust and the board of National Amusements. Dauman has been publicly at odds with Shari Redstone since she returned to the picture after years of partial business estrangement from her father.
Dauman's spokesman called the moves "illegal and invalid" in an emailed statement to Reuters.
"They are a shameful effort by Shari Redstone to seize control by unlawfully using her ailing father Sumner Redstone's name and signature," the spokesman said. "As she knows, and as court proceedings and other facts have demonstrated, Sumner Redstone now lacks the capacity to have taken these steps."
Shari Redstone released her own statement, which was reported byThe Wall Street Journal, supporting the removal of the two trust members. "l fully support my father's decisions and respect his authority to make them," she said through a spokesman.
If the dismissal of Dauman and Abrams stands, she would have effective control of the trust. The remaining members of the trust include Shari Redstone; her son, Tyler Korff; David Andelman, a member of the CBS board; Norman Jacobs, Sumner Redstone's divorce lawyer; and Leonard Lewin, an attorney who represented Redstone's first wife, Phyllis, in her divorce from Sumner.
One of Sumner Redstone's attorneys, Michael Tu, released a statement saying that his client had taken "decisive and lawful action which he firmly believes is in the best interest of Viacom Inc. and its stockholders," the Associated Press reported.
Viacom has responded by questioning whether Tu actually represents Sumner Redstone, claiming that until this recent action, he was unknown to anyone associated with the ailing mogul other than Shari Redstone, the Journal reported.
The next step
Though the names have not been released publicly as of May 23, The New York Times reported that Sumner Redstone plans to name Thaddeus Jankowski, the senior vice president and general counsel of National Amusements, to one of the open trust positions. The second appointee, The Times wrote, "is an undisclosed friend of Ms. Redstone."
The fact that the appointees could be Jankowski -- who serves under Shari Redstone at National Amusement -- and one of Shari Redstone's friends reinforces the Viacom theory that the younger Redstone is fighting for control of the trust.
It's all about control
While Judge Cowan made it clear that the elder Redstone wanted his daughter to make medial decisions for him in the case he is no longer be able to make them himself, his wishes regarding his business empire remain unclear. Dauman and Abrams are longtime Sumner Redstone allies, but that doesn't mean the mogul did not make the decision to remove them from the trust.
Clearly, Dauman doesn't agree. His statement makes it clear that he thinks it's a power play by Shari Redstone, with whom he has often been at odds. Abrams echoed that thought in his own statement, according to The Wall Street Journal.
"I have known and represented Sumner Redstone for over 50 years." Abrams said, before recounting his long history working on various projects with the ailing mogul professionally and personally. He continued: "Above all, he is my friend. The Sumner Redstone I knew would never have taken this action. What is going on now is unsettling and sad."
Shari and Sumner have fought, too
Shari Redstone and her father have not always agreed on business matters, which she acknowledged in a court filing, The Los Angeles Times reported.
"My father and I have a uniquely close relationship, both as father-daughter and professionally," Redstone said in a court filing. "In the past we have had very public disagreements over business matters. We have patched those up, and family has always been the most important thing to me."
The younger Redstone also turned down a $1 billion offer from her father for her 20% stake in National Amusements.
What happens next?
Dauman and Abrams are nearly certain to fight their dismissal, which could force another mental-capacity evaluation of Sumner Redstone. That could raise questions about not only whether the elder Redstone is mentally competent at the time of any future evaluation, but also whether he made a competent decision (or a decision at all) to remove Dauman and Abrams.
How that plays out legally will not only determine the future of the trust that will control CBS and Viacom, but it may also determine whether Dauman remains as CEO and executive chairman of the company. Sumner Redstone's deposition makes it clear he has serious health issues, but it doesn't answer the question of whether he's competent enough to make decisions regarding the business he owns controlling stock in.
It's also unclear whether Dauman's foremost concern is his longtime friend's interests or his own job security. Similar things could be said about Shari Redstone, who may be protecting her father's interests and carrying out his stated will -- or perhaps looking to consolidate her own power.
There may be both angels and devils here. All we know at the moment is that this will get ugly before it gets settled, and uncertainty won't benefit Viacom or CBS shareholders -- though the latter company is less affected, because CBS CEO Les Moonves has stayed out of the family dispute.
Viacom specifically has seen its share price slide 36% over the past year. Some of that drop can be attributed to be business weakness, but management unrest doesn't help.
It's almost certain that this will go back to court to determine the validity of the trust changes. Until these questions are answered and shareholders know who's in charge -- not just today but in the long term -- potential volatility remains, and it's unclear who, if anyone, is fighting for the shareholdersin this complex struggle for control.
The article What Investors Need to Know About the Sumner Redstone Saga originally appeared on Fool.com.
Daniel Kline has no position in any stocks mentioned. He worked in his family's business for four years and he understands why no side may be purely right. The Motley Fool has no position in any of the stocks mentioned. Try any of our Foolish newsletter services free for 30 days. We Fools may not all hold the same opinions, but we all believe that considering a diverse range of insights makes us better investors. The Motley Fool has a disclosure policy.
Copyright 1995 - 2016 The Motley Fool, LLC. All rights reserved. The Motley Fool has a disclosure policy.