What Investors Need to Know About the PSAV IPO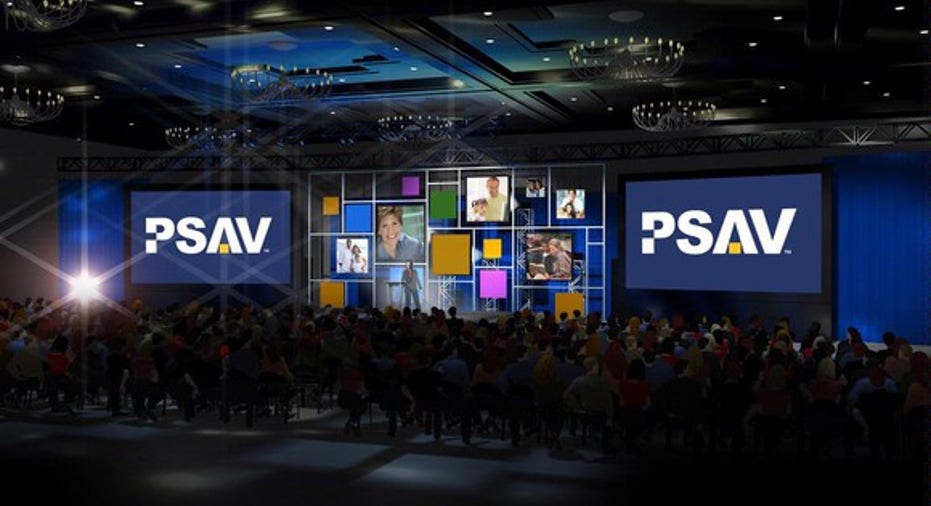 PSAV, one of the biggest event production support companies in the U.S., is preparing to make its public market debut this week. The initial public offering is expected to price today and begin trading on Friday. Here's what investors need to know.
Image Source: PSAV
Time to take the stage
Remember the A/V club in your high school? Think of PSAV as the grown-up, corporate version of that organization.
The company provides a wide range of the technological, logistical, planning, design and construction work needed for presentations. Basically, it offers nearly every imaginable good or service needed for an event of practically any size. PSAV's website features its work in venues ranging from small hotel conference rooms to large stadiums.
What helps is that the company has locked in long-term partnerships with a group of venues like hotels and convention centers. PSAV says it's the exclusive event technology provider to more than 1,400 such facilities around the world.This gives it a 46% market share of what it calls "the meeting and event space across all luxury and upper upscale hotel properties," in the U.S. In its business, PSAV is the leader in 19 of the top 20 hotel markets in the country, while internationally, it is active in 12 nations.
In various configurations and with shifting ownership, the company has been around since the 1930s. In fact, this isn't its first time under the hot lights of the stock market -- it was a publicly traded entity called Audio Visual Services Corp. until being taken private in 2007.
PSAV merged with another company several years later and was then sold off to Goldman Sachs' private equity arm. Goldman Sachs is coincidentally serving as lead underwriter for the IPO, in conjunction with Morgan Stanley.
The Goldman Sachs version of PSAV has delivered solid revenue growth recently -- the company reported a nearly $1.5 billion top line for 2015, a 25% improvement from the previous year. The predecessor entity grew its revenue by 70% from 2011 to 2013 to land at over $1 billion.
Event production is manpower and resource-intensive, so the various iterations of PSAV haven't always been profitable. Out of the five previous years, the company and its predecessor booked a net profit only twice ($9.7 million and $17.6 million in 2012 and 2013, respectively). Net losses ranged from $5.8 million to almost $26 million across that stretch.
Like a great many companies recently shepherded to the stock market by private equity owners, PSAV is burdened by a great deal of long-term debt. As of this past March, the company's debt balance stood at nearly $863 million. According to the company, the primary use of its IPO proceeds will be to retire a chunk of its outstanding borrowings.
In search of a bigger audience
PSAV believes there's plenty more revenue growth to be had. The company estimates its "primary addressable market" for audiovisual and event technology services totals something like $23 billion around the globe. It also puts the demand for event design and construction at roughly $20 billion.
PSAV shares are slated to begin trading this Friday. The company will be listed on the New York Stock Exchange under the ticker symbol PSAV. Just over 14 million shares are to be sold, at a price of $12 to $13 apiece. At the midpoint of this range, the company would raise $177 million.
Those numbers actually represent a reduction from the initial offering terms. Originally, the IPO was to total 16.1 million shares priced at $14 to $17 each for an approximately $250 million deal. It appears investors had qualms with the valuation, forcing the company to reduce its expected market cap at the midpoint of the range by over $200 million.
As mentioned, Goldman Sachs and Morgan Stanley will lead the underwriting group, which is rounded out by Barclays, Piper Jaffray, William Blair, Macquarie Capital, and Credit Suisse.
The article What Investors Need to Know About the PSAV IPO originally appeared on Fool.com.
Eric Volkman has no position in any stocks mentioned. The Motley Fool has no position in any of the stocks mentioned. Try any of our Foolish newsletter services free for 30 days. We Fools may not all hold the same opinions, but we all believe that considering a diverse range of insights makes us better investors. The Motley Fool has a disclosure policy.
Copyright 1995 - 2016 The Motley Fool, LLC. All rights reserved. The Motley Fool has a disclosure policy.