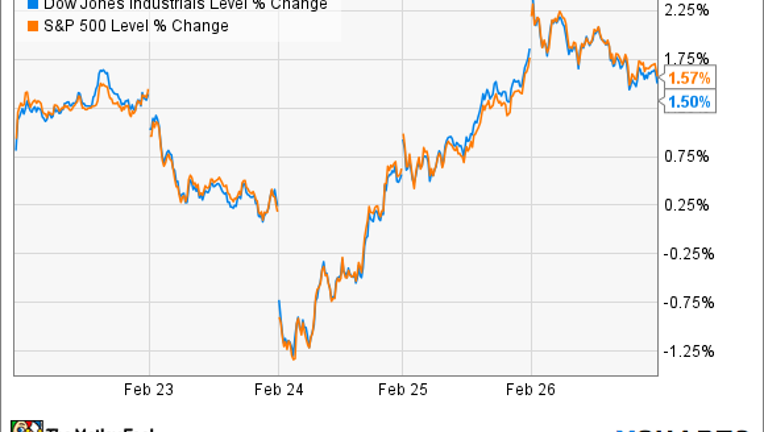 It was another down and up kind of week for the Dow Jones Industrial Average and the S&P 500 , which traded lower until they reversed on Wednesday, finishing up 1.50% and 1.57% for the week, respectively.
Data by YCharts
Economic data was a mixed bag on Friday as the markets tried to hold their weekly gains. On the one hand, gross domestic product, a measure of the goods and services produced across our economy, increased a seasonally adjusted annual rate of 1% during the fourth quarter, which was a revision above last month's 0.7% estimates. On the flip side, a revision to consumer spending estimates showed spending was slower than previously expected during the holiday season -- revised to 2% from 2.2%.
With all the dreary economic numbers out of the way, there were some stocks making big moves during the week. Here are a few highlights.
Data by YCharts
One of many First Solar solar farms. Source: First Solar
So bright! Shares of First Solar were on fire, trading about 12% higher as one of the best performing stocks in the S&P 500 for the week. One reason for its outperformance was that it posted a solid fourth quarter.
Quarterly revenue checked in at $942 million with earnings of $1.60 per share. It was a solid 2015 for the company as well, with revenue at the high end of guidance at $3.6 billion, while earnings topped guidance with $5.37 per share.
Beyond the top and bottom line performances, the company also posted a book-to-bill ratio above one, which is a good sign for growth in the near-term. More specifically, the company's bookings for 2015 checked in at 3.4 GW, and its shipments for the year were 2.9 GW. In addition, First Solar's potential booking opportunities moved from 2.9 GW to 20.3 GW.
And investors shouldn't have to worry much about First Solar cutting its revenue guidance. Congress passed a multi-year extension of the Solar Investment Tax Credit beyond December 2016. That is great news for First Solar in the long run, but due to the extension, it reduces demand in the immediate future as the cutoff deadline for the tax credit is no longer looming.
Salesforce provides hopeSalesforce.com tracks its business in a non-calendar fiscal year, and that set the stage for investors heading into the company's fiscal 2016 fourth quarter results, which extended through January, a month during which some technology companies witnessed industry weakness. When Salesforce.com topped quarterly revenue expectations and raised its full-year revenue guidance, it provided some technology investors with hope.
Looking at the details, Salesforce.com reported fourth quarter revenue of $1.81 billion, a 25% year-over-year increase. Adjusted earnings checked in at $0.19 per share. Part of the strong quarterly results was driven by the company's 600 seven-figure plus deals and its first nine-figure deal -- encouraging numbers that indicate near-term growth should remain strong.
As previously mentioned, the company also gave investors impressive fiscal 2017 first quarter guidance with revenue expected to come in between $1.885 billion and $1.895 billion and adjusted earnings of $0.23 to $0.24 per share. That compares favorably to the analyst consensus of $1.86 billion and $0.21 per share, respectively.
Ford F-150 -- king of the hill again. Source: Ford Motor Company
F-150 back on top The good news continues for the folks at the Blue Oval, which last month posted record profits for 2015 -- despite a stock price that continues to falter amid "peak auto sales" fears in the U.S. market. Ford Motor Company started the week off on a positive note asConsumer Reports'Annual Top Picks named the Ford F-150 as the top pickup truck for the first time in 17 years:
That's good news for the company's most profitable model, which drives a major portion of the company's North American profits and generates luxury-like sales, often above $50,000 per unit. In an ultra-competitive auto industry, where a fraction of a percent of market share is extremely valuable, publicity and awards such as this are a nice bonus for automakers.
The article What Investors Missed in the Stock Market Last Week originally appeared on Fool.com.
Daniel Miller owns shares of Ford. The Motley Fool owns shares of and recommends Ford. The Motley Fool recommends Salesforce.com. Try any of our Foolish newsletter services free for 30 days. We Fools may not all hold the same opinions, but we all believe that considering a diverse range of insights makes us better investors. The Motley Fool has a disclosure policy.
Copyright 1995 - 2016 The Motley Fool, LLC. All rights reserved. The Motley Fool has a disclosure policy.