What Helmerich & Payne's Management Wants You to Keep in Mind As Earnings Approach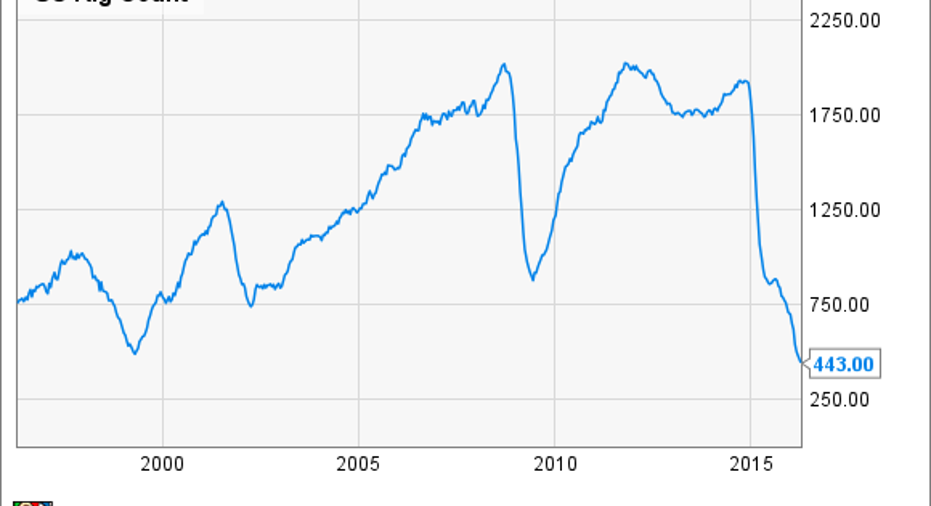 Image source: Helmerich & Payne corporate website.
Life hasn't exactly been easy for Helmerich & Payne over the last couple of years. Even though the company remains one of the top land rig contractors in the business, there just isn't a whole lot of work to spread around the business since the active rig count is now at the lowest point ever since we started keeping track back in the early 1960s.
U.S. Rig Count data by YCharts.
Despite the tough operating market, Helmerich & Payne's management has some important messages before you make any drastic decisions about this stock. Here are a few quotes from its last earnings conference call that you should keep in mind as the company approaches its earnings release date of May 2nd.
Brutal market persistsLike for just about every other oil services company, the downturn in oil and gas drilling activity has taken a deep bite out of Helmerich & Payne's earnings. Since most of the company's revenue generating assets are U.S. land rigs, it has taken a larger hit than other oil services companies that have more geographic diversity. Oil prices haven't really started to recover to a point that producers are running out to drill new wells, and Helmerich & Payne CFO Juan Pablo Tardio foresees the market for rigs deteriorating even further:
Good equipment is in demand in any marketAs the market for rigs dries up, one of the immediate conclusions an investor might make is that Helmerich & Payne will lose some of its pricing power. Surprisingly, though, this wasn't the case last quarter.
That's certainly promising, and over the years, the company has been able to garner a market premium for its rigs thanks to its fleet of high-specification rigs.
Image source: Helmerich & Payne investor presentation.
However, investors should be aware that management is preparing for this to not happen again as the market continues to weaken:
We're in the middle of a major technology turnoverAs horizontal drilling and hydraulic fracturing become a larger and larger component of the energy mix, it's making several older rigs obsolete. As CEO John Lindsay explains, it's having a noticeable effect on the fleet of rigs in operation.
We're in a good position for that changeThis transformation to alternative current (AC)-driven rigs clearly plays into the company's strengths, as it has substantially grown its AC rig fleet and essentially retired other rig technologies.
Image source: Helmerich & Payne investor presentation.
Another strategic advantage the company has is that, unlike many of its peers, it has not used debt to grow the business and now has a much cleaner balance sheet:
Image source: Helmerich & Payne investor presentation.
Considering these two components of the business, it's not too surprising that the company intends to use that position to its benefit over the next few quarters as we start to anticipate an eventual recovery of the industry.
We're still strong enough to keep our dividend in tactThanks to the company's prudent financial decisions and its strong competitive offering, Helmerich & Payne has been able to maintain a dividend streak going on 42 years now, making it one of the few dividend aristocrats in the energy industry. Still, the longer this downturn continues, concern is growing that the company won't be able to maintain its current dividend. At least for the time being, Tardio wants to alleviate those concerns:
The company only gives guidance on a quarterly basis, and if the upcoming quarters deteriorate even more, perhaps it will need to reconsider. Based on what management is saying today, though, investors can at least take solace in the fact that Helmerich & Payne is doing what it can to preserve its dividend streak.
The article What Helmerich & Payne's Management Wants You to Keep in Mind As Earnings Approach originally appeared on Fool.com.
Tyler Crowe has no position in any stocks mentioned.You can follow him at Fool.comor on Twitter@TylerCroweFool.The Motley Fool has no position in any of the stocks mentioned. Try any of our Foolish newsletter services free for 30 days. We Fools may not all hold the same opinions, but we all believe that considering a diverse range of insights makes us better investors. The Motley Fool has a disclosure policy.
Copyright 1995 - 2016 The Motley Fool, LLC. All rights reserved. The Motley Fool has a disclosure policy.