What Happens If Walgreens' Acquisition of Rite Aid Falls Through?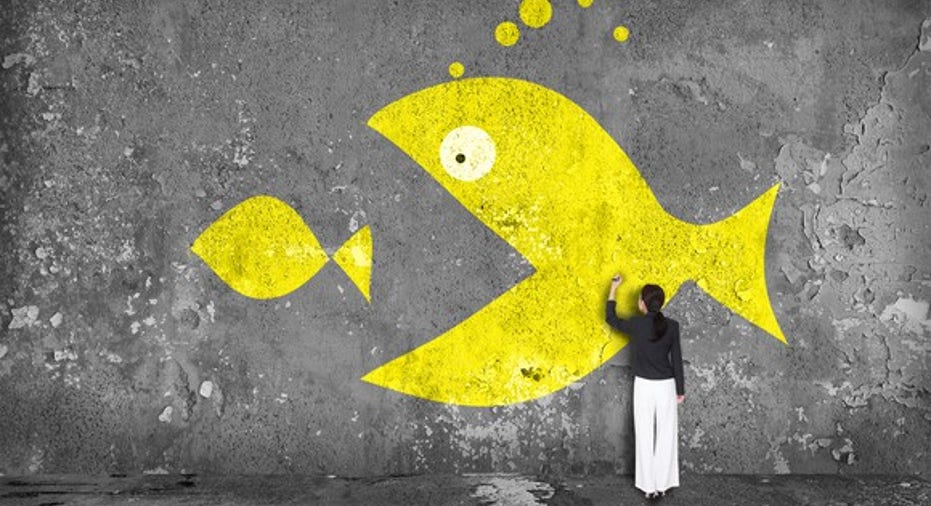 It's been over 14 months sinceWalgreens Boots Alliance (NASDAQ: WBA) announced plans to acquire smaller rival Rite Aid (NYSE: RAD). At the time, Walgreens stated that the deal was expected to close sometime in the second half of 2016. The U.S. Federal Trade Commission (FTC) clearly wasn't on the same page and is still reviewing the proposed acquisition. But what happens if the FTC doesn't approve the buyout of Rite Aid?
Image source: Getty Images.
No plan B for Walgreens
When asked what the company might do if the Rite Aid acquisition falls through, Walgreens Boots Alliance CEO Stefano Pessina said that no thought is being given to a backup plan right now. Walgreens continues to work with the FTC to provide additional information.
There would, of course, be an immediate impact for the giant pharmacy retailer if the FTC stops the deal. For one thing, Walgreens would have to lower its earnings guidance for 2017. The company currently expects accretion this year of $0.05 to $0.12 per share from the Rite Aid buyout.
Walgreens anticipated synergies of more than $1 billion from the Rite Aid transaction. Those savings wouldn't happen overnight, though. It would take some time for Walgreens to integrate Rite Aid's operations. One word from the FTC, however, and that $1 billion goes up in smoke.
Perhaps the biggest question for Walgreens shareholders in the wake of the Rite Aid buyout failing to win approval is this: What will the company do with the $17 billion or so it planned to spend on the transaction? Even though Pessina said that no one was thinking about a plan B, it sounded like he has. He stressed that Walgreens wouldn't look to immediately spend the money just to prove that it's doing something if the Rite Aid deal didn't happen.
Risks for Rite Aid
The effect on Rite Aid of a failed deal would also be enormous. Rite Aid's stock traded 25% lower than the current price prior to Walgreens announcing the planned acquisition. If the FTC decides against the buyout, Rite Aid's shares would almost certainly crash.
For Rite Aid's shareholders, the pain would actually be even worse. Walgreens' offer price was $9.00 per share. That's nearly 10% higher than Rite Aid's current stock price.
Rite Aid's management team would also be left with the long list of challenges the company faces now. Earnings are falling as a result of lower profitability for its retail pharmacies. Rite Aid is also still in the process of integrating its own acquisition of EnvisionRx in 2015.
Then there's the biggie: Rite Aid's debt. The company is highly leveraged with long-term debt of more than $7.2 billion. While Rite Aid is managing its debt pretty well, it still is a weight that could impede the company's ability to make its own deals in the future.
The bottom line is that if it's not acquired by Walgreens, Rite Aid must continue to compete against Walgreens. And it must do so with much less cash and much higher debt leverage. I wouldn't say that Rite Aid can't succeed. The company's turnaround since 2013 has been impressive. However, it won't be an easy path for Rite Aid if it stands alone.
Others affected
Let's not forget that other companies would feel the ripple effects of a negative FTC decision as well. Fred's (NASDAQ: FRED) planned to buy865 Rite Aid stores as part of a move to help allay antitrust concerns.
The announcement of this deal on Dec. 20, 2016 sent Fred's shares soaring. Picking up those Rite Aid stores would make Fred's the third-largest drugstore chain in the U.S., transforming the company into a major national competitor. Fred's currently has 648 stores and three specialty pharmacy-only locations in 15 states.
CVS Health (NYSE: CVS) would also be affected should the Walgreens buyout of Rite Aid fall through. CVS has already been burned by Walgreens twice in recent months. In August, Walgreens landed a deal withPrime Therapeutics, the nation's fourth-largest pharmacy benefits manager. In September, Tricare, which serves9.4 million members of active-duty and retired military personnel and their families, replaced CVS with Walgreens. An even bigger Walgreens could become an even bigger threat for CVS Health.
While shareholders of Walgreens, Rite Aid, and Fred's would be despondent if the FTC rejects the proposed acquisition, CVS Health investors would be happy. Bad news for Walgreens would be the best news CVS has had in quite a while.
Best guess
All of this speculation is for naught if the FTC approves Walgreens' buyout of Rite Aid. My best guess is that the deal will still go through. The potential sale of Rite Aid stores to Fred's certainly helps improve the chances.
Even if the FTC rejects the transaction, it's possible that wouldn't be the end of the road. Two of the five FTC commissioner slots are open right now. President-elect Donald Trump will get to nominate candidates to fill these positions. His appointed commissioners could conceivably swing the balance for approval.
10 stocks we like better than Walgreens Boots Alliance When investing geniuses David and Tom Gardner have a stock tip, it can pay to listen. After all, the newsletter they have run for over a decade, Motley Fool Stock Advisor, has tripled the market.*
David and Tom just revealed what they believe are the 10 best stocks for investors to buy right now... and Walgreens Boots Alliance wasn't one of them! That's right -- they think these 10 stocks are even better buys.
Click here to learn about these picks!
*Stock Advisor returns as of January 4, 2017
Keith Speights has no position in any stocks mentioned. The Motley Fool recommends CVS Health. The Motley Fool has a disclosure policy.