What Happened When Twitter Tried to Copy Snapchat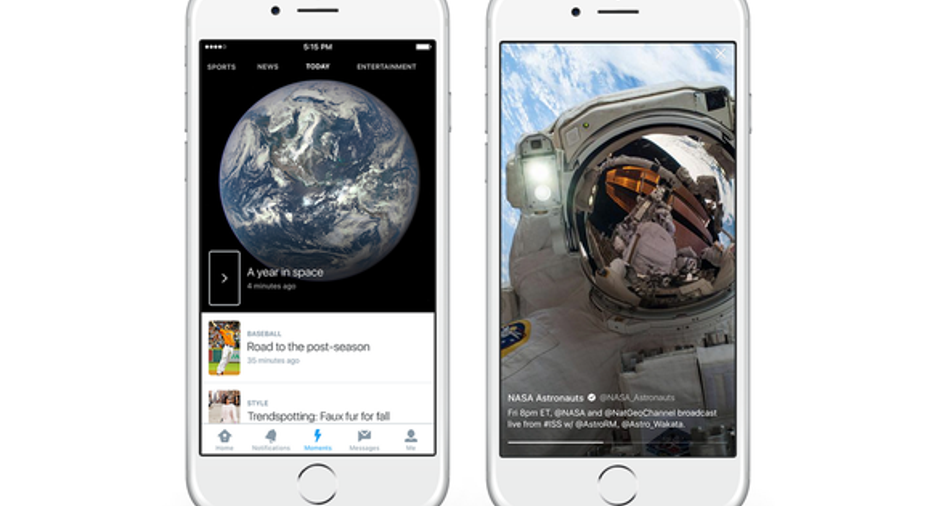 Facebook (NASDAQ: FB) has taken a lot of flack for its recent strategy of copying Snapchat's Stories format. But Facebook has successfully grown the format on both Instagram and WhatsApp, which have 200 million and 175 million daily active users for their respective Snapchat clones, both more than Snapchat's 166 million daily users.
But stealing ideas from Snap (NYSE: SNAP) and turning them into successful products is no easy task. Just ask Twitter (NYSE: TWTR).
Twitter actually tried to copy the Stories format before Facebook with a product called Moments. Before it launched, management heralded Moments (code-named Project Lightning) as a major step forward for Twitter to make the platform more accessible and engaging. Within a year, Twitter was testing a replacement.
Image source: Twitter
How Twitter got Stories wrong
There were a few major differences between Moments and Snapchat Stories. The two biggest are that Twitter initially limited who could create a Moment and it simply repurposed organic Twitter content for Moments.
Snapchat took the opposite approach with how it introduced users to Stories. It first introduced My Story, where individuals could share personal moments for up to 24 hours with all of their friends. It then curated content from users' Stories to create Our Story, which feature the best Snaps from specific events or cities like music carnivals or just a weekend in Chicago.
By allowing every user to create personal stories first, Snapchat was able to generate massive awareness of the new feature. Twitter simply highlighted a new button at the bottom of its app. That's not a strong enough signal to change user behavior. Comparatively, Instagram introduced Stories with a big banner across the top of the app with graphics of users' friends sharing stories, a much more engaging and eye-catching feature.
Twitter didn't want to disrupt its core user base, which generates the majority of its content and indirectly its revenue. That put unnecessary pressure on the product design team to ensure Moments didn't disrupt the core use of Twitter.
Secondly, Twitter simply repurposed existing tweets for use in Moments. That led to weirdly cropped images and videos due to the vertical orientation of smartphone screens. Additionally, it meant a lot of words instead of images. That's simply not as engaging as nice fullscreen images.
Twitter's mass audience problem
Moments was supposed to appeal to a broader audience than Twitter's core user group. It was supposed to make Twitter accessible. The company even ran a national television campaign to introduce it to new users. But it didn't help spur adoption.
Twitter has since moved away from its total audience narrative, which talked about how many unique visitors come to its website and the number of people that see Twitter content around the web. It's instead focusing on improving the core Twitter product, and its efforts appear to be paying off. Twitter says daily users increased 14% year over year in the first quarter. Still, Twitter's audience is limited by the appeal of that core Twitter product.
It just goes to show that copying a successful format isn't enough to create a successful product. If Twitter did things differently, it may have boosted its audience engagement and ad revenue, but we'll never know.
In comparison, Facebook's efforts appear to have paid off handsomely. The key was meeting users where they are instead of timidly letting them know about a new feature. It did the exact same thing when it made Facebook app users download Messenger. Facebook's system works. The new features in Instagram, WhatsApp, Messenger, and Facebook all present a new revenue opportunity.
Meanwhile, Snapchat has created a self-imposed limit on its user growth. The company is focusing on users in well-developed markets with easy access to a strong internet connection and lots of high-end devices. While Snapchat users are concentrated in some of the biggest advertising markets, the product will never have the mass appeal of Facebook or Instagram.
That leaves the door wide open for Facebook to continue its dominance over social advertising. After Twitter's failure to engage a mass audience and Snap's decision not to, Facebook can snatch up millions of users. That will only make Facebook more appealing to advertisers. Meanwhile, Snap will have a cap on its advertising revenue and Twitter has already had a couple quarters of ad revenue declines.
10 stocks we like better than TwitterWhen investing geniuses David and Tom Gardner have a stock tip, it can pay to listen. After all, the newsletter they have run for over a decade, Motley Fool Stock Advisor, has tripled the market.*
David and Tom just revealed what they believe are the 10 best stocks for investors to buy right now... and Twitter wasn't one of them! That's right -- they think these 10 stocks are even better buys.
Click here to learn about these picks!
*Stock Advisor returns as of May 1, 2017
Adam Levy has no position in any stocks mentioned. The Motley Fool owns shares of and recommends Facebook and Twitter. The Motley Fool has a disclosure policy.