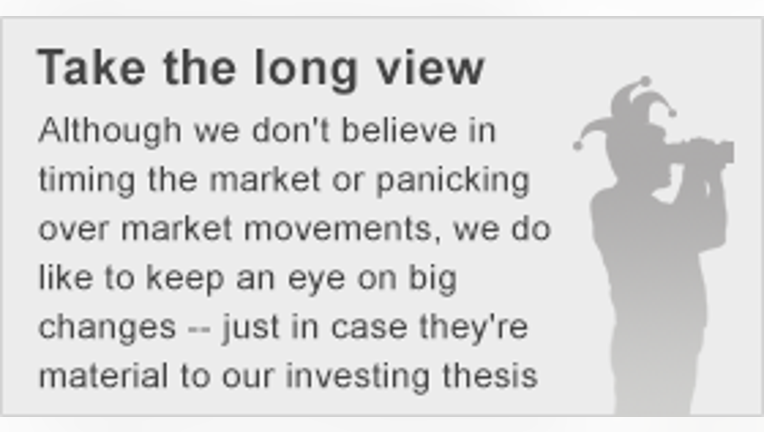 Liberty Investors are now direct owners of the Atlanta Braves. Image source: Atlanta Braves.
What:Shares ofLiberty Media Corp. may have given some unsuspecting investors heart problems as some financial news outlets reported the stock down as much as 51%. In reality, the stock is being split into three separate tracking so there is no real loss of value on the part of investors.
So what:After markets closed on Friday, Liberty announced the completion of a previously announced transaction that split its common stock into three new tracking stocks: the Liberty Braves common stock, the Liberty Media common stock, and the Liberty Sirius XM common stock.
The transaction, or recapitalization as the company is calling it, will exchange current investors' shares for one share of Liberty Sirius XM stock, 0.1 of share of Liberty Braves stock, and 0.25 share of the new Liberty Media stock. The company expected the new stocks to begin trading today under the following tickers.
Nasdaq Global Select Market
OTC Markets
Data source: Liberty Media.
Now what:Liberty had originally announced the plans last November, and Liberty Chairman John Malone has used the tactic previously to separate Liberty Interactive, the home shopping division, from the rest of the media company.
The new tracking stocks will allow investors to direct money specifically into one of the company's disparate entities, and it will also allow the different segments to enact their own policies regarding raising capital, repurchasing shares, or paying dividends. Liberty CEO Greg Maffei also said the tracking stocks are a way to pinpoint the market discount to the company's net asset value, a sign that it believes its shares to be undervalued.
For Liberty shareholders who were happy with the old stock, little changes from today's transaction.
The article What Happened to Liberty Media Corp. Shares Today originally appeared on Fool.com.
Jeremy Bowman has no position in any stocks mentioned. The Motley Fool has no position in any of the stocks mentioned. Try any of our Foolish newsletter services free for 30 days. We Fools may not all hold the same opinions, but we all believe that considering a diverse range of insights makes us better investors. The Motley Fool has a disclosure policy.
Copyright 1995 - 2016 The Motley Fool, LLC. All rights reserved. The Motley Fool has a disclosure policy.