What General Motors' New Opel Tells Us About the All-New 2018 Buick Regal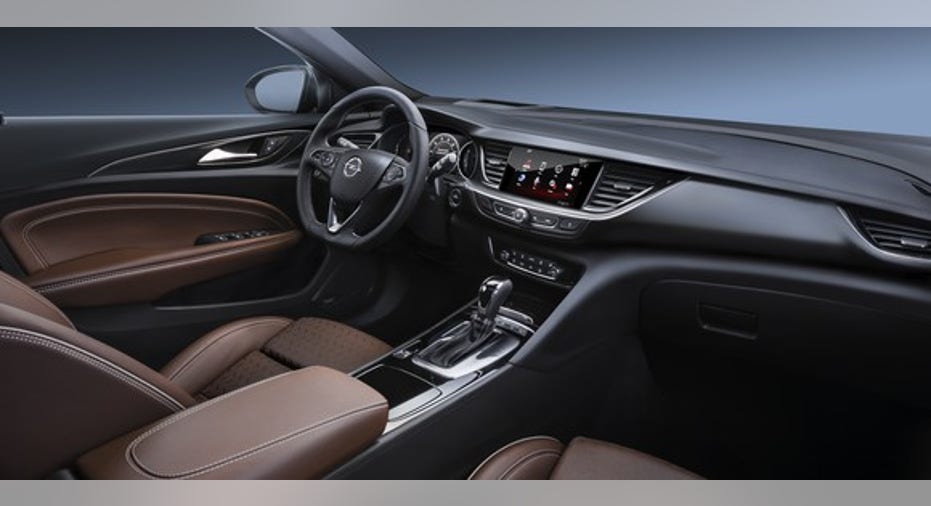 The all-new Opel Insignia Grand Sport. The upcoming all-new 2018 Buick Regal is expected to look very similar. Image source: General Motors.
General Motors (NYSE: GM) on Wednesday unveiled the upcoming all-new Opel Insignia Grand Sport. The current Insignia is the European twin of the Buick Regal. GM is known to have an all-new Regal in the works, and it will probably look very much like the white sedan you see here.
Why this new Opel is of interest to Americans
First, some background. Opel is a German subsidiary of GM. It was a money-loser for manyyears, but it has recently been on an upswing with new products and better management. Opel's product line is now closely integrated with the Buick brand, and several of its models are sold as Buicks in the U.S. and China. That includes the Buick Regal, which is a very closesibling of Opel's Insignia sedan.
The Insignia is Opel's largest sedan, what Americans would call mid-size. It competes with models like Volkswagen's (NASDAQOTH: VLKAY) Passat and Ford Motor Company's (NYSE: F) Mondeo, the European twin of the Fusion. While the Regal is kind of a nicheproduct here in the U.S., the Insignia is an important model for GM in Europe.
The Buick Regal sold here in the U.S. (and in China) is essentially the Insignia with different badging and details. If you can visualize the all-new Insignia with a Buick grille, you're probably very close to what the new Regal will look like.
The all-new Regal will probably arrive in the U.S. sometime next year as a 2018 model; GM is expected to reveal it sometime in the next few months, and it will probably look a lot like this new Insignia.
What GM said about the new Opel Insignia Grand Sport
The new Opel is built on GM's "E2XX" architecture, shared with (among other vehicles) the well-regarded Chevrolet Malibu that was introduced for 2016. As with the Malibu, the new Insignia has a longer wheelbase than the outgoing model (by 92 millimeters, or about 3.6 inches), giving it a more spacious interior. It's also stiffer and lighter in weight by 175 kilograms (385 pounds), which should make it more fuel efficient and more fun to drive.
The new Insignia Grand Sport has a coupe-like roofline, following the fashion set by upscale German rivals such as the Audi A7 and the Mercedes-Benz CLS. (That's probably the reason for the "Grand Sport" in its name.) It'll be available in front-wheel-drive and all-wheel-drive variants, with several different gasoline engines and at least one diesel. GM said it would give more specifics on the available engines when the new Insignia launches early next year.
The Insignia Grand Sport's interior is well-trimmed, with a big touchscreen. Styling of the upcoming new Regal's interior should be similar. Image source: General Motors.
It'll also be offered in a couple of other variations. The Grand Sport will be joined next spring by a wagon ("Sport Tourer") and a crossover-inspired variant to be called the Country Tourer. (The Country Tourer should be something like an upscale Subaru Outback.)
"No other car in the Insignia class can boast as many ultra-modern technologies," Opel CEO Karl-Thomas Neumann said in a statement. "We made it light, agile and fantastic to drive. And our designers gave it an exceptional combination of elegance and athleticism that even cars from upper classes and prices will envy."
What the new Insignia tells us about the upcoming new Buick
The styling of the U.S.-market Regal will almost certainly be very close to the new Insignia's. What we don't know is what engine(s) will be offered. The current Regal is offered with a 2.4 liter four-cylinder standard; a more powerful 2.0 liter turbocharged four cylinder is optional. It's likely the new Regal will have a similar pair of engines; it's not likely that the diesel will come to the U.S.
TheInsignia Grand Sport's coupe-like roofline is easy to see in this photo. Image source:General Motors.
There have been hints that the next-generation Regal lineup will include a wagon of some kind. Given the U.S. market's love of crossovers and disdain of traditional station wagons, I think it's likely that a Buick version of the Insignia Country Tourer is in the works.
What's next for GM and the Opel Insignia
GM said the full next-generation Insignia lineup will have its official premiere at the Geneva Motor Show in March, but the Insignia Grand Sport is expected to start arriving at European dealers earlier, in January.
It's likely GM will show off the all-new Buick Regal at one of the major U.S. auto shows between now and spring, possibly at the North American International Auto Show in Detroit in January.
10 stocks we like better than General Motors When investing geniuses David and Tom Gardner have a stock tip, it can pay to listen. After all, the newsletter they have run for over a decade, Motley Fool Stock Advisor, has tripled the market.*
David and Tom just revealed what they believe are the 10 best stocks for investors to buy right now...and General Motors wasn't one of them! That's right -- they think these 10 stocks are even better buys.
Click here to learn about these picks!
*Stock Advisor returns as of Nov. 7, 2016.
John Rosevear owns shares of Ford and General Motors. The Motley Fool owns shares of and recommends Ford. The Motley Fool recommends General Motors. Try any of our Foolish newsletter services free for 30 days. We Fools may not all hold the same opinions, but we all believe that considering a diverse range of insights makes us better investors. The Motley Fool has a disclosure policy.