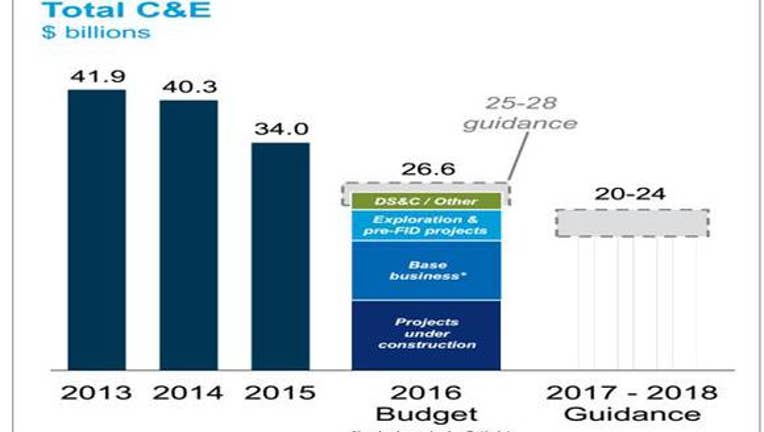 Image Source: Total investor presentation
The collective balance sheets of the oil and gas industry are feeling the strain from 2015. Cash flows outflows far exceeded cash generated from operations. Investors might be interested to learn that one of the six majors --French oil and gas heavyweightTotal(NYSE: TOT)-- bucked this trend. This company actually decreased the amount of debt on its balance sheet over the course of 2015.
Such an achievement begs the question "how"?
Does the company have some sort of advantage over the rest of the industry?
Does the company produce oil and gas in some sort of exotic locale where commodity prices did not plummet?
Was some form of voodoo involved?
Source:Total.
How did Total manage that?To determine how Total managed to escape 2015 without increasing its net debt requires a tour of the company's cash flow statement. That's where we'll find out where the cash came from and went for Total in 2015.
Cash flow from operations in 2015 was $19.9 billion, a $5.6 billion drop from 2014. Against that $19.9 billion of cash generated, Total had capital expenditures of $25.6 billion and paid dividends of $2.8 billion. Combined capex and dividends totaled $28.4 billion, which means that Total outspent operating cash flow by $8.5 billion.
Since we know that Total's total net debt decreased during the year, we need to look further to determine how Total covered that spending excess while not adding debt.
Total's cash flow statement reveals that the company raised $5.1 billion from selling assets and subsidiaries and another $5.6 billion from issuing perpetual subordinated notes. Combined, these items cover the amount that Total outspent cash flow by and left some cash to reduce debt.
So while Total's net debt did decrease from the beginning of 2015, it isn't because the company had a magic formula that made it immune to low oil prices. Total just chose to cover its cash flow shortfall through asset sales and a perpetual note issuance.
For some real balance sheet deterioration, we need to have a look at Chevron (NYSE: CVX).
Even for a supermajor, that's a big increase in debtIn 2015, Chevron generated $19.5 billion of cash flow from operations. Against that $19.5 billion of cash coming in, $38.6 billion went out the door for capital expenditures and dividends.
While Total needed to cover $8.5 billion of outspending of operating cash flow, Chevron had to come up with $19.1 billion.
Chevron sold $5.7 billion worth of assets to cover part of this and dug into its cash balance for another $2.6 billion. The remainder of the $19.1 billion of outspending was funded by a $10.8 billion increase in long-term debt.
Even for a company as big as Chevron, that's adding a lot of debt in a pretty short time frame. Chevron started 2015 with long-term debt of $27.8 billion and ended the year with $38.6 billion, an increase of nearly 40% in just one year.
| Selected Balance Sheet Account Data | 31-Dec-15 | 31-Dec-14 |
| --- | --- | --- |
| | | |
| Cash and Cash Equivalents | 11,022 | 12,785 |
| Time Deposits | 0 | 8 |
| Marketable Securities | 310 | 422 |
| Total Assets | 266,103 | 266,026 |
| Total Debt | 38,592 | 27,818 |
| Total Stockholders Equity | 152,716 | 155,028 |
Source: Chevron.
What is 2016 going to look like for these companies?Both Total and Chevron outspent cash flow by quite a wide margin in 2015. What's going to happen in 2016 now that oil prices have dropped another $20 per barrel from what they averaged last year?
For Chevron, capital spending is going to drop from $34 billion to $26.6 billion.
Source: Chevron Q4 earnings presentation.
Given that operating cash flow in 2015 was $19.1 billion with higher oil prices than we currently have, Chevron, with a $26.2 billion capex budget, is going to again be significantly outspending cash flow, especially once the dividend is factored in. There will be some help in closing that spending gap with long lead-time project Gorgon LNG starting up. That will remove a source of cash outflows in 2015 and turn into a cash inflow in 2016.
Total's initial 2016 plan, which was released back in September, called for $20 billion to $21 billion of capital spending, which would also be well in excess of the cash flow the company could be expected to generate.
Source: Total 2015 investor day presentation.
Some Hard Choices In 2016To cover this overspending, these companies are going to have to make pick from a few options, none of which are terribly attractive. Declining cash flows are already leveraging up these companies' balance sheets (debt to cash flow ratios increase), so funding overspending with more debt just worsens the problem.
Selling assets is another option, but this far into a brutal commodity price collapse, purchase prices have to be much less than they once were. Plus, selling assets often involves selling cash flows which also increases leverage.
Issuing stock is a third route, and it also has a drawback in that share prices are at much lower levels than they have been in recent years. That makes any equity issuance more dilutive to shareholders. Total has been slowly diluting shareholders already with its scrip dividend program, which issues new shares as a form of dividend payment instead of cash to those that sign up for it.
The reality is that there is no easy way out for anyone in this industry. The best solution these companies have is for oil and natural gas prices to turn higher. Until that happens, life is going to be full of tough decisions. Chevron has avoided diluted shareholders but its balance sheet has paid the price. If oil turns higher sooner rather than later that will turn out to be the right move. Personally I'd be fine with companies eliminating dividends when commodity prices collapse in order to preserve balance sheet strength. I know the market wouldn't like it but isn't that what you would do with your own business? A little short term pain in the best interests of long term financial strength shouldn't be too hard to take.
The article What Form of Witchcraft Allowed Total S.A. To Reduce Debt In 2015? originally appeared on Fool.com.
TMFWolfpack has no position in any stocks mentioned. The Motley Fool recommends Chevron and Total (ADR). Try any of our Foolish newsletter services free for 30 days. We Fools may not all hold the same opinions, but we all believe that considering a diverse range of insights makes us better investors. The Motley Fool has a disclosure policy.
Copyright 1995 - 2016 The Motley Fool, LLC. All rights reserved. The Motley Fool has a disclosure policy.