What Drove These 3 Auto Stocks More Than 13% Higher in November?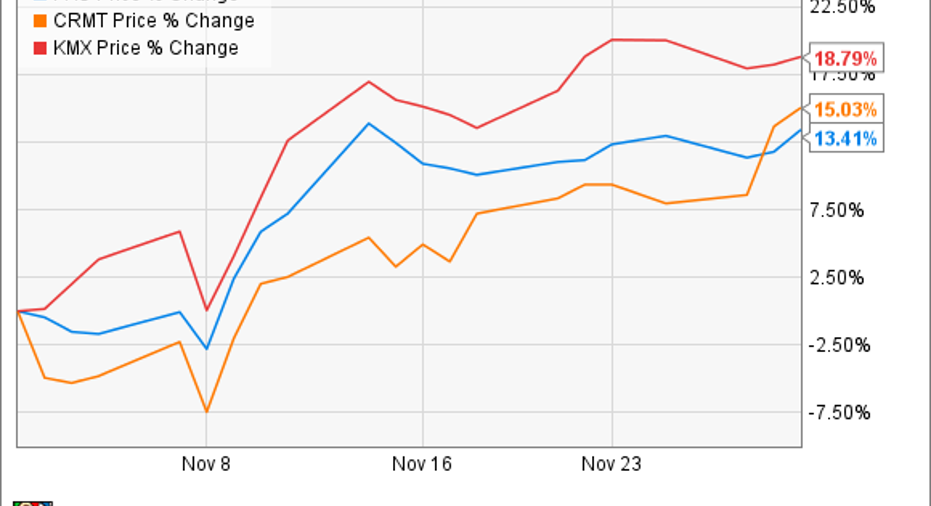 Black Friday was a successful end to a great month for many automotive retailer stocks. Image source: Getty Images.
What
If you were watching the election closely -- and who wasn't? -- you likely remember the immediate pessimism that rolled through Wall Street after the results were announced. That was especially true for companies in the automotive industry, which are expected to be negatively impacted by Donald Trump's proposed renegotiation of the North American Free Trade Agreement. But as you can see in the graph below, after the initial shock, auto dealership stocks rebounded.
Let's dig into what's driving stocks in the auto dealership industry higher overall, as well as what happened with them individually during November.
So what
Despite the initial shock of Trump's victory, markets quickly turned optimistic that the economy would improve in the short term. In fact, Edmunds.com Executive Director of Industry Analysis Jessica Caldwell put it perfectly in a press email: "It's probably no coincidence that this month's strong sales performance comes at the same time that the Dow Jones Average reached an all-time high. Now that the presidential election is over, shoppers have more confidence in the economy than they had just a month ago, and that gives them extra motivation to make big-ticket purchases."
Furthermore, after the initial slow start to November, vehicle sales really picked up during the back half of the month and through Black Friday. Industrywide new-vehicle sales checked in at 1.36 million last month, which was the industry's best November since 2001, and the seasonally adjusted annual rate of sales is projected at 17.7 million which suggests the industry is still very healthy, despite plateauing.
There was quite a bit of action with dealership groups. CarMax Inc. (NYSE: KMX), America's No. 1 retailer of used vehicles, opened the doors of its new Michigan store in mid-November, and that's a continuation of a growth story that has billionaire hedge fund managers piling into the stock. CarMax now has 167 stores in roughly 83 markets in 39 states, and increased its store base by 10% during fiscal year 2016 -- a pace it plans to stay on.
On Dec. 1, Penske Automotive Group Inc. (NYSE: PAG), America's second-largest auto retailer, announced it has signed a deal to acquire CarSense, a stand-alone retailer of used vehicles with stores in Pittsburgh, Philadelphia, and New Jersey. The acquisition is expected to generate roughly $350 million in annual revenue going forward, although it's unclear how much Penske paid. The acquisition is expected to add $0.07 to $0.09 to Penske's earnings per share, annually.
One driving force behind America's Car-Mart Inc.'s (NASDAQ: CRMT)performance was its surprise second-quarter fiscal 2017 earnings beat. It reported net income of $5 million during the second quarter, improved from a loss during the same period last year, and net income per share of $0.62. That result was much higher than analysts' estimates of $0.50 per share. Shares of America's Car-Mart rose significantly in November, but have been on a ride all year, up roughly 65% year to date.
Now what
Sure, new vehicle sales are peaking in the U.S. but they appear poised to stay near record levels for quite some time. Average transaction prices may differ from dealership group to dealership group, but the industry as a whole is posting very strong prices and incentives have remained under control thus far. Add those factors to a holiday season that started off on a good foot for the industry, and you have a recipe for continued strength in the near term.
10 stocks we like better than CarMax When investing geniuses David and Tom Gardner have a stock tip, it can pay to listen. After all, the newsletter they have run for over a decade, Motley Fool Stock Advisor, has tripled the market.*
David and Tom just revealed what they believe are the 10 best stocks for investors to buy right now... and CarMax wasn't one of them! That's right -- they think these 10 stocks are even better buys.
Click here to learn about these picks!
*Stock Advisor returns as of November 7, 2016
Daniel Miller has no position in any stocks mentioned. The Motley Fool owns shares of and recommends CarMax. The Motley Fool recommends Penske Automotive Group. Try any of our Foolish newsletter services free for 30 days. We Fools may not all hold the same opinions, but we all believe that considering a diverse range of insights makes us better investors. The Motley Fool has a disclosure policy.