What Does the Future Hold for Corning?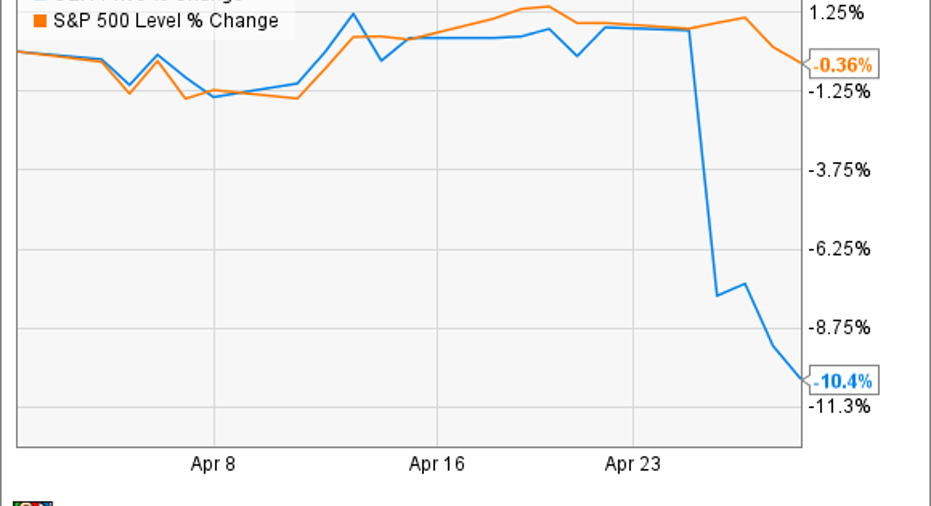 Image source: Corning Incorporated.
It was a rough month forCorning. The glassmaker's stock dropped more than 10% between April 1 and May 1, mostly because of fallout from the company's Q1 earnings release on April 26:
The drop pretty much erased all the stock's gains for the year. Despite that, management is upbeat about the rest of 2016. Let's try to peek into the crystal ball (or, rather, the liquid crystal display) and discern what might be in Corning's future.
What went wrongIn a nutshell, the market was reacting to lower-than-expected revenues in Q1. Profits came in as expected, but the market didn't seem to care. It also didn't seem to care about the reason for the revenue shortfall.
Of Corning's five divisions, four performed as expected. However, sales in the company's optical communications division fell 12.6% year over year, with net income also fell 64%. Speaking on the quarterly earnings call, Chairman and CEO Wendell Weeks was up front as to the reason:
So the miss was almost entirely due to a one-time technical issue that's already largely resolved. And while CFO Tony Tripeny warned there might be some lingering effects in Q2, a 10% drop in share price seems extreme. This could represent a buying opportunity, if the rest of the company's outlook is good.
Signs of strengthCorning's outlook largely depends on the performance of its display technologies segment,which primarily makes TV screens. The segment is responsible not only for 34% of Corning's sales, but also for 72% of its profits.
After a dismal 2015, which Weeks called "the worst display environment in five years," the company anticipated a brighter 2016, hallmarked by larger screen sizes, growing demand for TVs, and slowing declines in panel prices.
Thus far, the company's expectations seem to be playing out. In March, panel price declines improved to the low single digits; that is, the prices are still declining very slightly, and not nearly as rapidly as before. In fact, this is thesmallest sequential first-quarter decline in five years for the company.In Q2, the display technologies segment should benefit from an estimated 8%-10% growth in the retail glass market, with volumes steadily rising throughout the year.
In other words, all signs point to continuing improvement for the sector, and thus also for Corning's bottom line.
Beyond the TV screenEven if the display technologies unit improves this year as expected, the company's fortunes will still be at the mercy of the global television market. And while that's unlikely to change overnight, it's important to know whether Corning sees this as a long-term situation.
Clearly, the company is actively trying to pursue new technologies and new markets for its products. It has identified several areas in which the technology looks promising. These include OLED mobile screens, thinner LCD TVs, and particularly lightweight automotive glazing and windshields, which has recently gotten a lot of press.
For the time being, though, these are all speculative investments. "[D]on't get too excited until we actually see an everyday platform brand adopted," cautioned Weeks. "Until I get by that point, I won't feel confident in being able to predict that we've really got something here."
What we've got hereAt present, Corning is primarily a display-screen company that's been hit by a soft market. However, management believes a turnaround has already begun that will accelerate as the year progresses. The stock's recent drop offers an excellent opportunity to buy into a stable company with an attractive dividend yield and good short-term prospects.
But the further into the future we look, the murkier the company's fortunes seem. While there are promising new technologies in the pipeline, any or all of them could fizzle, leaving the company no better off than before. So Corning is something of a gamble. That said, given Corning's longevity, stability, and dividend, it's a low-stakes gamble investors should consider.
The article What Does the Future Hold for Corning? originally appeared on Fool.com.
John Bromels owns shares of Corning. The Motley Fool recommends Corning. Try any of our Foolish newsletter services free for 30 days. We Fools may not all hold the same opinions, but we all believe that considering a diverse range of insights makes us better investors. The Motley Fool has a disclosure policy.
Copyright 1995 - 2016 The Motley Fool, LLC. All rights reserved. The Motley Fool has a disclosure policy.