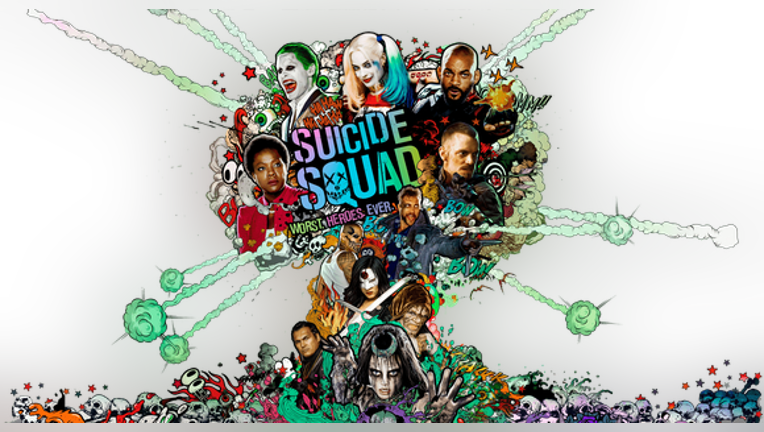 Image source: Time Warner.
Time Warner's(NYSE: TWX)Suicide Squad exploded at theaters across the globe on it's opening evening, delivering domestic ticket sales of $135 million and an overseas take of $132 million, setting new records for an August opener. That's a great start -- especially for a movie with so much riding on it. However, the overall implications for Warner's comic book movie universe are less clear.
Suicide Squadovercame poor reviews thanks to enticing characters and a great ad campaign, but it'snow the third movie in Warner's high-stakes DC Extended Universe (DCEU) to receive unfavorable receptions from audiences and critics. The DCEU is the company's most valuable film franchise, and the series is in trouble despite still having the power to pack theaters on opening weekends.
Warner's DCEU is going through an identity crisis
The success of Disney's (NYSE: DIS) Marvel films established the high bar for comic book movies and initiated an industrywide shift to an even more franchise-centric production model. Across 13 entries, the average worldwide gross for a Marvel Comic Universe (MCU)film sits at nearly $790 million and the total ticket haul for the series stands at over $10.2 billion. Warner set out to replicate this success while also distancing DCEU from Marvel films by way of endowing its universe with darker visuals and stories, but, by now, it's clear that there were major problems with the vision and execution for the unfolding franchise.
Warner's expanded superhero movie-universe kicked off with 2013'sMan of Steel, butSuicide Squad's box office and critical reception are framed in relation to this year'sBatman v. Superman: Dawn of Justice. The clashing superherosmovie was put forth as the launching pad for future DC projects before ultimately proving to be a commercial and critical disappointment. Like Suicide Squad,Batman v. Superman exploded out of the gates and scored up $166 million in its domestic opening and more than $400 million in its worldwide opening weekend, but poor reviews weighed on the film and resulted in weaker-than-expected ticket sales of roughly $870 million.
Batman v. Supermanwas dogged for its overly dark tone and aesthetics. To counter this, Warner appears to have scrambled to bring the marketing and final cut ofSuicide Squadcloser in line with the fun and irreverence found in Disney's MCU films or Twenty-First Century Fox's breakout hit,Deadpool. Reports suggest thatSuicide Squadwent through a series of drastic edits in order to deliver a commercially pleasing product and one that shifted the tone of the overall DCEU to less brooding terrain. The end result is a picture that both critics and audiences are describing as "disjointed."
IsSuicide Squada hit or a miss?
Suicide Squad's explosive opening indicates brand resilience following a disappointing performance for its immediate DC predecessor, but there's a good chance that audience reception will also be a limiting factor inSuicide Squad's overall run. Further complicating Squad's prospects, the picture looks to be constrained by not screening in China, which only allows 34 non-domestic films to screen each year.Batman v. Supermanperformed poorly in Chinese theaters, scoring approximately $100 million in ticket sales, but missing out on the world's second-biggest movie market entirely would be a significant setback, and one that Warner needs to remedy with future entries in order to avoid leaving money on the table.
Without a Chinese release,Suicide Squadlooks to be tracking for a worldwide performance in the range of $700 million. Given the film's reported $175 million production budget andbig ad campaign the picture won't be a big earner for Warner.
Quality and marketability concerns have already led Warner to shuffle plans and personnel for the DC Universe, creating a new unit dubbed DC Films and reportedly moving away from the vision of original overseer (andBatman v. Supermandirector) Zack Snyder. The franchise now appears to be moving closer in line with Disney's Marvel films, as evidenced by the marketing forSuicide Squadand 2017'sJustice League. Big changes are necessary to get the overall project back on track.
Smaller pics might struggle without big names
Suicide Squad's strong opening performance reaffirms that the DC Comics universe is ripe with strong characters and premises, and highlights the possible impact of a stellar ad campaign.But where Squadbenefited from a potentially dynamite setup with Will Smith and Margot Robbie turning in marketable performances as Deadshot and Harley Quinn, other subsequent franchise entries might have a tougher time.
Upcoming DC films includingWonder Woman,Cyborg, andAquamanprobably won't have the star power that helpedBatman v. SupermanandSuicide Squad, and counting on the same type of marketing home run that drove the latter is a dubious proposition. Much of the brilliance in Disney's MCU model resides in its ability to get audiences interested in lesser-known heroes such as Ant-Man, but it doesn't seem like Warner is succeeding in creating similar leverage.
With large production and marketing budgets involved and eight more films in the franchise scheduled through 2020, the poor quality of its first three universe entries could represent a significant missed opportunity for Warner.
A secret billion-dollar stock opportunity The world's biggest tech company forgot to show you something, but a few Wall Street analysts and the Fool didn't miss a beat: There's a small company that's powering their brand-new gadgets and the coming revolution in technology. And we think its stock price has nearly unlimited room to run for early in-the-know investors! To be one of them, just click here.
Keith Noonan has no position in any stocks mentioned. The Motley Fool owns shares of and recommends Time Warner and Walt Disney. Try any of our Foolish newsletter services free for 30 days. We Fools may not all hold the same opinions, but we all believe that considering a diverse range of insights makes us better investors. The Motley Fool has a disclosure policy.