What Does Joy Global's Earnings Surprise Mean for the Future?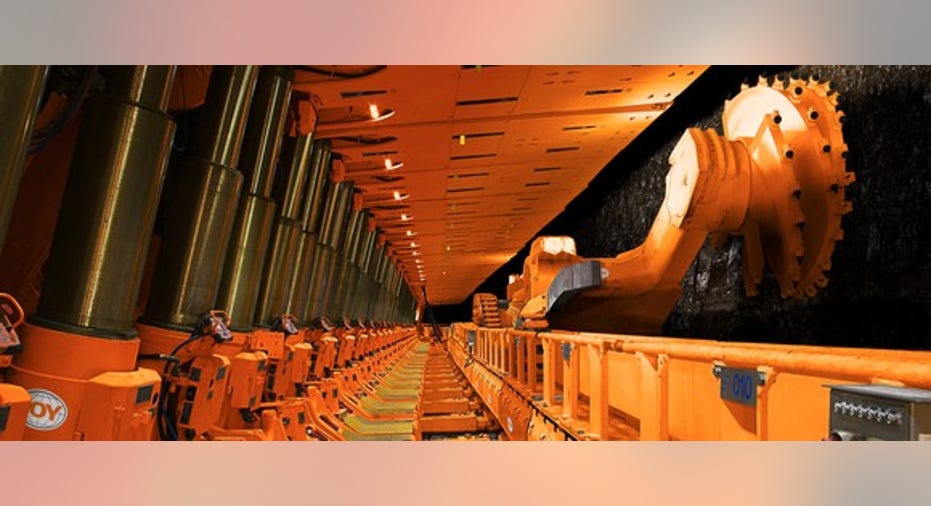 Image Source: Joy Global
On June 2nd mining equipment maker Joy Global surprised the market by reporting adjusted earnings of $0.09 a share for its fiscal second quarter. That was pretty good news for the company since industry watchers were expecting break even results, at best, and it sent the shares smartly higher. But if you dig past the headline number, there's less to be pleased about.
We made money, kind of
The $0.09 a share earnings figure is a little misleading because it isn't GAAP earnings, it's "adjusted earnings." In other the words, the company pulled out one-time costs that it believes aren't indicative of ongoing results. However, if you put those items back in, Joy lost $0.16 a share, down from a profit of $0.57 a share a year ago. While the costs might, indeed, be one-time in nature, they are paying for restructuring efforts to help Joy adjust to the difficult mining market and represent real costs. And since the commodity downturn began in 2011, restructuring charges have been increasingly common at Joy.
That said, Joy isn't alone in this effort. Competitor Caterpillar reported GAAP earnings of $0.46 a share in the first quarter, but pull out restructuring costs and the company made $0.67 a share. Of course this highlights the fact that Joy and Cat are working hard to rightsize their businesses, but it also points out that CAT remains profitable before and after its restructuring costs are factored in. .
Then there's the not so subtle fact that Joy cut its dividend at the end of last year. CAT hasn't cut its dividend, though, to be fair, it hasn't been raising it either. But the fact that Joy was concerned enough about its cash flow to cut the dividend to a nominal penny a share per quarter is as big a statement as Caterpillar's choice to use cash on hand to keep paying its distribution while it works to rightsize its business in a difficult period.
What about the customers?
But there's more to get out of Joy's report than just the bottom line results. For example, Joy's sales were down 26% compared to the year ago period, with weakness on both the original equipment and services sides of the business. Caterpillar's top line was off a similar amount, though it has a much more diverse product line up. Still, the top line weakness at both companies is a statement to the weakness in the mining industry. Looking forward, however, bookings for new business were something of a mixed bag for Joy, which might give some hope of a turnaround.
Data Source: Joy Global
Bookings overall were off around 9%, with service bookings down 14%. However, orders for original equipment were up 12%. That's great, but it could be a fluke. With miners pulling back, they have been trying to get as much use out of the equipment they have as they can, perhaps running a little longer than usual before servicing their machines and stripping older machines for parts before going to Joy, or another supplier, for new parts. That's not unusual at all. Add to this the fact that Caterpillar's backlog fell roughly 20% year over year in the first quarter, with weakness across all of its businesses, and there's even more reason to question the longevity of Joy's original equipment uptick.
But running older equipment longer also suggests that, eventually, service orders will pick up before Joy's customers start looking to buy new again. Add in the drop off in sales and bookings that have taken place during the mining downturn and it is very possible that the new equipment uptick is being driven by just a few orders and doesn't represent a sustainable business improvement. For example, Joy inked a deal for coal equipment in India, but that hardly presages an upturn in the global coal industry. It's probably best to watch the original equipment booking uptick with some caution.
This is what a "long wall" machine looks like... Impressive. Image Source: Joy Global
Voicing concern
So that's a grain of salt for you, but CEO Ted Doheny wanted to make sure investors know exactly how rough it is: "Some positive signs have emerged in recent months; however, the mining industry continues to face headwinds from oversupplied commodities and reduced cash flows for most producers. While there has been mounting evidence of supply curtailments, challenging market conditions are likely to persist..."He went on to talk about continuing cost cutting efforts.
The company made sure to highlight U.S. coal as a major weak spot, but pointed out some positives in other markets like copper, iron ore, and Canadian Oil Sands. However, the bigger picture, as Doheny pointed out, is that the positives are silver linings that are only just starting to show up on still very dark clouds -- not a return to the salad days before the commodity market started lower in 2011. As for U.S. coal, well, there's still no silver lining on that play book.
If you are a Joy Global shareholder, the quarterly results were a bit of good news. But you shouldn't read too far into the adjusted earnings results, Joy is still dealing with a challenging market just like its competitors. And if you dig a little into the numbers and examine Joy's outlook, it doesn't look like there's a sustainable upturn taking shape at its customers businesses just yet, either. That's bad for the miners and for Joy.
The article What Does Joy Global's Earnings Surprise Mean for the Future? originally appeared on Fool.com.
Reuben Brewer has no position in any stocks mentioned. The Motley Fool has no position in any of the stocks mentioned. Try any of our Foolish newsletter services free for 30 days. We Fools may not all hold the same opinions, but we all believe that considering a diverse range of insights makes us better investors. The Motley Fool has a disclosure policy.
Copyright 1995 - 2016 The Motley Fool, LLC. All rights reserved. The Motley Fool has a disclosure policy.