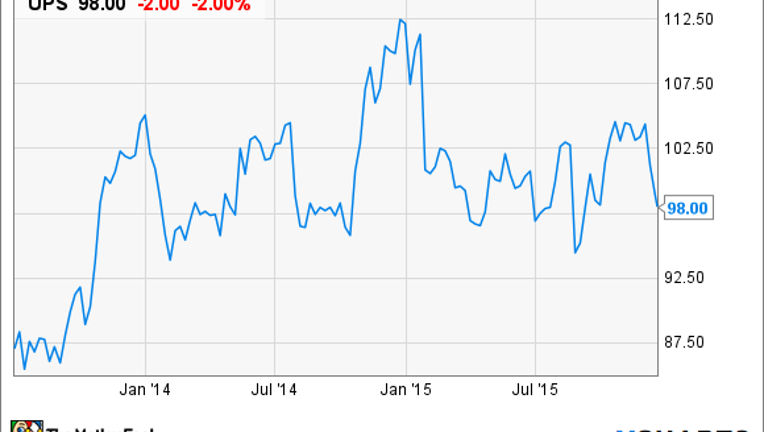 As (NYSE: UPS) moves through its all-important fourth quarter, investors will be wondering if it'sdealing with peak demand during the holiday season. One way to know is to look at key rival 's (NYSE: FDX) recent second-quarter results. FedEx reported its numbers between Thanksgiving and Christmas, so management's commentary will provide clues as to United Parcel Service's trading during peak demand. Let's take a closer look at the events.
UPS LOOKS SET FOR STRONG DEMAND FROM E-COMMERCE. IMAGE SOURCE: UNITED PARCEL SERVICE, INC.
UPS disappointed investors in the past two fourth quarters, so investors have a right to be concerned about the current quarter. Note the declines in early January on the chart, when the company reported on performance:
Indeed, a look at FedEx's results suggests that UPS' network is likely to come under pressure for two reasons:
Volume of e-commerce demand is exceeding FedEx's forecasts, suggesting a strong peak demand season overall.
FedEx's overweight e-commerce packages are increasing, and customers continue to use "inefficient packaging."
According to CEO of FedEx Services Mike Glenn: "We've experienced record-breaking demand during this peak season, largely driven by the rapid growth of e-commerce. Our busiest days during peak have exceeded our forecast and more than double our average daily volume." Commentary suggests that UPS will also face high volumes this holiday season. That's a positive -- and potentially a negative as well.
On the plus side, very few companiesgo bust from having too much demand, and any concerns the market might have had about UPS' third-quarter prediction of 4% to 5% average daily volume growth in the U.S. -- the company recorded just 0.6% in the third quarter -- are likely to be dispelled.
On a less positivenote, a combination of surging e-commerce demand and severe winter weather placed significant strain on UPS' network in 2013. However, it's not just about the overall volume of e-commerce demand. Last year, UPS suffered because of the shape of peak demand. Specifically, productivity got hit because management had invested heavily in building out extra capacity only to find demand to be a lot less than expected on certain days. Will the increase in e-commerce demand cause UPS to increase short-term capacity only to experience hard-to-predict demand, as happened last year?
FedEx's commentary on overweight and inefficient packaging is interesting, because it raises questions about a key part of UPS' strategy on peak. Both companies have initiated wide-scale dimensional weight pricing (packages are priced on a combination of weight and size, rather than just weight), and in UPS' case, part of its plan is to help the company ease the strain on its network.
Moreover, UPS is preparing for peak this year by initiating peak pricing initiatives intended to maximize revenue from customers and smooth out demand peaks.
However, it appears that FedEx's dimensional weight packaging hasn't had a strong enough effect on packaging trends. Again, this raises the possibility that UPS will have difficulty in favorably adjusting customer behavior this year.
So far, FedEx is dealing with peak demand well, but this may be due to the structure of its network; there's no guarantee UPS is doing the same right now. Concerns over the volume and type of e-commerce demand during the peak season are likely to remain until UPS gives an update in January. On the other hand, FedEx's commentary suggests UPS can meet its fourth-quarter targets for volume growth.
All told, it's going to be a testing holiday season for UPS, but if the company can deliver this year, then the stock is likely to appreciate as the market prices in an extra layer of belief in the company's ability to deal with surging e-commerce demand. In my view, in interpreting FedEx's earnings, the risk just increased for UPS in the fourth quarter, but so did the upside potential for the stock if it hits guidance.
The article What Do FedEx Corporation's Results Mean for United Parcel Service? originally appeared on Fool.com.
Lee Samaha has no position in any stocks mentioned. The Motley Fool recommends FedEx and United Parcel Service. Try any of our Foolish newsletter services free for 30 days. We Fools may not all hold the same opinions, but we all believe that considering a diverse range of insights makes us better investors. The Motley Fool has a disclosure policy.
Copyright 1995 - 2015 The Motley Fool, LLC. All rights reserved. The Motley Fool has a disclosure policy.