What Could Help GoPro Stock Bounce Back in 2017?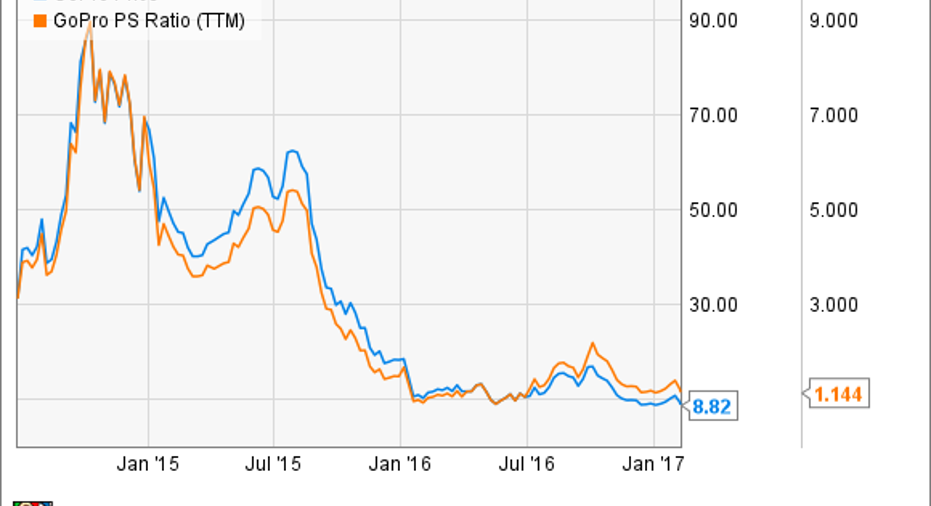 Image source: GoPro.
GoPro(NASDAQ: GPRO)longs have had a rough ride. Last year's Karmarecall dashedinvestor hopes of a smooth entry into the dronespaceand revealedsoft demand at just 2,500 units shipped,adding to a series of disappointments that started with the underperformance of the company's Hero 4 Session camera and continued to include inventory glut, product delays, and management shakeups. The company's most recent quarterly report brought more bad news, and weak sales guidance has pushed GoPro's share price near record lows.
The stockis offroughly 90% from its lifetime high, trades down 70% from its closing price on the day of its IPO, and has shed more than half of its value since the beginning of 2016. In an attempt to turn things around, the company has shuttered its media business, laid off 15% of its workforce, and moved forward with the new goal of being a dedicated hardware company backed by software offerings. With new cost-cutting measures, the reintroduction of the Karma drone, and new cameras and accessories on the way, is GoPro stock poised for a rebound in 2017?
What should investors make of Hero 5 sales?
With GoPro relying on a staggered reintroduction for its Karma drone and apparently ending its ambitions to build a media network, the performance of the company's already crucial Hero product line has become even more important. GoPro's most recent quarterly report touted the Hero 5 Black's performance as the period's best-selling imaging device in the North America and EMEA regions, and also noted that the Hero 5 Black delivered the company's best-ever quarterly sell-through in Europe. But there are signs that demand for the company's core product line is weakening.
For the first quarter of the current fiscal year, GoPro is guiding for sales between $190 million and $210 million, a range that suggests soft demand for the Hero 5. The company posted sales of $183.5 million in the first quarter of 2016 on the back of its Hero 4 Session camera -- a performance that was hugely disappointing in comparison to the roughly $363 million in sales it recorded in the first quarter of fiscal 2015. Released in October 2016, the Hero 5 was the first mainline addition to the company's core product line in roughly two years, so the fact that the overall sales target for the current quarter isn't higher is a worrying indicator.
If Hero 5 sales beat expectations going forward, GoPro stock would likely see a substantial pop, but so far it doesn't look like the company's most recent camera release will spur a turnaround.
New cameras and international growth are potential drivers
GoPro recently began a reintroduction of its Karma drone, but its first-quarter revenue guidance indicates that the device probably won't be a major sales contributor this year. As a company that relies on brand appeal, the highly publicized and damaging recall of the Karma drone represents a big missed opportunity for GoPro. Expectations have been lowered, so stronger-than-expected performance for the company's flying rig could boost its share price, but it looks like share price momentum is more likely to come from other sources.
While no other details have been announced, GoPro has confirmed that it plans to launch the Hero 6 camera this year. The company is also working on a consumer-level 360-degree camera for filming virtual reality footage, though a release date and other details are currently unknown. Strong technical specifications or innovations with upcoming cameras could be an impetus for the company's stock to recover, but concerning indicators about Hero 5 sales should also be kept in mind.
Performance in international markets is another possible driver for GoPro stock in 2017. The last fiscal year saw the company's unit share in Japan roughly triple to 3%, and its unit sell-through in China increase 90%. The overall revenue picture remains murky, but continued growth in markets where GoPro has big expansion opportunities could drive a stock rebound this year.
Is the stock worth it for long-term investors?
Tradingat less than 1.2 times sales over the last 12 months,GoPro has the potential to post a substantial recovery on even tentative signs of improving business. The stock has been historically volatile, and a beaten-down valuation creates the potential for big upswingsin the event of stronger-than-expected earnings performance, news of a potential buyout, or the unveiling of promising new products or partnerships.That doesn't mean the company will end up a long-term winner, however.
With the threat ofbigger techcompetitors cutting intoactioncamera salesand the company's admission that it won't be able to build the media network that was once touted as a core component of its future,the long-term outlook forGoProis filled with challenges that make it an inadvisable long-term investment option for those without high tolerance for risk.
10 stocks we like better than GoProWhen investing geniuses David and Tom Gardner have a stock tip, it can pay to listen. After all, the newsletter they have run for over a decade, Motley Fool Stock Advisor, has tripled the market.*
David and Tom just revealed what they believe are the 10 best stocks for investors to buy right now... and GoPro wasn't one of them! That's right -- they think these 10 stocks are even better buys.
Click here to learn about these picks!
*Stock Advisor returns as of February 6, 2017
Keith Noonan has no position in any stocks mentioned. The Motley Fool owns shares of and recommends GoPro. The Motley Fool has the following options: short January 2019 $12 calls on GoPro and long January 2019 $12 puts on GoPro. The Motley Fool has a disclosure policy.