What Centurylink and Level 3 Shareholders' Approval Means for Their Merger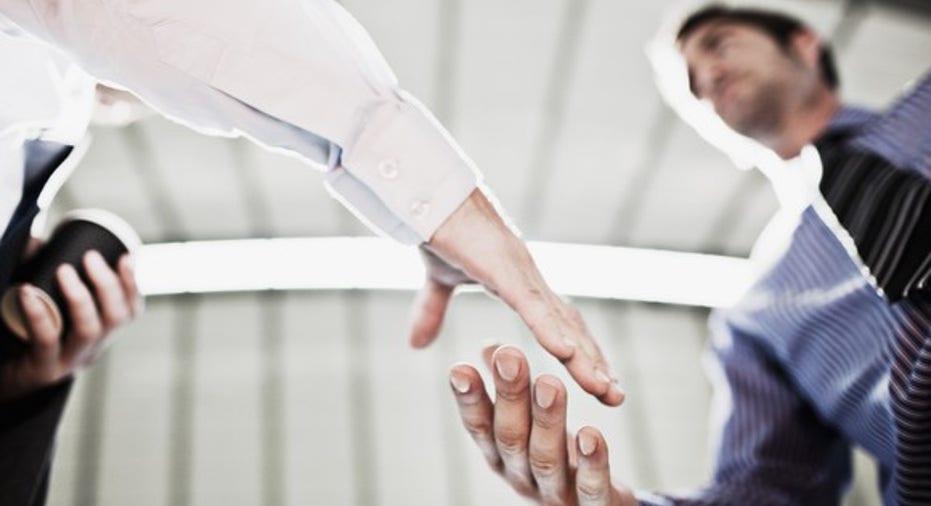 Earlier this month, shareholders of both CenturyLink (NYSE: CTL) and Level 3 Communications (NYSE: LVLT) approved their merger by overwhelming majorities. Level 3 shareholders voted for the deal with an 81.2% majority (98.8% of the votes cast), while CenturyLink shareholders voted for the merger with 96.3% of the votes cast.
As I had written previously, the merger should be beneficial, especially to shareholders of CenturyLink, as it will likely free up cash flow to maintain the company's high dividend. Now that the merger has cleared this first hurdle, what remains going forward, and what does this mean for shareholders?
Image source: Getty Images.
State and federal approvals
According to CenturyLink, the merger has already received approvals from many of the state agencies, including Ohio, Utah, Nevada, Georgia, West Virginia, Connecticut, Indiana, and Louisiana.
Going forward, the companies still need regulatory approvals from the FCC, the Justice Department, and other agencies. The Justice Department will review the merger for antitrust issues, and will either approve the deal, approve it with conditions, or block the deal entirely. The FCC will then review the deal in a similar way, with more of a focus on competition and what it means for consumers of the combined companies' products and services.
CenturyLink has stated that the combination will actually enable better competition and customer service. That's because, according to the companies, CenturyLink and Level 3's networks are mostly complementary, and Level 3 has many connections overseas. The companies say that this will enable better coordination in serving enterprise customers with offices and connections all over the world.
Moreover, CenturyLink/Level 3 will still only be the second biggest enterprise network service provider, next to AT&T (NYSE: T). The companies believe they'll be able to compete better against AT&T and other big cable companies, thereby offering consumers better choices.
But there are objections
These assertions, however, are being contested by smaller service provider companies and trade groups, such as INCOMPAS, which represents wireless carriers, as well as Frontier Communications (NASDAQ: FTR) and Windstream (NASDAQ: WIN). The latter two contend that Level 3 has been hiking prices for these smaller companies to connect to Level 3's long-haul backbone, and they fear that this will continue. Frontier and Windstream are both struggling mightily this year, so it is no surprise that they may wish to thwart the merger, which may marginalize them even further.
For its part, INCOMPAS worries that the merger will reduce competition in the long-haul market, which CenturyLink and Level 3 both vehemently deny. Level 3 and CenturyLink point to AT&T (NYSE: T) Verizon (NYSE: VZ), Charter (NASDAQ: CHTR), and Comcast (NASDAQ: CMCSA) as big competitors, plus, according to an FCC filing, "precedent firmly establishes that no provider has the ability to set prices above competitive levels."
While I am no expert, it does appear that the objections to the deal have not been insurmountable, and that a deal is still likely. However, the companies also must get approval from the Department of Defense and Homeland Security due to Level 3's international footprint in Latin America, Europe, and Asia.
A merger discount?
Still, the market seems to be discounting a possibility that the deal will not go through. For instance, in the merger, Level 3 shareholders will receive $26.50 in cash and 1.4286 shares of CenturyLink. Based on the closing prices as of Friday, March 16, CenturyLink traded at $23.65 per share, and Level 3 traded at $57.47 per share. Therefore, Level 3 shareholders would receive roughly $60.28 in value should the deal close, which is a difference of $2.81 from Level 3's current price. The companies expect the deal to close in Q3 of this year, so even adjusting for one CenturyLink dividend payment between now and then, the excess value is $2.27, or almost 4% above Level 3's price today.
Of course, no one knows for sure if the deal will go through, or if the two companies will be able to integrate effectively and maintain their current price levels. That being said, those willing to play the merger arbitrage game may wish to take a look at Level 3. CenturyLink also sports a 9.2% yield and trades below book value, and I think the merger would be especially helpful to CenturyLink. Either way, the merger is an interesting play for investors in the telecom space today.
10 stocks we like better than Level 3 CommunicationsWhen investing geniuses David and Tom Gardner have a stock tip, it can pay to listen. After all, the newsletter they have run for over a decade, Motley Fool Stock Advisor, has tripled the market.*
David and Tom just revealed what they believe are the 10 best stocks for investors to buy right now... and Level 3 Communications wasn't one of them! That's right -- they think these 10 stocks are even better buys.
Click here to learn about these picks!
*Stock Advisor returns as of February 6, 2017
Billy Duberstein owns shares of AT and T and Level 3 Communications. The Motley Fool owns shares of and recommends Verizon Communications. The Motley Fool has a disclosure policy.