What Are Cloud Services and How Can Investors Get a Share of the Market?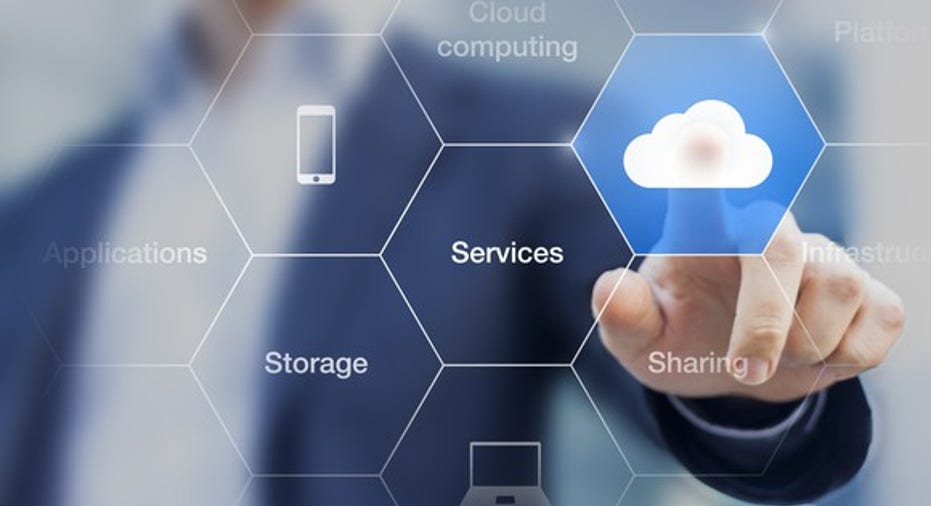 Image source: Getty Images.
Cloud-based services are quickly becoming go-to features for technology customers. Cloud-computing services can be divided into categories including software as a service (SaaS), platform as a service (PaaS), and infrastructure as a service (IaaS). The big names in the cloud world are Amazon.com (NASDAQ: AMZN), Oracle (NYSE: ORCL), salesforce.com (NYSE: CRM), Alphabet's (NASDAQ: GOOG) (NASDAQ: GOOGL)Google, and Microsoft (NASDAQ: MSFT).
To understand what's being provided a bit better: SaaS refers to software that's designed for end users and deployed over the internt, PaaS typically entails services for programmers to create and deploy their code, and IaaS is the combination of both software and hardware to create servers that allow all of these services to function.
Now, let's take a look at how each of these is grabbing its share of the cloud-computing market.
Amazon's cloud services play
Amazon has skyrocketed to cloud-computing prominence with its Amazon Web Services (AWS), which offers services including compute power, database storage, and content delivery. That segment of the company's business brought in an amazing $7 billion in revenue in 2015, and it's still growing fast. Amazon earned $2.88 billion from AWS in the second quarter of 2016, an increase of 58% year over year.
The company is continually expanding its cloud-computing footprint by adding more server locations around the world and the company is also pursuing new areas of cloud services to build out its business. Amazon recently launched an Internet of Things (IoT) part of AWS to offer cloud services for the tens of billions of IoT devicesexpected to hit the market in coming years.
As if all that weren't enough, Amazon is also in talks with financial institutions about hosting their highly sensitive (and lucrative) financial data. The Wall Street Journal said in February that the company was in discussions with Citigroup, Goldman Sachs Group, and JPMorgan Chase & Co.
Dave Bartoletti, an analyst at Forrester, believes AWS will generate $12 billion in revenue in 2016; Amazon already takes about 37% of the cloud market, making it a great cloud-services play for investors.
Oracle's monumental cloud attempt
Oracle isn't exactly a cloud-services powerhouse, but it's trying to be. Co-founder and Chairman Larry Ellison has pledged that Oracle's cloud segment will soon become a $10 billion business (though he didn't specify when).
It's not even close to that right now, with cloud revenue coming in at $2.9 billion in fiscal 2016, but Oracle is moving in the right direction. Ellison said he expects first-quarter 2017 cloud revenue to grow by 75% to 80%, adding: "We expect that the SaaS and PaaS hyper-growth we experienced in FY16 will continue on for the next few years. That gives us a fighting chance to be the first cloud company to reach $10 billion in SaaS and PaaS revenue."
A few months ago, Oracle acquired a cloud services company for utilities, Opower, to help it reach its goal. But it'll likely be a long time before Oracle's cloud revenue plays a dominant position in the company's revenues; right now it accounts for about 7.8%.
Still, Oracle investors should be pleased with the company's cloud services growth, especially as some of its other segments have underperformed as of late. Just don't expect the company to surpass some of its competitors any time soon.
Salesforce's cloud dominance
Salesforce is one of the best companies at doing what it does -- customer relationship management. According to Gartner data, the company dominates the cloud-based CRM market, with 19.7% market share.
That far surpasses CRM competitors SAP, Oracle, and Microsoft, which hold 10.2%, 7.8%, and 4.3%, respectively.
The company is doing a fantastic job of growing revenue across its main cloud services as well. In fiscal Q1 2017, Salesforce increased revenue by 15%, 29%, 33%, and 45% respectively in its sales, marketing, service, and app cloud services.
And there appears to be no slowing down for the company. Revenue increased 24% in fiscal 2016, and Salesforce is expected to grow revenue by 25% for the current fiscal year, to more than $8 billion.
Google's cloud goal
Google has already set its sights on cloud computing, and it has done so with a very lofty goal.
The company's senior VP for technical infrastructure, Urs Hoelzle, said last year that Google's cloud platform revenue could outpace the company's ad revenue by 2020. Just to give you some perspective on that, consider that Google's ad revenue last year came in at $67 billion.
Google doesn't even make it to the top-five vendor list for cloud computing companies right now, but that could change soon. The company has hired Diane Greene from VMware to head up its cloud business, and Google is adding more customers all the time (it now counts Spotify as one, along with Home Depot).
Google's "other revenue" segment, which includes its cloud computing services, brought in just $2.2 billion in the most recent quarter. We don't know how much of that is from cloud services, but it's clear that Google is still a long ways away from surpassing its ad revenue with cloud services.
Microsoft's steady cloud growth
There's no way to talk about cloud computing investments without talking about Microsoft. The company has the second-largest infrastructure as a service company and is growing quickly.
Microsoft CEO Satya Nadella has said that his company is on its way to earning $20 billion in annual cloud computing revenue by the end of fiscal 2018. Most of the company's cloud revenue comes from its Azure IaaS, as well as its Office 365 and its Dynamics CRM Online.
The company doesn't break out those segments specifically, so investors are a bit in the dark about just how well Microsoft is doing. But the company has said that it's currently at a $12 billion annual run rate.
On Microsoft's most recent earnings call, Nadella said that "we cover more countries and regions than any other cloud provider." That's a testament to Microsoft's ongoing expansion in the cloud space, but Microsoft still has a long way to go to catch up to Amazon's IaaS dominance.
All of the companies above are making huge strides in the cloud computing space. If you're looking for the safest bet, there's no arguing that Amazon is the best cloud computing company out there right now. Oracle may take the longest time to see its investments in cloud computing pay off, but all these companies' cloud services will likely please investors over the long haul.
A secret billion-dollar stock opportunity The world's biggest tech company forgot to show you something, but a few Wall Street analysts and the Fool didn't miss a beat: There's a small company that's powering their brand-new gadgets and the coming revolution in technology. And we think its stock price has nearly unlimited room to run for early in-the-know investors! To be one of them, just click here.
Suzanne Frey, an executive at Alphabet, is a member of The Motley Fool's board of directors. Chris Neiger has no position in any stocks mentioned. The Motley Fool owns shares of and recommends Alphabet (A shares), Alphabet (C shares), Amazon.com, Gartner, and Salesforce.com. The Motley Fool owns shares of Microsoft and Oracle. The Motley Fool recommends Home Depot andVMware.
Try any of our Foolish newsletter services free for 30 days. We Fools may not all hold the same opinions, but we all believe that considering a diverse range of insights makes us better investors. The Motley Fool has a disclosure policy.