Western Digital Corp.'s New CFO, Solid Preliminary Results: What You Need to Know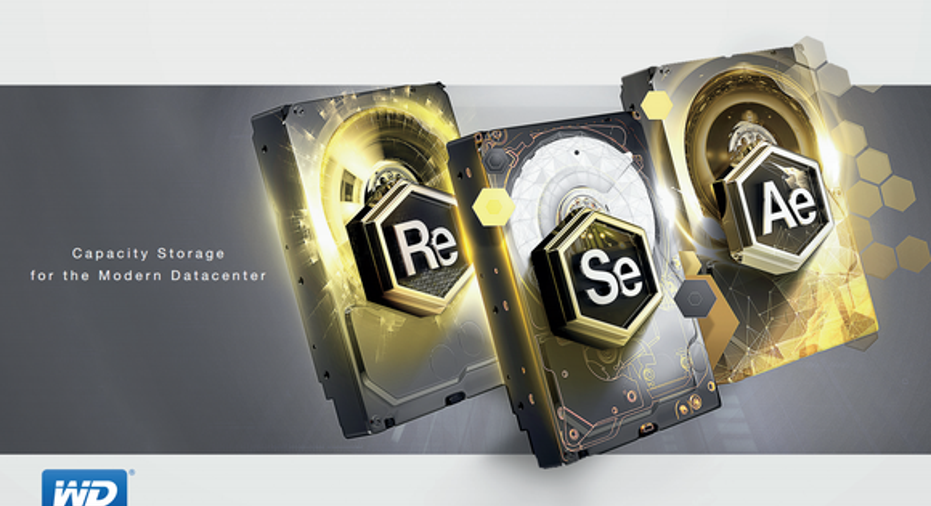 Image source: Western Digital.
Western Digital shares are rising on Thursday morning. The stock opened 6% higher on strong trading volume, thanks to a combo of upgraded leadership and raised guidance.
In a single press release issued Wednesday night, Western Digital issued preliminary fourth-quarter results and announced the exit of CFO Oliver Leonetti.
New leadership
Promoting from within, Western Digital's new CFO and vice president of finance will be Mark Long, who currently serves as the company's chief strategy officer. Both Leonetti and Long were instrumental in landing the game-changing SanDisk acquisition. Leonetti is reportedly moving on to bigger and better things, but will stay around to finalize the reporting for fiscal year 2016 and in an advisory role through the end of September.
Long brings a wealth of technical and financial expertise to the table. He joined Western digital via its Hitachi Global Storage Technologies buyout. Earlier, he was an investment banker at Deutsche Bank and Credit Suisse. It's a strong pedigree, and Long should be a good fit for his new role. In addition, he'll keep his current moniker as strategy officer.
Preliminary results
The CFO transition is serious news, but fresh financial figures are really driving the share price gains today.
Fourth-quarter sales are seen landing at roughly $3.46 billion. Adjusted earnings should land at $0.72 per share. Both results are just above the top end of Western Digital's mid-quarter guidance update ranges. The company is also exceeding Wall Street's best guesses.
The strong preliminary numbers reflect better-than-expected contributions from the recently closed SanDisk buyout. Now, this is no victory march with streamers and Sousa fanfares. The revenue total sits 22% below the combined sales of Western Digital and SanDisk in the year-ago quarter. The PC market is still nursing a bad cold, and neither enterprise servers nor tablets and smartphones have been able to overcome that crucial weakness. Furthermore, the acquisition drove Western Digital's earnings forecast down in the fourth quarter due to merger costs.
All told, Western Digital shares have fallen 20% so far in 2016, including Thursday's sharp jump. The stock is also down 40% over the last year, and trades at very low valuation ratios. I recently called Western Digital out as a top stock on deep-discount sale, then followed up by actually buying shares for myself as soon as our Foolish trading guidelines would let me. So far, that investment is working out nicely -- but the real value should come when the storage markets get back to full health and Western Digital climbs out of the bargain bin.
Don't let this 5% bounce scare you away. Western Digital's stock is still cheap.
The article Western Digital Corp.'s New CFO, Solid Preliminary Results: What You Need to Know originally appeared on Fool.com.
Anders Bylund owns shares of Western Digital. The Motley Fool also owns shares of Western Digital. Try any of our Foolish newsletter services free for 30 days. We Fools may not all hold the same opinions, but we all believe that considering a diverse range of insights makes us better investors. The Motley Fool has a disclosure policy.
Copyright 1995 - 2016 The Motley Fool, LLC. All rights reserved. The Motley Fool has a disclosure policy.