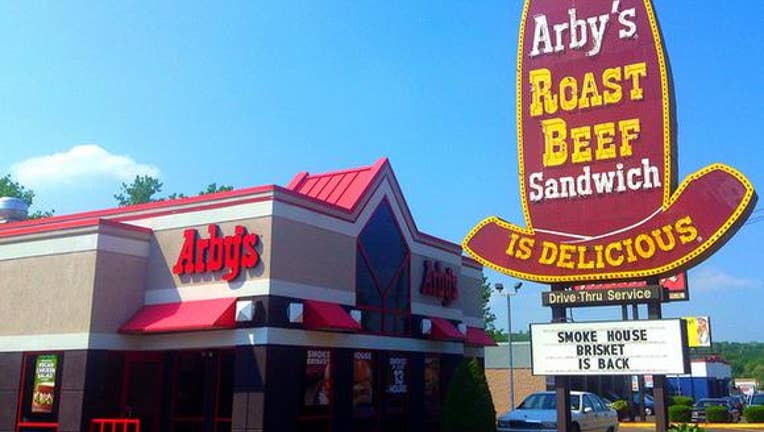 America's love affair with protein has apparently paid off for roast beef sandwich king Arby's, which continues to trounce the industry in sales. Image source: Mike Mozart.
When Wendy's sold Arby's to private equity firm Roark Capital four years ago for $430 million including debt, the roast beef sandwich chain was the ailing restaurant in the partnership. Worse was the fact the selling price was just a fraction of the $2.3 billion the burger joint paid for Arby's in 2008 at the insistence of activist investor Nelson Peltz.
It was likely a case of good riddance,however, as it alleviated a headache that was dragging down Wendy's performance, even though it kept an 18.5% stake in the hot sandwich chain. While it valued its stake at just $30 million at the time, the years have a way of changing things.
Today, Arby's is the better-performing restaurant of the two, with third-quarter same-store sales surging 9.6% over the year-ago period. Not only is that 3 times better than the comps Wendy's posted, but it was also better than Burger King's own strong effort that saw 6.2% comps growth, and was infinitely ahead of McDonald'sanemic 0.9% increase. It also marks Arby's 20th consecutive quarter of positive same-store sales and the 11th straight time it has outperformed the industry as a whole. In fact, the roast beef shop beat the industry's comps results by 7.4 percentage points.
It's also an investment that keeps paying dividends for Wendy's. Literally.
The Roark-backed subsidiary, ARG Holding, which serves as Arby's parent, recently completed a $790 million dividend recapitalization, and used the proceeds to refinance its debt and pay a dividend to investors. Wendy's received $54.9 million for its stake.
No wonder Arby's is spanking the competition: how can you say no to a Meat Mountain sandwich? Image source: Mike Mozart.
To put that in perspective, not only is that dividend worth 80% more than Wendy's position in Arby's at the time of the divestiture, but it's almost equivalent to all of Wendy's third-quarter operating profits, which came in at $55.9 million.
During the quarterly conference call with analysts in October, Wendy's CFO Todd Penegorwas asked if the restaurant had contemplated the value of its ownership interest and when it could turn it into cash. The CFO said that's all on Arby's. If they "decide to do something different," presumably an IPO or some other strategic play, Wendy's might think about how it could capitalize on it, but that's something for the future, not right now. It also estimated the fair market value of its stake had grown to $170 million.
So why should it get rid of that investment? Wendy's annual report last year indicated it received a dividend from Arby's of $40.1 million in 2012 and $4.6 million 2013,when it reduced the carrying value of its investment in the sandwich chain to zero.
Yet the dividend recap was not without costs for Arby's, as Standard & Poor's downgraded the restaurant's outlook to negative because of the debt load it took on to pay the dividend. The ratings agency is concerned specifically about the ratio of Arby's debt to its earnings before interest, taxes, depreciation, and amortization, which itestimates will be some 5 times higher and will stay at such elevated levels.
Net debt to EBITDA measures how many years it would take a company to pay down its debt, all things remaining equal. And high debt-to-EBITDA levels, such as Arby's, call into question a company's ability to repay its debt.
Net debt subtracts cash and cash equivalents from a company's long- and short-term borrowings. And while the level of risk varies from company to company, and even between industries, many bank covenants prohibit debt from exceeding 5 times EBITDA. In general, analysts believe a ratio below 3 is considered safe.
For example, when Burger King bought Tim Horton's last year and created Restaurant Brands International , it borrowed $3 billion from Warren Buffett at a seemingly high interest rate of 9%. But because Buffett's financing was consigned as preferred equity, it was able to keep the debt off its balance sheet, such that its debt came in at 5 times its debt-to-EBITDA ratio, lower than the 7 times it otherwise would have been.In comparison, McDonald's debt goes for just two times its EBITDA.
S&P has said that with Arby's growth potential, it should still be able to pay its bills, so despite Roark loading up therestaurant with debt, it is still a very good investment for Wendy's. It may have been an albatross when Wendy's unloaded the chain, but this could go down as one of the burger joint's best bets -- one that could keep paying dividends in the future.
The article Wendy's Co. Was Smart for Selling This Chain originally appeared on Fool.com.
Rich Duprey has no position in any stocks mentioned. The Motley Fool has no position in any of the stocks mentioned. Try any of our Foolish newsletter services free for 30 days. We Fools may not all hold the same opinions, but we all believe that considering a diverse range of insights makes us better investors. The Motley Fool has a disclosure policy.
Copyright 1995 - 2015 The Motley Fool, LLC. All rights reserved. The Motley Fool has a disclosure policy.