Welltower Inc.'s Best Moves in 2016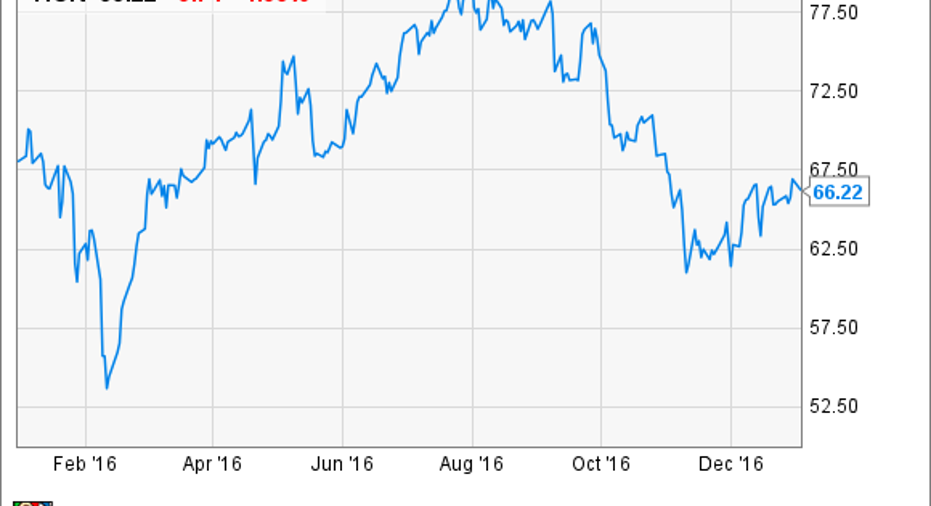 Like most real estate investment trusts, leading healthcare REIT Welltower (NYSE: HCN) underperformed the market in 2016, mainly because of rising interest rates and the expectation of further rate increases. However, it's important to know that Welltower's business is just fine. In fact, the company made some smart moves in 2016 that should ensure continued long-term success for investors.
Image source: Getty Images.
Welltower's smartest move in 2016
Sometimes, bigger isn't better. Welltower's management wisely realizes this, and it announced a significant repositioning of its portfolio along with its 2016 third-quarter earnings release in November, which includes more than $3 billion in dispositions.
While the company hasn't publicly announced whether or not these goals were met, Welltower expected to execute $3.3 billion of dispositions during the fourth quarter, which included:
$1.9 billion of long-term/post-acute properties.
$1.2 billion of leased senior housing.
$51 million of operating senior housing.
$150 million of loan payoffs.
The company has good reasons for doing so. For starters, the major reduction in long-term/post-acute properties will increase the percentage of Welltower's private-pay revenue sources from 89.4% to 92.4%. Private-pay healthcare is generally more stable than properties dependent on government reimbursement programs, so this is a positive factor for investors looking for stable, growing income from their shares.
The repositioning will also reduce the company's dependence on Genesis Healthcare, whose concentration in Welltower's portfolio will fall from 13.8% to 7.1%. Tenant diversification is a good thing for REITs -- after all, if a major tenant goes bankrupt, it can be devastating to the REIT's income.
Finally, the repositioning will significantly reduce the balance sheet's leverage, with debt-to-capitalization falling from 39.5% to 34.4%. The idea is to boost Welltower's credit metrics, and this appears to be successful so far. In fact, just a few days after the repositioning was announced, Standard & Poor's announced that it had upgraded Welltower's credit rating from BBB to BBB+, and the report specifically referenced Welltower's repositioning efforts and planned deleveraging. The company now has BBB+ (or its equivalent) from all three major ratings agencies.
Other smart moves in 2016
In May, Welltower closed on an expanded credit facility with a borrowing capacity of $3.7 billion, replacing the former credit line, which had a $3.2 billion limit. This additional $500 million in borrowing ability adds to Welltower's financial flexibility, making the company better-equipped to take advantage of opportunities that arise.
Throughout the year, Welltower completed $2.4 billion in acquisitions (based on the company's expectations for the fourth quarter). With interest rates near record lows for much of 2016, it was a good time to aggressively acquire properties and make other investments that met the company's long-term strategic goals.
Although it wasn't unexpected, Welltower announced a 4.2% dividend increase, bringing its quarterly payment up to $0.86 per share. Welltower has a strong (but not perfect) track record of increasing dividends, and the latest increase is essential for maintaining investor confidence going forward.
What does 2017 hold for Welltower?
I expect acquisition activity to slow down for the entire REIT industry, including Welltower, in 2017. Interest rates have already begun to rise, and they're forecast to continue doing so, making the cost of borrowing more expensive. With Welltower's stock price well off its highs, the company can't get as much value from issuing new equity, the other main way REITs finance their investments.
For 2017, I expect Welltower to complete some strategic acquisitions that will help the company further achieve the goals of its portfolio repositioning, just at a slower rate than in recent years.
10 stocks we like better than Welltower When investing geniuses David and Tom Gardner have a stock tip, it can pay to listen. After all, the newsletter they have run for over a decade, Motley Fool Stock Advisor, has tripled the market.*
David and Tom just revealed what they believe are the 10 best stocks for investors to buy right now...and Welltower wasn't one of them! That's right -- they think these 10 stocks are even better buys.
Click here to learn about these picks!
*Stock Advisor returns as of Nov. 7, 2016.
Matthew Frankel owns shares of Welltower. The Motley Fool recommends Welltower. The Motley Fool has a disclosure policy.