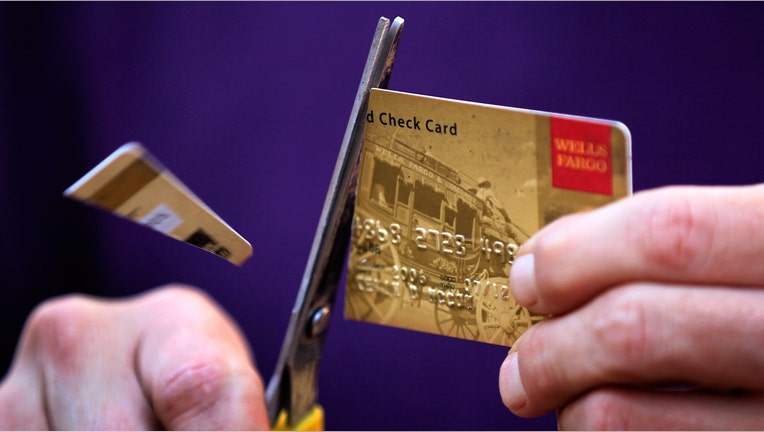 A third-quarter earnings beat by Wells Fargo (NYSE:WFC) was overshadowed Friday by ongoing fallout from a phony-accounts scandal that has plagued the bank in recent weeks.
The scandal came to light in early September, as the bank was accused of fraudulent sales practices in its retail banking unit, specifically opening more than 2 million customer accounts without authorization. The bank was also accused of using unethical and overly aggressive cross-selling tactics – pressuring customers to purchase additional financial products or services that they didn't need – to meet sales goals.  It has since delivered a hefty blow not only to the bank's character, but also its share price, which has seen a more than 9% drop.
In September, customer visits with bankers at Wells Fargo branches dropped 10% from a year ago and 14% from August to September, while the number of consumer checking accounts opened fell 25% from 2015 and applications for credit cards tumbled 20% year over year. Further, mortgage referrals from retail banking dropped 24% in September from August while customer loyalty to Wells Fargo saw a roughly 5% drop off. Overall in the third quarter, Wells Fargo's community banking segment posted a 9% drop in net income from the year-ago period.
After just two days on the job, Wells Fargo's newly minted CEO, Tim Sloan, reiterated he was "deeply committed" to restoring the tarnished reputation of the nation's third-largest bank by assets.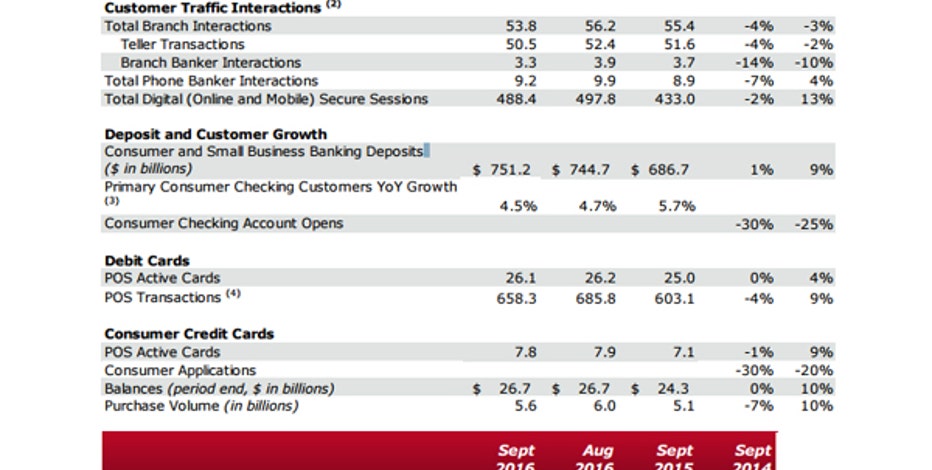 "We know that it will take time and a lot of hard work to earn back our reputation, but I am confident because of the incredible caliber of our team members," Sloan said in a statement. "We will work tirelessly to build a stronger and better Wells Fargo for generations to come."
Wells Fargo noted the damage was, for the most part, limited to its retail segments. While state treasurers, including those from California and Illinois, suspended business with Wells Fargo on the heels of the accounts scandal, the bank's wholesale banking September-ended deposit balances rose 4% from August, and were up 1% from a year ago. Meanwhile, wealth and investment management deposit balances saw an 11% jump from September 2015.
"I know there's a lot we need to get right. Make no mistake: I get it and our team is on it," Sloan said during the company's earnings call.
Overall in the third quarter, Wells Fargo booked diluted profits per share of $1.03 on revenue of $22.3 billion. The results topped Wall Street expectations, though the bank's profit came in slightly under the $1.05 per share it earned over the same period in 2015. It was the fourth-straight quarter of profit decline for the company. It also noted non-interest expenses totaled $13.3 billion during the quarter, compared to $12.9 billion in the second quarter due in part to higher litigation costs and salaries. The San Francisco-based bank has reached agreements with multiple regulators, including the Consumer Financial Protection Bureau, due to retail-banking sales practices. The amount of settlements total $185 million, plus $5 million in customer remediation. Additionally, the bank reiterated action it has taken to ensure the sham practices don't happen again.
As of October 1, the bank eliminated product sales goals for its retail banking team. It also appointed a new community banking chief, fired about 5,300 employees connected to the scandal, and implemented a procedure to send customers a confirmation email after a deposit account has been opened or credit card application has been submitted. In addition to launching an investigation into sales practices at Wells Fargo, the bank's independent board of directors also expanded the scope of its remediation to include 2009 and 2010.
More on the Wells Fargo Customer-Accounts Scandal
Though he outlined the immediate impact of the scandal to Wells Fargo's business, Sloan said it's "too early to determine the long-term impact of the sales-tactics scandal on business" and that matters will "get worse before they get better." Until there is more clarity on the long-term effects, KBW analysts said it will likely be difficult for the company's valuation to return to a historical premium as concerns remain about earnings power and quality.
After initially rising more than 1% on the heels of its earnings results, shares of Wells Fargo ended the session little changed on Friday.