Weekend Storm Economic Hit Not as Bad as Feared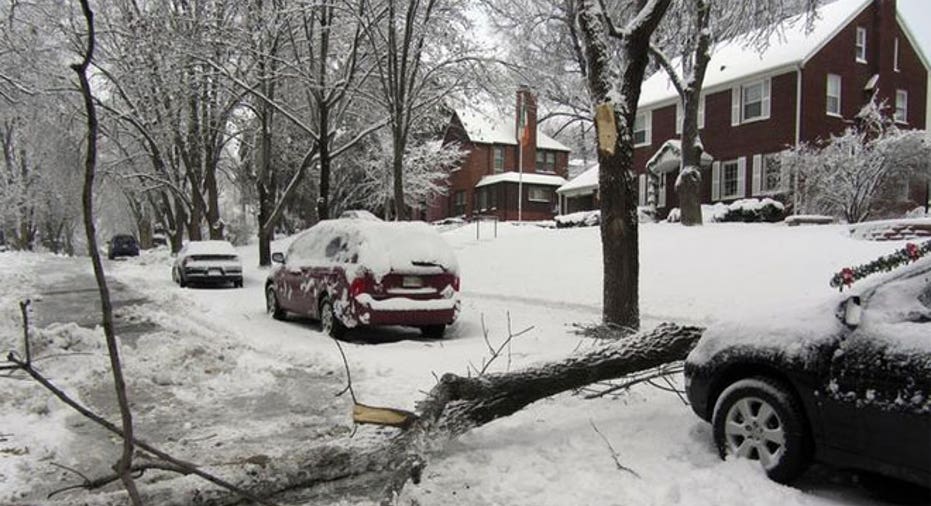 The weekend blizzard along the East Coast could have a relatively small economic impact -- up to $850 million, experts estimate -- because the storm hit on a weekend and there weren't any major power outages. That meant there was little lost productivity in government and business.
Restaurants, theaters, other entertainment venues and some retailers took the brunt of the hit, but overall, the impact might be a wash, said Chris Christopher, a U.S. macroeconomist at data firm IHS Global Insight.
He said that's because many businesses will have made extra money, or at least made sales a little sooner, from people stocking up in advance on food, gasoline, alcohol, shovels, ice-melt and other items. Some spending may just be delayed, like purchases of cars, houses, major appliances and even boots and warm clothing as people realize winter has finally set in. And people whose homes or cars were damaged in the storm will be buying supplies or paying for repairs in the near future.
Other spending likely shifted around. For example, malls and movie theaters were closed over the weekend, but people had other options.
"After they did their shoveling," Christopher said, "they could be online shopping or ordering movies" via Netflix or cable on-demand services.
Christopher said the economic impact could be as little as $350 million or as much as $850 million, based on the costs of past storms, but hard data won't be available until next month, when various types of economic data for January are released.
Mark Zandi, chief economist at Moody's Analytics, noted airlines and others in the transportation industry lost money, though they expect at least one big storm every winter.
"Winners include those involved in the cleanup, including government workers and private contractors," Zandi wrote in an email.
"If the storm had struck during the work week, it would have done some economic damage," he wrote, adding that the economy of the region affected by the storm produces $16 billion in output per day.
 Workers paid by the hour, rather than on salary, will be hurt by lost wages and may have less money to spend, particularly those in service industries who work on weekends. But convenience stores that were able to stay open -- in areas where customers could get to them -- also benefited from having little or no competition.
RETAIL IMPACT
Planalytics, which helps companies assess and address how weather impacts their business, is estimating that retailers could see a net loss of $850 million.
"Some retailers might have seen a bump just ahead of the storm, but this will be more than offset by the fact that two weekend days of business were washed out or significantly slowed due to the storm," according to its president, Scott A. Bernhardt.
 Bernhardt noted that nationwide, sales of coats, hats, gloves, scarves and boots were all up by about one-fourth last week because of the cooler weather then, after an unseasonably warm December. Meanwhile, some lost retail sales will be made up later, he wrote, but not all of them.
"You don't eat dinner out twice next weekend because you didn't have your usual Saturday night out or buy two cups of coffee because you missed your regular daily stop one day," he noted.
For instance, in Washington, D.C., most neighborhood Starbucks and Dunkin' Donuts outlets were still closed Sunday afternoon.
TRANSPORTATION
Businesses involving transportation were mostly shut down over the weekend, but were getting back on their feet late Sunday. The top four airlines, which handle more than 80 percent of U.S. air traffic, resumed at least some service Sunday afternoon and were aiming to be nearly at a full schedule Monday.
However, that wasn't looking likely in a few areas, particularly the hard-hit Washington, D.C., region.
Because the airlines waived fees for changing flights, some people traveled earlier than planned. Others pushed back their trips, meaning flights early this week are likely to be even more packed than usual.
Amtrak was operating Sunday on all its routes, but with a reduced number of trains. It will continue a modified schedule between Boston and Washington Monday, with reduced service between Washington and points in Virginia. Other service between Washington and the Southeast and Midwest remains under review.
DELIVERY SERVICES
UPS, which has limited deliveries on Saturday and Sunday, had operations interrupted in Washington, D.C., and parts of 13 states: Connecticut, Delaware, Kentucky, Maryland, Massachusetts, New Jersey, New York, North Carolina, Pennsylvania, South Carolina, Tennessee, Virginia and West Virginia.
UPS spokesman Steve Gaut said it will restore pickup and delivery service Monday where streets have been cleared, adding its teams were assessing road conditions and implementing contingency plans to help ensure shipments arrive quickly as conditions permit.  Monday's deliveries would be processed in its hubs and package centers Sunday evening.
FedEx said in a statement that it will provide service in areas that are accessible, but that customers may experience delays in areas still affected by the snowfall.