Wedding of prince and actress brings outsized media interest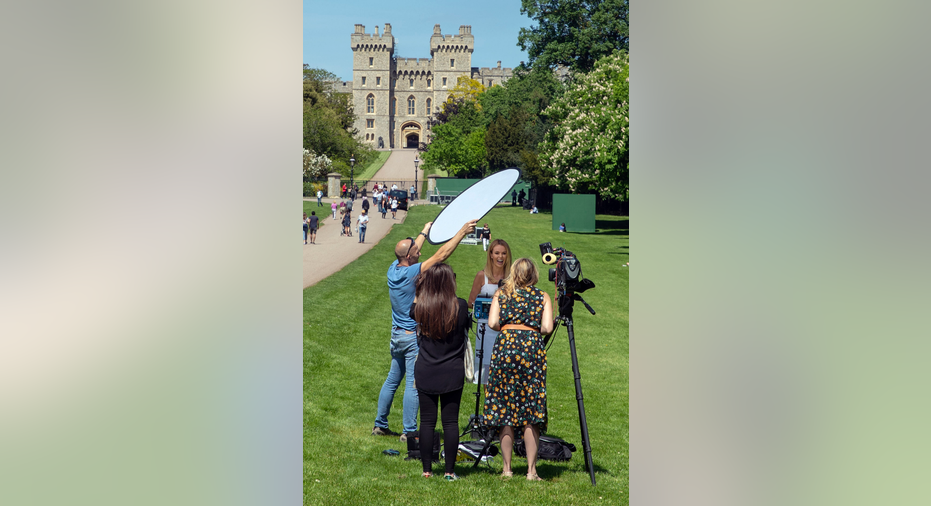 Like most everyone else with a taste for fairytales, Germans love the spectacle of a royal wedding. But since the country's last emperor, Wilhelm II, was forced to abdicate in 1918, Germans haven't had a monarchy of their own to fuss over and so have adopted Britain's royals as surrogates.
It should come as no surprise then that German tabloids, television stations and social media have buzzed with the latest details of Prince Harry's fast-approaching marriage to American actress Meghan Markle — from the wedding guest list and the bridal dress to the loaded family dynamics and the lemon elderflower cake.
Three German TV stations — ZDF, RTL and n-tv — plan to broadcast and livestream the event. Dozens of German correspondents are accredited to be on the ground in England for Saturday's wedding, and networks have enlisted "royal household experts" to help explain the intricacies of the ceremony to viewers at home.
Some 79 international broadcasters, including outlets from the United States, Australia, New Zealand and Japan, are planning to report on Markle and Harry's wedding. More than 5,000 U.K. and foreign media and support staff have credentials to cover the action in Windsor, a town 35 kilometers (22 miles) west of London that is home to St. George's Chapel and Windsor Castle, where the ceremony and reception are taking place.
Americans in particular — some 46 U.S. broadcast affiliates will cover the wedding — are obsessing because the bride is one of their own. The E! TV entertainment network plans to devote five hours of air time to the wedding that matches a California girl with a British prince.
But fans in Los Angeles, Markle's hometown, will have to be up early to watch the service — which begins at noon in England and 4 a.m. in the Pacific Daylight Time zone. Plenty of other action in Windsor — including the arrival of celebrity guests, the first glimpse of the bride in her dress and other pre-ceremony hoopla — will take place hours earlier.
As for Germany, public Television ZDF did not want to speculate on how many viewers may tune in. When Harry's brother, Prince William, married Kate Middleton in 2011, 3.1 million Germans watched the nuptials live. When Harry and William's parents, Prince Charles and Lady Diana Spencer, tied the knot in 1981, some 9.3 million Germans were glued to their TVs.
Several restaurants and coffee shops in Berlin are offering specials along with public viewings of Saturday's royal wedding. At the German capital's famous Bristol Hotel, guests will be able to sip tea and munch on British biscuits as the couple makes their marriage vows. Nearby, the Berliner Kaffeeroesterei cafe plans to serve wedding cake with raspberries and tea for 24.95 euros ($29.40) while the celebration is being screened in the cafe's library room.
Elfriede Regner, a 73-year-old retiree from Berlin, said she watched both Charles and William's weddings and will spend Saturday in front of the TV as well.
"There's no way in the world I'm going to miss this wedding," Regner said as she walked past the city's main train station with an umbrella in hand despite the sunny weather.
"Just like a real Brit," she joked.
___
This story corrects the distance from London to Windsor.
___
For complete AP royal wedding coverage, visit https://apnews.com/tag/Royalweddings