Weatherford International's Earnings Hasn't Found Traction in the Oil Recovery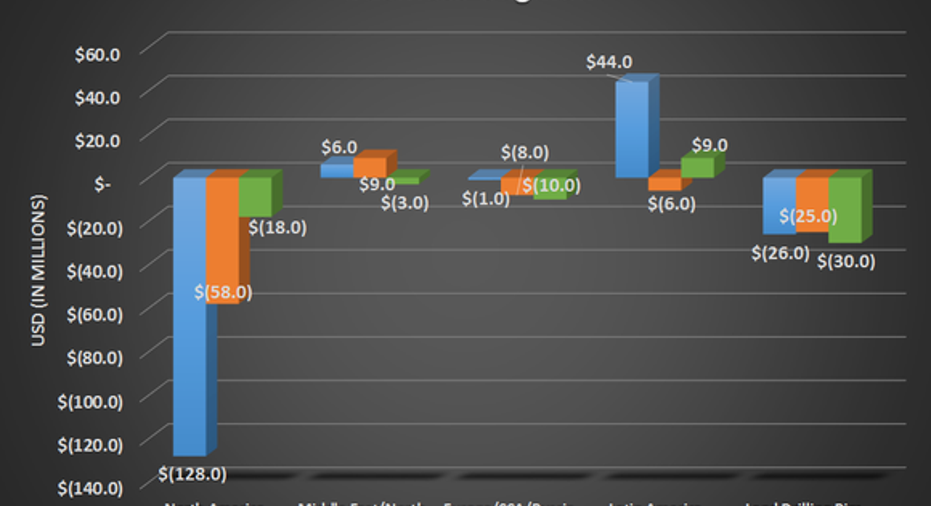 Investing in Weatherford International (NYSE: WFT) has been an exercise in patience for quite some time. Management has been promising that it will return to profitability, become free cash flow positive, and chip away at its onerous debt load. Yet this past quarter went by without much progress on any of these fronts.
One thing that has changed, though, is that the company has elected a new CEO with years of experience at one of Weatherford's largest competitors. There's hope therefore that his time there will work to Weatherford's advantage. Here's a look at what happened this past quarter as well as some of management's plans to get back in investors' good graces.
Image source: Weatherford International.
By the numbers
| Results* | Q1 2017 | Q4 2016 | Q1 2016 |
| --- | --- | --- | --- |
| Revenue | $1,386 | $1,406 | $1,585 |
| Operational income | ($52) | ($76) | ($157) |
| Net income | ($448) | ($549) | ($498) |
| EPS | ($0.45) | ($0.59) | ($0.61) |
*IN MILLIONS, EXCEPT PER-SHARE DATA.DATA SOURCE: WEATHERFORD INTERNATIONAL EARNINGS RELEASE.
With oil and gas activity picking back up in North America, this past quarter has been a testing ground for how much exposure the respective oil services companies have to that particular market. Looking at Weatherford's business lines, it's clear that the company does have a decent exposure to this red-hot market, but certainly not enough to make it profitable.
There is a caveat to its North American results, though. The company previously announced it would shut down its pressure pumping operations because of low profitability and that it would contribute those assets to the OneStim joint venture with Schlumberger (NYSE: SLB). Had that equipment been in use, then chances were good that Weatherford's North American business segment would have posted an operational profit.
As for the rest of the world, lower oil prices continue to delay any significant investments. This isn't something unique to Weatherford. Just about every other oil services company has reported a decline in revenue and earnings outside North America.
DATA SOURCE: WEATHERFORD INTERNATIONAL EARNINGS RELEASE. AUTHOR'S CHART.
Weatherford's management broke out what it considered one-time items, which totaled $130 million for the quarter. It would be great if we could just shrug those off, but the company has taken these "one-time" charges in one form or another for 12 straight quarters. You can only call a charge a one-time event so many times before investors are simply going to consider them part of doing business. Until Weatherford can actually prove that it doesn't need to spend money on restructuring or impairments in a quarter, investors are better off including these charges into an investment thesis and ignoring any reporting that adjusts for these one-time charges.
Another thing that has caused problems for Weatherford in the past has been a lack of free cash flow. This quarter was no different. The company's operations burned through $179 million in cash, a large portion of which is related to servicing its debts. Despite needing to source outside cash to meet its spending needs for the quarter, it remains in compliance with all debt covenants.
What management had to say
Mark McCollum made his inaugural statement as the CEO of Weatherford. His press release sounded very much like those of his former employer, Halliburton, where he talked a lot about execution and efficiency. McCollum did note that investor patience has been running thin as of late and that he wants to restore trust in the company.
What a Fool believes
McCollum has a big job ahead of him to improve and strengthen the balance sheet. As he mentioned, doing so will involve making operations free cash flow positive, which means making its existing operations more cost-effective. Basically, it will involve even deeper cost-cutting than has already taken place at the beleaguered oil services company.
So far, though, it does look like Weatherford is making the right moves. The OneStim joint venture with Schlumberger should help make what is typically a low-margin business -- pressure pumping -- into a more comprehensive, higher-margin service that better utilizes the assets of both companies. Moves like this and a return to higher levels of oil and gas activity outside of North America will likely need to happen before Weatherford can deliver on its promises. So until we see these happen in earnest, it's probably best to wait and see if Weatherford can pull it off.
10 stocks we like better than Weatherford InternationalWhen investing geniuses David and Tom Gardner have a stock tip, it can pay to listen. After all, the newsletter they have run for over a decade, Motley Fool Stock Advisor, has tripled the market.*
David and Tom just revealed what they believe are the 10 best stocks for investors to buy right now... and Weatherford International wasn't one of them! That's right -- they think these 10 stocks are even better buys.
Click here to learn about these picks!
*Stock Advisor returns as of April 3, 2017
Tyler Crowe has no position in any stocks mentioned. The Motley Fool has no position in any of the stocks mentioned. The Motley Fool has a disclosure policy.