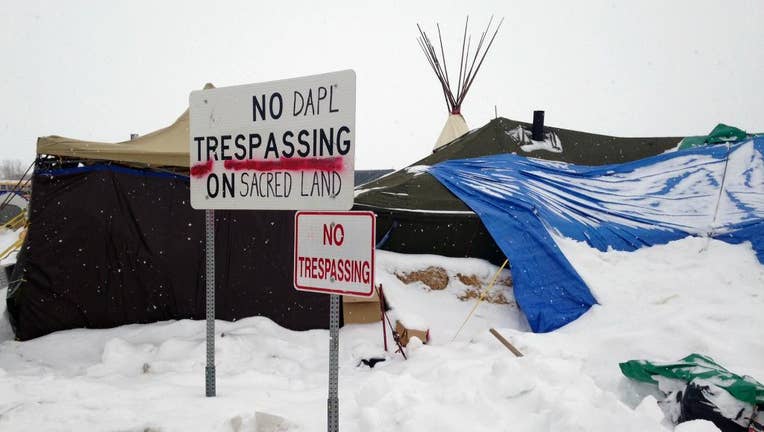 Minor flooding is almost certain this spring in the area where Dakota Access pipeline opponents have camped for months to protest the project, the National Weather Service said Friday.
The report, the first flood outlook for the season, shows little chance of significant flooding but indicates floodwaters could reach at least parts of the camp. The weather service bases the outlook on a heavy, wet snowpack, though it stresses that it's early and the next outlook on Feb. 16 should provide a clearer picture.
The amount of actual flooding still depends on future snowfall, how much water the snow contains and how quickly it melts, and "there's a lot of uncertainty in that realm," meteorologist Bill Abeling said.
The camp near the confluence of the Missouri and Cannonball rivers has been home since August to hundreds and sometimes thousands of pipeline opponents from around the world. They support the Standing Rock Sioux tribe's claims that the $3.8 billion pipeline to carry North Dakota oil to Illinois threatens drinking water if the Army Corps of Engineers allows it to cross under the Missouri River just north of the tribe's reservation. Texas-based developer Energy Transfer Partners says the pipeline is safe.
The project is stalled while the Corps and ETP battle in court over permission for the crossing, though President Donald Trump this week called on the Corps to reconsider its December decision to do more study on the crossing. It's not known when the Corps might act.
The protest camp has dwindled to fewer than 300 people due to harsh winter weather, the pipeline work being stalled and the tribe's recent call for people to leave. Tribal Chairman Dave Archambault maintains it's a matter of safety for the people in camp and also a matter of protecting the land. He said in a recent interview that it would be ironic if pipeline opponents ended up contaminating the very river they're trying to protect.
"There is a lot of debris, abandoned cars," he said. "When the flood comes all of that stuff is going to contaminate the environment."
Camp occupants during a communal meeting earlier this week discussed cleaning up the camp and finding higher ground to prepare for the possibility of rising water, though many are vowing to remain.
"There are still people in high spirits, and these people are ready to defend this land," said Eliud Colon, 48, of Puerto Rico.
___
Associated Press writer James MacPherson in Bismarck contributed to this story.
Follow Blake Nicholson on Twitter at: http://twitter.com/NicholsonBlake