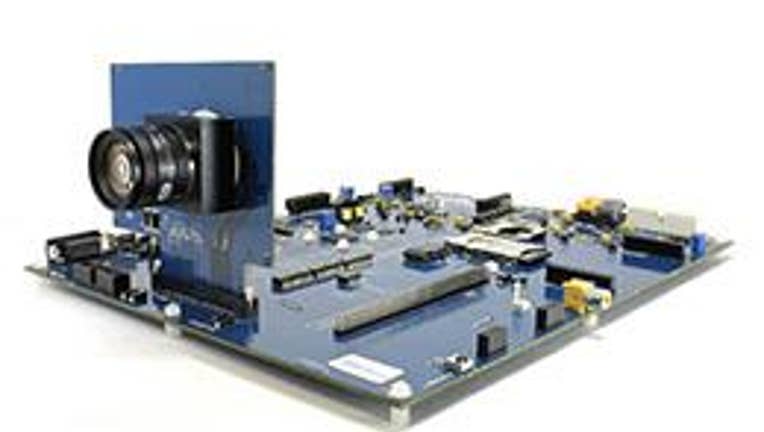 Ambarella's latest A9SE Ultra HD 4K Flying camera SoC. Image source: Ambarella.
Ambarella stock may be falling after the company released fiscal fourth-quarter 2016 results Thursday after the market close, but don't take that to mean the video processing chip specialist's performance wasn't solid.
Quarterly revenue climbed 5% year over year, to $68 million, slightly above the high end of Ambarella's guidance, which called for fourth-quarter revenue of $65 million to $67.5 million. Based on generally accepted accounting principles (GAAP), that translated to net income of $5.1 million, or $0.15 per share, down from $17.7 million, or $0.53 per share in the same year-ago period. On an adjusted (non-GAAP) basis, which offers perspective by excluding items like stock-based compensation, Ambarella's net income fell 4.4% year over year to $21.6 million, or $0.64 per share. Here again, Ambarella's guidance called for lower fourth-quarter adjusted net income between $15 million and $17 million.
Noting full fiscal-year 2016 revenue climbed a much more impressive 45%, Ambarella CEO Fermi Wang elaborated:
To be fair, this shouldn't come as a surprise. This was exactly the case last quarter, when growth in all of Ambarella's other emerging market segments was almost completely negated by weakness in the wearable sports camera market -- or, more accurately, weakness from key customer GoPro , revenue from which is expected to comprise around 25% of Ambarella's total this year. And as I noted in my earnings preview earlier this week, Ambarella CFO George Laplante warned three months ago that high inventory levels for customers in the wearable sports camera market were expected to have a "substantial impact on [Ambarella's] shipments in Q4, extending into Q1 of fiscal 2017."
In fact, Laplante also stated this would mean enduring a "moderate" year-over-year decline in total revenue in the first quarter of fiscal 2017. Sure enough, for the current quarter Ambarella anticipates revenue of $55 million to $57 million, representing a decline of 24% to 20%, respectively, from last year's fiscal first quarter. For perspective, however -- and this explains the market's reaction today -- analysts' consensus estimates called for fiscal Q1 revenue to fall a more modest 12.1% year over year.
But this also shouldn't spook long-term investors, either. During this quarter's conference call, Laplante explained that the actual demand from GoPro has declined to the low-single digits as a percent of total revenue so far in Q1, "with the likelihood that this weakness will continue at similar levels until the launch of any new products with our chip." As such, Laplante insists until GoPro refreshes its capture device line up -- which GoPro incidentally narrowed last month to include only its three highest-end devices -- Ambarella is choosing to exercise caution until it has "a better picture of end-user demand in this market."
Ambarella management also tackled the topic of increasing competition from chip juggernaut Qualcomm . More specifically on the wearable camera side, Wang acknowledged "We know that Qualcomm [is] talking to our customers, but we don't see them making much progress with camera solutions. In fact, we still believe that their current ad processor base solution is quite behind in video quality, compression efficiency, power consumption, video features and performance." In other words, price and margins notwithstanding, Ambarella has faith the performance of its chips is still comfortably ahead of the competition in wearables.
Meanwhile in the drone space -- and noting there are effectively two major components, for example, on the high-end DJI Phantom 3 drone, including the camera SoC and microcontroller for fly control -- Wang pointed out Ambarella effectively only "plays" on the camera SoC side, and notices Qualcomm is currently trying to replace components on the microcontroller side. That said, Wang also admitted its almost inevitable that "Qualcomm will try to come compete," but insisted Ambarella is well-positioned for the challenge.
In the end, those kinds of challenges are par for the course for Ambarella, but this certainly doesn't help appease skittish investors as long as Ambarella continues to weather weakness in its former core wearables space. And for now, it appears this weakness will endure for at least another quarter before Ambarella can return to healthy year-over-year growth from all its segments. With the caveat that Ambarella's long-term growth story remains firmly intact, it's hard to blame the market for taking a step back today.
The article Wearables Continue to Hold Back Ambarella Earnings originally appeared on Fool.com.
Steve Symington has no position in any stocks mentioned. The Motley Fool owns shares of and recommends Ambarella, GoPro, and Qualcomm. Try any of our Foolish newsletter services free for 30 days. We Fools may not all hold the same opinions, but we all believe that considering a diverse range of insights makes us better investors. The Motley Fool has a disclosure policy.
Copyright 1995 - 2016 The Motley Fool, LLC. All rights reserved. The Motley Fool has a disclosure policy.