Weaker Soda Volumes Hit Coca-Cola's First-Quarter Results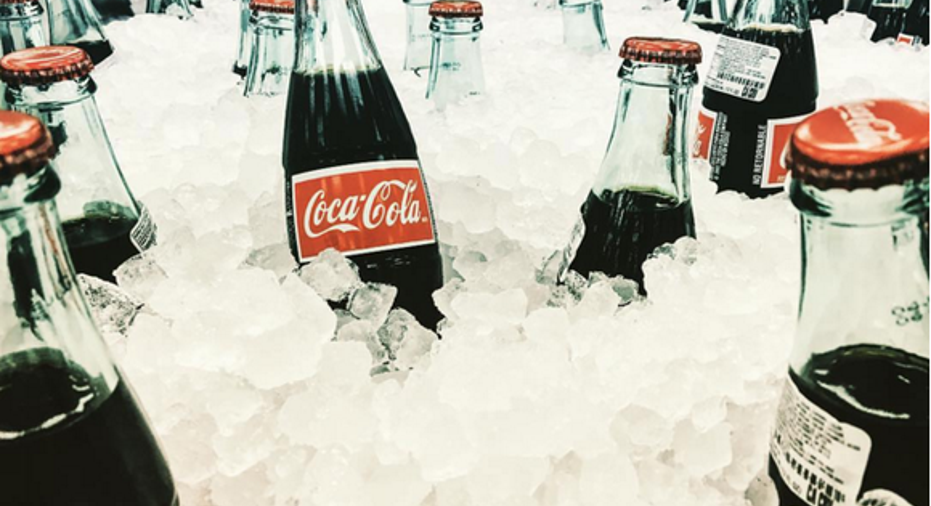 Image source: The Coca-Cola Company Instagram page.
The first-quarter 2016 results released byThe Coca-Cola Company on Wednesday illuminate challenges it faces as it expands its non-sparkling beverage portfolio amid declining carbonated soft-drink sales. The global beverage marketer reported both a revenue and earnings decline for the first three months of year. Below, we'll key in on significant numbers from the earnings report and discuss a few broad takeaways from the filing.
The Coca-Cola Company: The raw numbers
| | Q1 2016 Actual | Q1 2015 Actual | Year-Over-Year Growth (Decline) |
| --- | --- | --- | --- |
| Revenue | $10.3 billion | $10.7 billion | (3.7)% |
| Net Income | $1.48 billion | $1.56 billion | (5.1)% |
| Diluted Earnings Per Share | $0.34 | $0.35 | (2.9)% |
Data source: Coca-Cola Company 8-K filing, April 20, 2016.
What happened with Coca-Cola this quarter?
The company reported 2% growth in unit case volume, propelled by a 7% gain in still beverages. But sparkling beverages were, er, flat, seeing 0% growth. Sales of Trademark Coca-Cola, the drink more popularly known as Coke, declined in Europe, North America, and the Eurasia and Africa segment.
The weaker soda volumes affected organic revenue, which expanded by just 2% during the quarter. As I explained in my earnings preview, "the stakes are higher for organic revenue growth in 2016." This is because the company is divesting itself of bottling operations, which will cause reported revenue to decline but profit to rise. Thus, investors are eager to see that Coca-Cola can build steady growth when the effects of foreign currency exchange and acquisitions and divestments are removed. And there's a bit of sensible expectation on the part of shareholders here as well: If reported revenue is negative, then organic revenue at least ought to show progress.
For the full year, Coca-Cola is projecting organic revenue growth of 4%-5%. This may be a tall order, as the next three quarters will have to average above 4% for Coke to hit its 2016 goal.
A bright spot appeared in the 7% unit case improvement in still beverage volume, with one caveat: Juices and juice drinks surprisingly "registered a small decline in volume" during the quarter. This category typically posts market share advances in the mid-single digits, so we should expect it to pop back toward trend next quarter.
Foreign currency effects continued to weigh on reported results. Out of the company's five non-bottling segments, only U.S. dollar-denominated North America reported positive revenue growth (at 2% versus the prior year). Latin America, and the Eurasia and Africa segment, were particularly affected by currency headwinds, of 24% and 14%, respectively.
Coca-Cola again reported an increased marketing spend, but in a break from previous quarters, didn't quantify the amount of increase in its quarterly filing. Investors may want to monitor marketing and advertising in the next quarters, as the company may already be losing some of the revenue leverage it gained last year by allocating a larger share of dollars to brand promotion.
While reported revenue didn't decline by a huge amount, the company generated much less operating cash flow than usual. Coke generated $604 million in operating cash in the first quarter, versus $1.6 billion last year. Management noted $471 million in contributions to its U.S. pension plans, effects of foreign currency translation, and a shorter quarter (by one day) as reasons for the decline.
What management had to sayCoke CEO Muhtar Kent alluded to the company's transition away from bottling and toward a higher-margin business model that favors the marketing of brands in his remarks accompanying Wednesday's release:
Looking forwardAs for that full-year outlook, Coca-Cola reaffirmed on Wednesday its target of 4%-5% organic revenue growth, as mentioned above. It also held to its projection of 6%-8% currency neutral income before taxes.
Investors reacted with some skepticism to the plausibility of the beverage giant's full-year organic revenue target, depressing the stock by 4.8% by the time the trading day ended. Before the earnings report, Coke had gained nearly 8.5% year to date.
It isn't easy to see how the organization will gear up its organic revenue growth for the rest of 2016, given the weakness of Trademark Coca-Cola (and recent soft sales of Diet Coke), along with a possibly diminished return on marketing expenditure. But while management may be guiding a bit high versus the company's immediate potential, it certainly hasn't erred in its push to update Coca-Cola's business plan. For longer-term investors, the shift to become a business with a lighter capital footprint, and to rely less with each acquisition on carbonated beverages, should be the greater priority and the more accurate measure of progress.
The article Weaker Soda Volumes Hit Coca-Cola's First-Quarter Results originally appeared on Fool.com.
Asit Sharma has no position in any stocks mentioned. The Motley Fool owns shares of and recommends Coca-Cola. Try any of our Foolish newsletter services free for 30 days. We Fools may not all hold the same opinions, but we all believe that considering a diverse range of insights makes us better investors. The Motley Fool has a disclosure policy.
Copyright 1995 - 2016 The Motley Fool, LLC. All rights reserved. The Motley Fool has a disclosure policy.