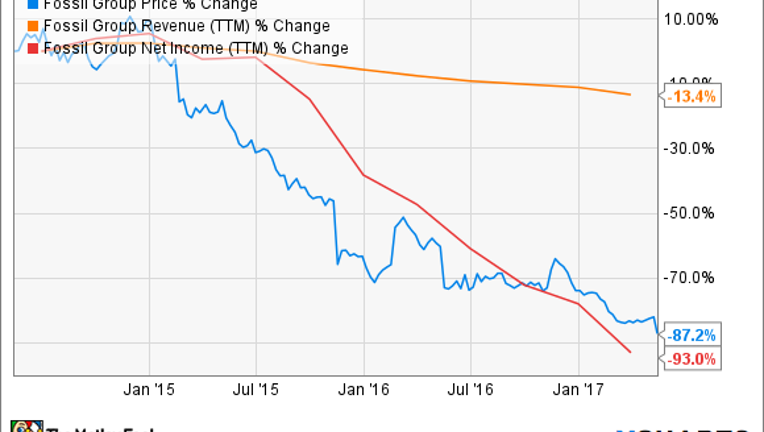 Wearable devices are quickly becoming mainstream technology, with smartwatches and fitness trackers leading the way. You'd never know that based on the performance of traditional watchmaker Fossil Group (NASDAQ: FOSL) as the company is struggling to adapt to the changing times.
A quarter worth forgetting
In the first quarter of the year, Fossil reported a 12% drop in revenue, completely erasing hopes of a possible turnaround that showed signs of life at the end of 2016. Shares are down over 30% since the report, continuing the decline in the stock that has been the trend for the last few years.
Data by YCharts.
Sales across the board keep falling at the company, but the important market of North America led the plunge with a 17% drop. Growth in connected watches was reported, but not enough to offset the decline of traditional ones. Weakness in the retail industry also didn't help -- comparable sales fell 11% year over year. The company's reliance on brick-and-mortar stores is a liability as thinning foot traffic and store closures have begun to amplify the company's product lineup problems.
Year-Over-Year Growth in Sales

| | | | | |
| --- | --- | --- | --- | --- |
| Metric | Q1 2017 | FY 2016 | FY 2015 | FY 2014 |
| Watches | (9%) | (6%) | (10%) | 9% |
| Leathers | (21%) | (4%) | (2%) | 4% |
| Jewelry | (12%) | (8%) | (2%) | 21% |
Data source: Fossil quarterly earnings reports. Chart by author.
Playing catch-up is hard
According to Gartner, a technology research and advisory company, fitness trackers have reached mainstream acceptance, and the smartwatch is not far behind. Over the course of just a few years, about 20% of the population now uses a fitness tracker, but only about 10% use a smartwatch.
That number has been growing, though, and Fossil has been late to pick up on the trend. The company didn't release a smartwatch model until late in 2015, making the aforementioned declines in its biggest business segment that much worse.
Fossil is righting that oversight with the shotgun approach. As the company also does design work for other fashion companies, it will release some 300 smartwatch models across 14 different brands this year. These are a little different than the typical techie devices the world has been introduced to -- Fossil smartwatches are fashion first.
The new Fossil Q Marshal smartwatch blends style with tech. Image source: Fossil.
The company organizes its devices into two groups: digital touchscreen watches with branded apps (depending on the company you buy your Fossil watch through) and traditional hybrids that look like an old style watch but deliver things like message notifications and activity tracking.
Part of the problem with declining profitability stems from Fossil's investment in these new devices. The company has partnered with Google and other companies for design on the watches themselves and for the applications that come pre-loaded on them.
Still time to change
Ultimately, the work on new product innovation is promising for investors. The Gartner survey revealed that major complaints with wearables include being hard to use, lacking features independent a smartphone, and having a tendency to break. As a result, people abandoning their devices is at about 30% for both smartwatches and fitness trackers. With the large number of end-sellers using Fossil to design wearables, the company can help reduce those complaints.
Fossil hybrid watches look traditional but have some of the tech features of their all-digital versions. Image source: Fossil.
Gartner's survey also revealed another big complaint consumers have: that the designs of smartwatches and fitness trackers are unappealing. To overcome this concern, the report recommends that wearable tech companies partner with fashion designers, because they have the style and marketing experience. That sounds like an opportunity for Fossil to me.
Management sees 2017 being another bad year, with sales down anywhere from 6% to 1.5% -- still better than the 12% from the first quarter. That implies an improving picture as the year progresses. With share prices beat up and the company out of favor, Fossil could end up being a real bargain if it can deliver that rebound.
10 stocks we like better than Fossil Group, Inc.When investing geniuses David and Tom Gardner have a stock tip, it can pay to listen. After all, the newsletter they have run for over a decade, Motley Fool Stock Advisor, has tripled the market.*
David and Tom just revealed what they believe are the 10 best stocks for investors to buy right now...and Fossil Group, Inc. wasn't one of them! That's right -- they think these 10 stocks are even better buys.
Click here to learn about these picks!
*Stock Advisor returns as of May 1, 2017.
Nicholas Rossolillo has no position in any stocks mentioned. The Motley Fool recommends Fossil Group, Inc. The Motley Fool has a disclosure policy.