Washington motel manager credited with saving dozens before explosion tore through building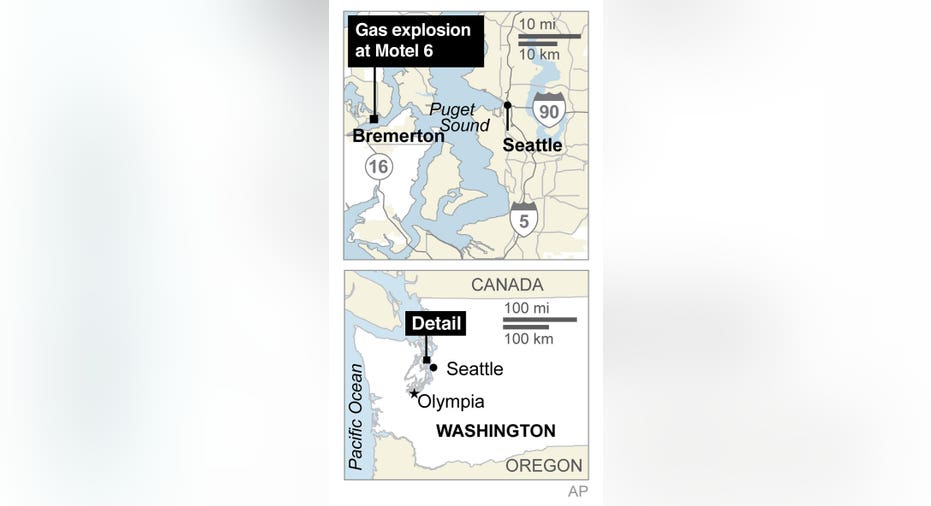 A fast-acting manager who evacuated a Washington motel minutes before a massive explosion is being credited with saving dozens of lives, including some who were staying in rooms that were reduced to rubble.
The blast Tuesday night critically injured a gas company worker and knocked back firefighters, but the guests were safely away before it tore apart the Motel 6 in Bremerton.
Two people initially were unaccounted for. However, Bremerton Fire Chief Al Duke said Wednesday no bodies were found in the debris and he was almost certain the missing guests were not caught in the explosion on the west side of Puget Sound, across from Seattle.
Cadaver dogs went through the building two or three times and found no evidence of bodies. Plus, investigators pinged the cellphones of the missing people, and they showed up "way south of the area," Duke said.
Also Wednesday, investigators were looking into what caused the blast, including a report that someone might have accidentally damaged a gas line behind the building.
Cascade Natural Gas identified the worker injured in the explosion as Larry Jennings, 59. The Bremerton man remained in critical condition at Harborview Medical Center in Seattle.
The explosion ripped off a 16-room section of the hotel that collapsed in a pile of rubble and burned for hours. Some firefighters at the scene were blown back 20 feet by the force, and others pulled smoldering debris from the building to help contain the fire, Fire Capt. John Hawkins said at a news conference.
Duke credited acting hotel manager Tonya Hinds with quickly evacuating the building because she smelled and heard a gas leak. He also lauded the hotel's guests for heeding the fire alarm.
More than 60 people were staying at the hotel, though it's unclear how many were in the building when it was evacuated. About 10 people were staying in the 16 rooms that were destroyed, Duke said.
"People have been there when you hear an alarm go off and you don't do anything. We see that a lot," Duke said. "The one time that you should have gotten out, and you didn't, it might turn out bad."
Hinds said in a telephone interview that a passer-by came to her office to say a gas line was leaking at the back of the three-story motel, which reopened last fall after an extensive remodel. Hinds — a former volunteer firefighter — said she went outside and saw that the leaking line was a big one "with a lot of gas."
"I pulled the alarm and started corralling people away from the building," Hinds said. "I wanted to make sure all my guests were out."
The fire department responded to the alarm just before 8 p.m., along with Jennings and another Cascade Gas employee. The explosion came half an hour later, critically injuring Jennings.
"Our prayers go out to his family," an emotional Duke said at the news conference. "It could have been worse."
Two firefighters also were injured, but both were home Wednesday and in good condition, Hawkins said. One suffered bruised ribs, and the other had a concussion, Duke said.
Hinds said a guest reported seeing someone jump out a window and land on or near the gas line just before the leak.
"We're still checking on that," Chief Strachan said. "Whether they did or didn't go out that way, we have detectives working on that as we speak."
Because local officials said the gas meter likely was damaged just prior to the leak, the National Transportation Safety Board has called back its investigators because it would no longer fall under its jurisdiction to investigate.
___
This story has been corrected to add a dropped word to the third paragraph to say the missing guests were not caught in the explosion.