Was the Borgata MGM Resort's Smartest Acquisition?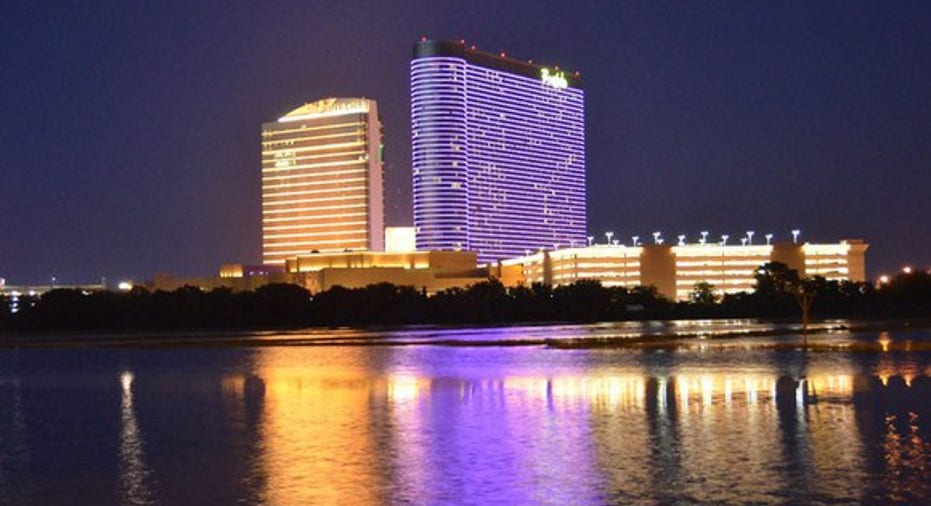 Atlantic City might be a financial basket case, and the remaining seven casinos there may be struggling to maintain their share of gaming revenues on the east coast, but MGM Resorts' (NYSE: MGM) buyout of its joint venture partner Boyd Gaming (NYSE: BYD) for full control of the Borgata may just be one of the casino operator's best moves yet.
Away from Atlantic City's famed boardwalk, the Borgata reigns supreme as the biggest and best casino. Image source: Borgata.
Don't leave the boardwalk
New Jersey has taken control of Atlantic City's day-to-day operations because it is essentially bankrupt and can't repay its $500 million debt. The city won't be officially declared insolvent, though; instead, the state's taxpayer's will be called on to make the city's debt payments while the city's overseer has raised the tax rate on property taxes by $9.4 million, most of which will be paid by the casinos.
Since 2014, five casinos have closed in Atlantic City, and from its peak in 2006 of $5.2 billion, gaming revenue has been cut in half, to $2.56 billion. Where once it had the eastern seaboard all to itself, Atlantic City now has to contend with Foxwoods and Mohegan Sun in Connecticut, Las Vegas Sands in Pennsylvania, Dover Downs in Delaware, plus casinos and racinos in Massachusetts, Maryland, New York, and elsewhere. It's not too surprising that Atlantic City has fallen on hard times, which may have made MGM's decision to buy out Boyd a curious choice.
Betting big on Borgata
When buying real estate, home buyers are always told to buy the worst house in the best neighborhood, not the reverse, yet that is exactly what MGM did. The Borgata is Atlantic City's biggest and best casino.
Image source: Getty Images.
Total year-to-date casino win for the Borgata through November was $665.7 million, some 32% of the more than $2 billion all seven casinos generated, and almost double its closest rival, Harrah's, which hauled in $328.9 million in 2016. It's also a 3.8% increase over the same period in 2015, though it means it's a bigger piece of a smaller pie.
In 2015, Atlantic City realized over $2.2 billion in casino win, but then the Trump Taj Mahal went bankrupt, Bally's stayed flat, and operators like Caesars Entertainment and Harrah's saw their wins decline by more than 5% year over year.
Data source: New Jersey Division of Gaming Enforcement. YOY = year over year. N/A = not available.
That dominance is why MGM didn't mind buying out Boyd, which has chosen to burnish its regional gambling business bybuying up a number of smaller casinos in Las Vegas's off-Strip market, including the Aliante Casino and the Cannery Casino. It also bought the Eastside Cannery Casino & Hotel in Henderson, Nevada.
MGM Resorts, of course, operates world-class casinos around the globe, and it's 50% stake in the Borgata, for which it paid Boyd $900 millionin August, fits that niche well. MGM Growth Properties, the REIT MGM created to own its casino real estate while it operates the gaming aspects of the business, also owns the Borgata property. It paid $1.18 billion for it and leases it back MGM.
Location, location, location
What's unique about Borgata in Atlantic City, and what should seemingly work against it, is that it's not located on the city's famed boardwalk, but rather off of it (as are the Golden Nugget and Harrah's). Yet it has continued to do well despite the city's financials woes, even though those problems could impact the $180 million in tax refunds it is still owed.
Still, when it reported third-quarter earnings in November, MGM was able to report significantly higher revenues and profits because it now fully owned the Atlantic City casino. Of the $0.93 per share in earnings it recorded for the period, $0.60 was related to a $430 million gain on the Borgata acquisition. The casino was also largely responsible for the 23% increase in casino revenue from the year-ago period.
MGM is betting New Jersey will financially stabilize the city, which should help casinos there begin to grow again. Voters rejected allowing casinos in the northern part of the state in November, something that could have doomed Atlantic City if it passed. But not only did its purchase of the Borgata give it full ownership and control of the top casino, it also gave it ownership of the casino's online gaming operations.
Image source: Getty Images.
Doubling down on online gambling
Borgata also dominates Atlantic City's online gambling market, with licenses for both BorgataPoker.com and PartyPoker.com. But with the launch last March of Amaya's (NASDAQ: AYA) PokerStars online platform through Resorts, the race for the top spot is going to get more intense. Its addition seems to have energized online gambling in the state everywhere but at the Borgata.
Data source: New Jersey Division of Gaming Enforcement. NM= not meaningful. YOY = year over year.
Even so, it allows MGM to expand its online gambling presence because unlike Nevada, which only allows Internet poker, Atlantic City allows a number of casino games to be played online.
Borgata is the premiere luxury resort casino in the east coast's storied gambling mecca, and even if the market surrounding it is challenging, as more states move to legalize online gambling, Borgata can use its leadership in the space to serve MGM Resorts well.
10 stocks we like better than MGM Resorts International When investing geniuses David and Tom Gardner have a stock tip, it can pay to listen. After all, the newsletter they have run for over a decade, Motley Fool Stock Advisor, has tripled the market.*
David and Tom just revealed what they believe are the 10 best stocks for investors to buy right now...and MGM Resorts International wasn't one of them! That's right -- they think these 10 stocks are even better buys.
Click here to learn about these picks!
*Stock Advisor returns as of January 4, 2017.
Rich Duprey has no position in any stocks mentioned. The Motley Fool is short Caesars Entertainment. The Motley Fool has a disclosure policy.