Was Las Vegas Sands' First Quarter as Bad as Advertised?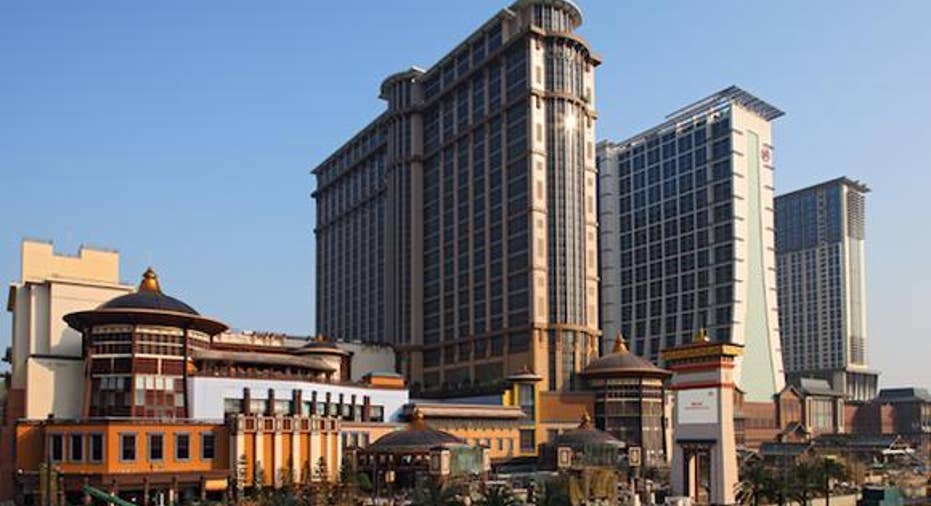 Sands Cotai Central. Image source: Las Vegas Sands.
Success or failure is often in the eye of the beholder, and in the case of Las Vegas Sands that sentiment holds very true today. On Wednesday after the market closed, the company reported first-quarter revenue of $2.72 billion and earnings of $320.2 million, or $0.40 per share. Hold-adjusted EBITDA, which is a proxy for cash flow from resorts, was a whopping $1.03 billion in just one quarter. But for the market, that wasn't enough.
Analysts had been expecting revenue of $2.88 billion and earnings of $0.63 per share on an adjusted basis (compared to the $0.45 reported), so the stock was down sharply in trading Thursday morning. But are things really as bad as they appear?
What you need to know about Las Vegas Sands in Macau Before getting into the detailed numbers, it's important to point out that Macau's overall gaming revenue declined 13.3% in the first quarter. That's the bar against which every company's results should be measured.
You can see below that three out of Las Vegas Sands' four resorts in Macau actually performed well in the quarter, compared to the Macau market as a whole, with only Sands Macau underperforming it. As the only property the company has on the Macau Peninsula, where Wynn Resorts has already said it will have weak numbers, even that's not a surprise.
Q1 2016 Revenue

Q1 2016 EBITDA

The Venetian Macau

$749.0 million

(4.9%)

$267.8 million

(0.8%)

Sands Cotai Central

$530.3 million

(7.3%)

$163.5 million

4.9%

Sands Macau

$175.1 million

(22.3%)

$31.0 million

(46%)

Four Seasons Macau

$148.3 million

(8.1%)

$48.2 million

8.3%
Source: Las Vegas Sands earnings report.
Good luck helped improve results for some of the resorts, particularly Sands Cotai Central, but Las Vegas Sands is still gaining share in Macau even after adjusting for luck.
Marina Bay Sands. Image source: Las Vegas Sands.
Singapore is a different story At Marina Bay Sands in Singapore, which is actually Las Vegas Sands' most profitable resort, results were a little weaker. Revenue fell 23.1% to $603.1 million and adjusted EBITDA fell 33.8% to $274.9 million (still a huge number for one resort). But that doesn't tell the whole story.
Casino revenue, which accounts for a vast majority of the resort's revenue, fell 28.3% in the quarter. But VIP gaming volume only fell 4.5% and mass-market volume only fell 9.2%. What led to the weak results was a very low hold percentage in VIP, meaning bad luck for the casino. Without that bad luck, revenue and EBITDA still would have fallen, but not by much.
Las Vegas continues to steadily grow In Las Vegas, revenue rose 2.3% to $384.9 million and EBITDA jumped 17.3% to $86.9 million. This is consistent with competitors like Wynn Resorts, which said it expects a small amount of growth in revenue at the midpoint of its first quarter preliminary results.
Las Vegas isn't going to be a huge growth market for Las Vegas Sands, but slow and steady will win the race.
What determines long-term success When you look at Las Vegas Sands' numbers in the context of the Macau market, they look a lot better than when you compare them to Wall Street analysts' guesses about what the numbers would be. And it's far more important to gain share in Macau long-term than to meet Wall Street's expectations.
What investors really need to watch over the next few quarters is the impact of new competition. Wynn Palace will open near the end of the second quarter and MGM Cotai will open sometime next year, competing with the resorts I listed above, and the soon-to-open Parisian for Las Vegas Sands. It's possible that LVS's market share might start to slip in a big way as new resorts enter the Cotai market that the company currently dominates.
Until that competition comes, I see a lot more positives in Las Vegas Sands' fundamentals than warning signs. And with the stock down in early trading, this could be a great buying opportunity for investors with a long time horizon.
The article Was Las Vegas Sands' First Quarter as Bad as Advertised? originally appeared on Fool.com.
Travis Hoium owns shares of Wynn Resorts, Limited. The Motley Fool owns shares of Wynn Resorts, Limited. Try any of our Foolish newsletter services free for 30 days. We Fools may not all hold the same opinions, but we all believe that considering a diverse range of insights makes us better investors. The Motley Fool has a disclosure policy.
Copyright 1995 - 2016 The Motley Fool, LLC. All rights reserved. The Motley Fool has a disclosure policy.