Was Baytex Energy Corp's Fantastic Run in 2016 Too Much?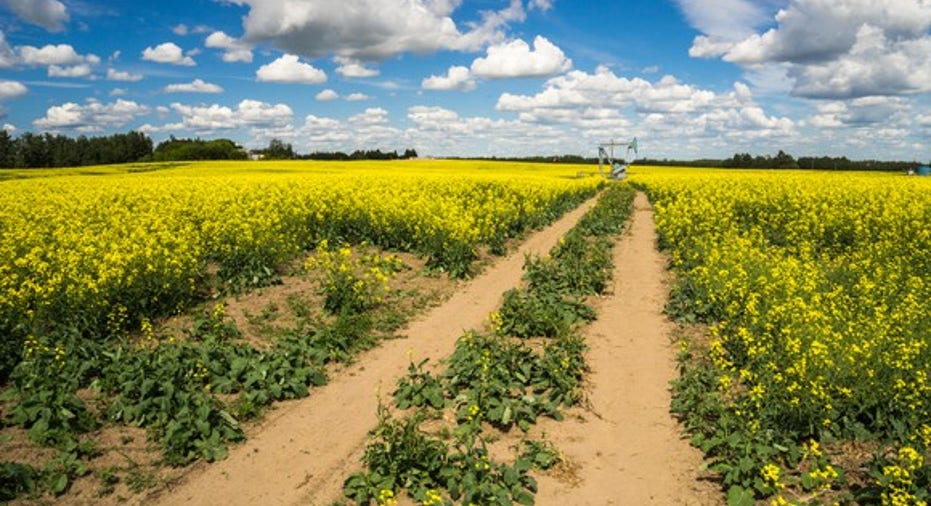 Image source: Getty Images.
Shares of Baytex Energy (NYSE: BTE) rebounded sharply in 2016, ending the year up nearly 50%. However, despite that fantastic run, the stock is still down more than 70% since the start of 2015 as a result of the disastrous 80.7% nosedive it took that year. While that implies the company has ample remaining upside, there are several challenges it must overcome before it can get back to where it was before oil prices started tumbling.
What went right in 2016
Baytex Energy stumbled into 2016 having spent most of the prior year focusing on reducing costs to stay afloat. It continued the cost-cutting efforts last year, slashing its capex budget 33% from an initial plan set in late 2015 to a range between 225 million Canadian dollars and CA$265 million. Furthermore, the company proactively shut-in 7,500 barrels per day of low- to negative-margin heavy oil production to maximize cash flow generation. As a result, the company forecast that production would decline from 84,648 barrels of oil equivalent per day (BOE/d) in 2015 to a revised range of 68,000 to 72,000 BOE/d, which represented a decline of 17.3% at the midpoint. Further revisions to the capex budget resulted in the company reducing the spending range and production estimate before settling on spending CA$225 for the year, which woulddeliver production between 69,000 to 70,000 BOE/d.
The reason Baytex Energy kept a tight rein on spending is that the company wanted to generate excess cash flow to improve its balance sheet. That plan worked, as it used a combination of free cash flow and minor non-core asset sales to reduce net debt by CA$186 million as of the end of the third quarter. In addition to that, the company also worked with lenders to amend its bank credit facility, agreeing to a reduction in its borrowing base to $575 million in exchange for a restructuring of its financial covenants, which provided it with more flexibility.
With its production decline stabilizing and balance sheet improving, Baytex Energy took advantage of an opportunity late last year to acquire assets in its core Peace River area for CA$65 million. The deal not only added 3,000 BOE/d of production but came with 3,000 BOE/d of shut-in production that it can restart in the future at the cost of about CA$30 million. Furthermore, the acquisition came with 153 future drilling locations, which increased Baytex's Peace River inventory by 75%. Despite a still-depressed stock price, Baytex chose to pay for the deal with a CA$115 million equity offering, which not only fully financed the transaction but provided it with some extra cash to pay down debt.
Image source: Getty Images.
What Baytex Energy must do in 2017 to continue its recovery
As a result of the actions taken in 2016, Baytex Energy believes it is now in the position where it can deliver sustainable growth at lower oil prices. In fact, the company has already put out a growth-focused capex budget for 2017 of CA$300 million to CA$350 million, which is enough capital to increase production by 3% to 4% from last year's exit rate. Furthermore, Baytex expects to achieve this growth while living within cash flow around current oil prices.
While that is a step in the right direction, Baytex Energy still has a long way to go. First of all, it only expects production to average between 66,000 to 70,000 BOE/d this year, which is a far cry from where output was in 2015.
Additionally, Baytex's2017 growth rate trails its Canadian rivals by a significant amount. For example, Crescent Point Energy (NYSE: CPG) expects to deliver a 10% increase in productioncompared to its exit rate at the end of last year. What's even more remarkable about Crescent Point Energy's growth is that it's off a base of 167,000 BOE/d, which is more than double Baytex's. Plus, Crescent Point Energy can finance the capital needed to deliver that production and pay its current monthly dividend while still living within cash flow as long as oil is above $52 per barrel. Meanwhile, Penn West Petroleum (NYSE: PWE) recently increased its 2017 production growth forecast to 15% above last year's exit rate. Penn West Petroleum believes it can deliver that growth while only spending 80% of anticipated funds from operations at current commodity prices. That means Penn West Petroleum should generate excess cash flow this year, which it could use to bring back its dividend.
As these rival plans show, Baytex Energy has more work to do this year. Topping that list is the need to continue pushing down both operating and capital costs so that it can generate more cash flow. That incremental cash flow could allow the company to grow faster at lower oil prices or reinstate its dividend.
Investor takeaway
While Baytex Energy enjoyed a nice run last year, its stock remains well below where it was two years ago. To get back to that peak, the company needs to find ways to improve cash flow, which would allow it to start pushing production back up toward 2015's level so that it can eventually start paying shareholders a dividend. While that is asking a lot for this year, it does show that the company could have tremendous upside as it continues to recover from the market downturn.
10 stocks we like better than Baytex Energy When investing geniuses David and Tom Gardner have a stock tip, it can pay to listen. After all, the newsletter they have run for over a decade, Motley Fool Stock Advisor, has tripled the market.*
David and Tom just revealed what they believe are the 10 best stocks for investors to buy right now... and Baytex Energy wasn't one of them! That's right -- they think these 10 stocks are even better buys.
Click here to learn about these picks!
*Stock Advisor returns as of January 4, 2017
Matt DiLallo has no position in any stocks mentioned. The Motley Fool has no position in any of the stocks mentioned. The Motley Fool has a disclosure policy.