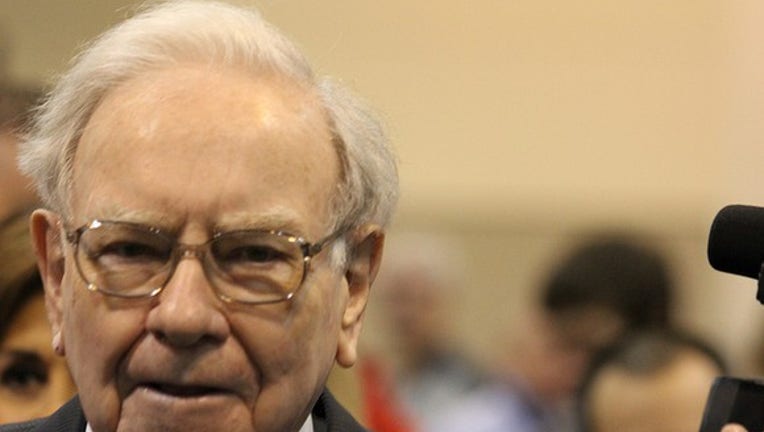 There are few things more valuable for serious investors to read each year than Warren Buffett's annual letter to the shareholders of Berkshire Hathaway (NYSE: BRK-A) (NYSE: BRK-B).
His letter for 2016, released early Saturday morning, is no exception. In it, Buffett covers his usual range of subjects, from the performance of Berkshire Hathaway and its operating units, to the future prospects of the United States, to advice for corporate executives and individual investors.
The whole letter is worth reading -- it is, after all, less than 30 pages long. But for those of you who want to view the highlight reel, here are my five favorite takeaways from Buffett's latest shareholder letter.
Warren Buffett, the chairman and CEO of Berkshire Hathaway. Image source: The Motley Fool.
1. On market panics
A growing number of high-profile investors and institutions have begun to issue warning signs that stocks are approaching unsustainable levels, following the market's surge in the wake of the presidential election.
Prominent hedge fund managers such as Ray Dalio and Seth Klarman have both touched on this in the past month, and the chief U.S. equity strategist at Goldman Sachs, David Kostin, wrote in a recent report that "financial market reconciliation lies ahead."
Buffett both buys this line of thinking and doesn't. While the market is certain to experience major declines, it's impossible to predict when they'll occur, he notes in this year's letter. At the same time, Buffett urges investors to look at these as opportunities to -- as he's said in the past -- be fearful when others are greedy:
2. On share buybacks
One of the hottest topics in the corporate world over the past few years concerns share buybacks. Tepid economic growth and lagging confidence have led companies to allocate excess earnings not into business investments, but rather into share repurchases.
In theory, there's nothing wrong with this, as stock buybacks are just another avenue for companies to return capital to shareholders. Done at the right price, moreover, they add value to existing shareholders' stakes. But in practice, as Buffett notes in this year's letter, companies tend to ignore this nuance, preferring instead to repurchase stock irrespective of price:
3. On competitive advantage
If there's one thing I've learned from reading Buffett's letters, it's about thecritical importance of competitive advantage. A company with a competitive advantage over others in its industry can continuously grow its market share while simultaneously earning superior returns.
And no competitive advantage is stronger than efficiency. A company that operates at a lower cost base than its competitors has the world at its fingertips, so to speak. It can underprice other companies in its industry, capturing many of their customers, and still generate wider margins and thus higher profitability.
As Buffett explains in this year's letter, Berkshire Hathaway's auto-insurance unit, Geico, offers a real-life demonstration of these forces in action:
4. On accounting red flags
Buffett prides himself on being a straight shooter. He calls things how he sees them and doesn't try to inflate the performance of Berkshire Hathaway through accounting adjustments that exclude temporary, but nevertheless real, costs, as so many companies do nowadays when reporting "adjusted earnings."
The 86-year-old billionaire has taken issue with this practice in the past, and he does so again in this year's letter:
5. On holding periods
If you scan the list of Berkshire Hathaway's major stock holdings on Page 19 of Buffett's latest letter, there's a glaring absence: Wal-Mart (NYSE: WMT).
At Berkshire's 2003 annual meeting, Buffett was asked what his biggest mistake was in recent years. His response: "Wal-Mart." As he went on to note: "I set out to buy 100 million shares of Wal-Mart at a [pre-split price of] $23. We bought a little and it moved up a little, and I thought maybe it will come back a bit. That thumb-sucking has cost us in the current area of $10 billion."
Two years later, in 2005, Buffett tried to remedy this matter by establishing a major position in the discount retailer. By 2016, Berkshire's stake in Wal-Mart was worth nearly $6 billion.
But that stake is no more, causing some investors to question Buffett's sincerity when he said in the past that he and Munger's favorite holding period is "forever." But as Buffett clarified in this year's letter, this rule applies to the whole companies that Berkshire owns, not its stakes in marketable securities:
That rounds out my five favorite lessons from Buffett's 2016 shareholder letter. But let me repeat: If you're a serious investor who's intent on getting better at the craft, there are few better ways to do so than digging into the Oracle of Omaha's letters yourself.
10 stocks we like better than Berkshire Hathaway (A shares)When investing geniuses David and Tom Gardner have a stock tip, it can pay to listen. After all, the newsletter they have run for over a decade, Motley Fool Stock Advisor, has tripled the market.*
David and Tom just revealed what they believe are the 10 best stocks for investors to buy right now... and Berkshire Hathaway (A shares) wasn't one of them! That's right -- they think these 10 stocks are even better buys.
Click here to learn about these picks!
*Stock Advisor returns as of February 6, 2017
John Maxfield has no position in any stocks mentioned. The Motley Fool owns shares of and recommends Berkshire Hathaway (B shares). The Motley Fool has a disclosure policy.