Warren Buffett's Favorite Value Stocks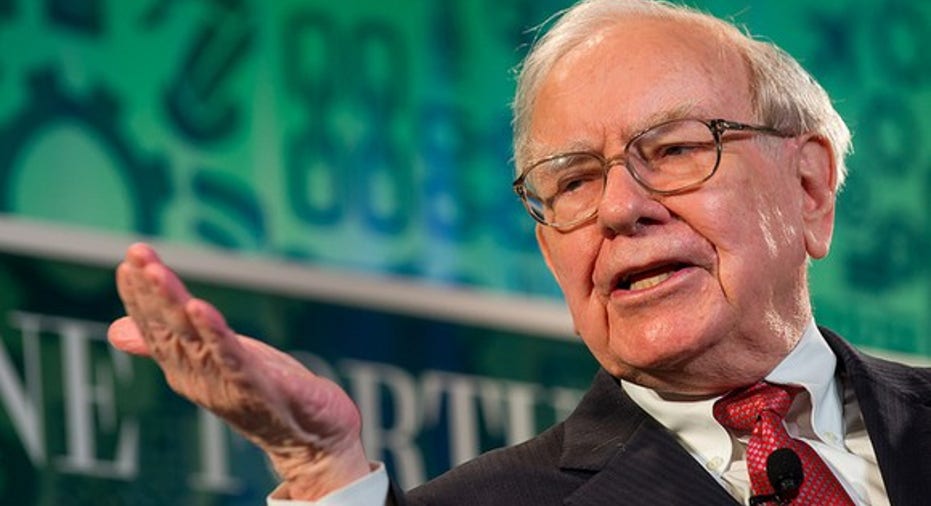 Image source: Fortune Live Media via Flickr.
When it comes to value investing, there's arguably no one better or more revered than Warren Buffett.
Buffett often gives a lot of credit to his mentor, Ben Graham, with regard to teach him how to appropriately value stocks, but it's Buffett's long-term approach to investing -- combined with his keen value assessments -- that have allowed him to be so successful. In six plus decades, Buffett has transformed less than $10,000 into a net worth of $68.4 billion as of Thursday, June 23. Not too shabby, right?
Warren Buffett's favorite value stocks
The centerpiece of Buffett's strategy is to find a solid business and acquire them when they're trading at a perceived discount to fair value. As Buffett has previously said,"The best thing that happens to us is when a great company gets into temporary trouble. ... We want to buy them when they're on the operating table."
Of course, picking out a value stock isn't as simple as it sounds. You can't throw a dart at a list of value stocks and necessarily expect a winner. Value stocks can still underperform over the long run if "temporary problems" prove to be more than temporary. This is where Warren Buffett's experience and skill as a stock-picker come in handy.
After perusing Berkshire Hathaway's portfolio, which consists of more than three dozen companies, some of which have multiple classes of shares, I was able to hone in on three value stocks that were trading well below a price/earnings-to-growth ratio (PEG ratio) of one. The PEG ratio factors in not only a company's current valuation relative to its profits but also takes into account its future growth rate when determining its perceived value. Generally speaking, a PEG ratio below one signifies a potentially cheap stock, whereas anything above two implies a possibly fully valued or overvalued stock. In this article, I used the five year expected PEG ratio.
Based on Berkshire's current holdings, these are Warren Buffett's favorite value stocks.
Image source: General Motors.
General Motors: PEG ratio of 0.35
Topping the list of value stocks for Warren Buffett is U.S. automaker General Motors with its minuscule PEG ratio of 0.35. Buffett's Berkshire holds 50 million shares of the car-making giant.
General Motors' "operating table moment" was its awful 2014, which saw the company announce 84 separate auto recalls totaling 30.43 million vehicles. The most notable of these recalls were for faulty ignition switches, which had been tied to at least 51 fatalities. In total, GM wound up shelling out $4.1 billion for its recalls, and it took yet another lump to its brand image following its reemergence from bankruptcy.
Yet Buffett sees a lot to like in America's iconic automaker. For starters, precipitously low lending rates in the U.S. and in other developed countries around the globe are creating a perfect scenario for auto sales to blossom. Low lending rates give consumers cheap access to capital, making it more likely that consumers will part with their discretionary income and purchase a vehicle.
General Motors has a substantial growth opportunity in foreign markets, as well. China has easily surpassed the U.S. in terms of the world's largest auto market, and its GDP growth is still well north of 6%. As China's middle class grows and its infrastructure expands into rural communities from its large cities, we're liable to see a new surge of vehicle owners flood the market. GM, along with its joint ventures, delivered 295,282 vehicles in May 2016, a record month that showed year-over-year growth of 16.9%.
Meanwhile, General Motors' focus on in-cabin luxuries, such as built-in infotainment systems and touchscreen technology, is paying big dividends in U.S. markets.
Sporting a dreamy 5.2% dividend yield and forward P/E of just five, GM is hands-down Buffett's cheapest holding based on PEG.
Image source: USG Corporation.
USG Corporation: PEG ratio of 0.56
Next in line we have building materials manufacturer USG Corporation , a company that Berkshire Hathaway has held in its portfolio for more than 15 years. Berkshire owns a little more than 39 million shares of USG, which works out to nearly $1 billion in total market value, and nearly 27% ownership in the company.
The "operating table moment" for USG was the housing bubble of 2008-2009 that nearly wrecked homebuilders and the companies that supply them. USG provides gypsum and related products for walls, ceilings, and roofs used in the construction of residential, commercial, and institutional buildings. Since essentially no company associated with construction was spared during the Great Recession, USG witnessed its sales plunge by 50%.
Fast-forward to 2016 and things are much better. USG reported an all-time best quarter for its U.S. ceilings segment in Q1, with operating margin improving to 22.7% from 16.5%, while adjusted net income grew to $63 million from $44 million. Like GM, USG is benefiting from accommodative monetary policy, which is keeping lending rates low and encouraging enterprise customers to keep building and expanding. With the Fed recently lowering its intermediate-term federal funds rate target forecast through 2018, it would appear that the allure of borrowing at a cheap cost is going to continue for at least the next year or two, which bodes well for USG's businesses.
The ongoing rebound in construction is also a boon to USG's pricing power. In Q1 it recorded a 20% increase in wallboard volume but a 2% decrease in pricing, which the company mostly attributed to product mix. However, the press release also notes that a price increase in wallboard has essentially taken care of this negative price mix through the first couple of weeks of Q2.
At 12 times forward earnings and a PEG of 0.56, USG could lay a foundation for big gains in your portfolio.
Image source: Getty Images.
Goldman Sachs: PEG ratio of 0.57
The final deeply discounted value stock in Buffett's portfolio is investment banking giant Goldman Sachs . Berkshire Hathaway is currently holding almost 11 million shares of Goldman Sachs' stock, worth about $1.7 billion.
The "operating table moment" that's intrigued Buffett has been Goldman's steadfastness to stick with its fixed-income growth strategy. Tightening industry regulations and a volatile stock market have made it very difficult for Goldman to make a market in bond trading. This has ultimately weighed on its margins and profits, resulting in the company recording a 23% decline in investment banking revenue in Q1 and a 37% dive in institutional client service revenue.
What Buffett probably sees in Goldman is its leading position in facilitating corporate mergers and acquisitions, as well as a company that could easily regain its bond market trading dominance once the Federal Reserve begins calming markets and normalizing lending rates. Chances are unlikely that lending rates will remain near these historic lows for a very long period of time, which does eventually bode well for the bond market, and thus for Goldman.
Goldman Sachs also has a very generous shareholder return policy in place. Although it does pay out what amounts to $2.60 annually in dividends, it's Goldman's share buyback program that can really boost its profitability and make the company appear more attractive from a valuation perspective. Earlier this year my Foolish colleague and Goldman Sachs shareholder John Maxfield,noted that Goldman has repurchased an average of $1.3 billion worth of its common stock every quarter since 2012. These repurchases can do wonders for Goldman Sachs' valuation by lifting its EPS and reducing its P/E ratio.
Valued at only nine times forward earnings and a PEG of 0.57, it might be worth taking a closer look at this value stock.
The article Warren Buffett's Favorite Value Stocks originally appeared on Fool.com.
Sean Williamshas no material interest in any companies mentioned in this article. You can follow him on CAPS under the screen nameTMFUltraLong, and check him out on Twitter, where he goes by the handle@TMFUltraLong.The Motley Fool owns shares of and recommends Berkshire Hathaway (B Shares). It also recommends General Motors. Try any of our Foolish newsletter services free for 30 days. We Fools may not all hold the same opinions, but we all believe that considering a diverse range of insights makes us better investors. The Motley Fool has a disclosure policy.
Copyright 1995 - 2016 The Motley Fool, LLC. All rights reserved. The Motley Fool has a disclosure policy.