Warren Buffett Sold These Goliath Stocks -- Should You Too?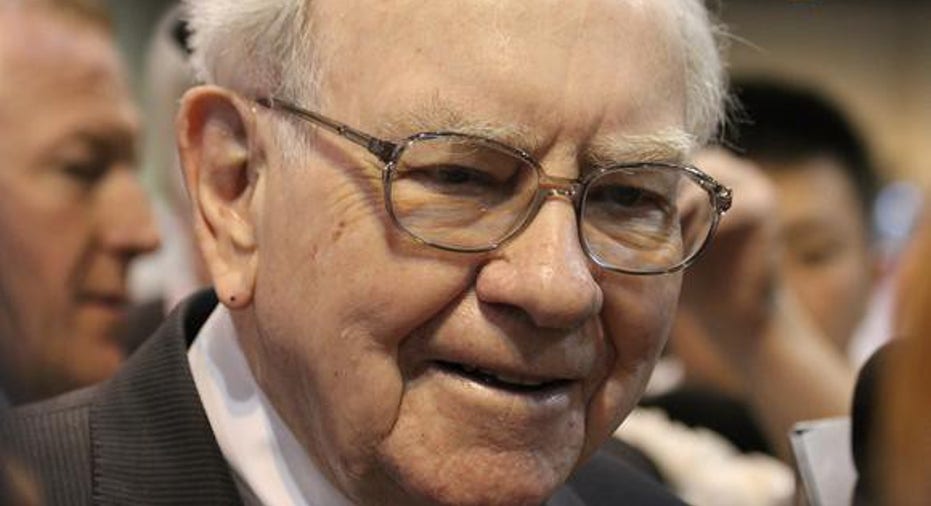 Billionaire investor Warren Buffett probably isn't on your speed dial, but you can still know what stocks he's selling. Buffett files a 13-F report with the Securities and Exchange Commission every quarter that highlights his buys and sells. The Oracle of Omaha filed this report with regulators Monday morning and Monday's filing shows he soured on two megacap companies: AT&T Corp and Wal-Mart Stores . Is it time to remove these market Goliath's from your portfolio too?
No. 1: AT & T
In the fourth quarter, Buffett tipped his hand that he's worrying about the telecom giant by unloading 20% of his stake. Last quarter, he tossed his remaining 50 million shares.
Selling AT&T suggests that Buffett and Berkshire Hathaway portfolio managers Todd Combs and Ted Weschler believe AT&T may struggle to monetize its massive acquisition of DirecTV from last year -- especially as content increasingly shifts online.
In the past, AT&T has fueled subscriber growth (and a sizable dividend) by providing higher quality to customers than its rivals. However, AT&T's quality advantage may be declining as investments in technology pay off for low-cost competitors.
If AT&T's quality advantage is narrowing, then it will need to spark sales and reduce customer chun by relying more on bundling services with DirecTV. However, it's not a given that strategy will pan out. The market has become very competitive and that may mean a margin-busting price war is on the horizon.
Although Buffett's souring on AT&T isn't a confidence builder for AT&T investors, Berkshire Hathaway typically doesn't favor high dividend paying companies. Since AT&T is a staple in dividend hungry portfolios and steady-eddy stocks yielding 4.9% are few and far between, investors might not want to follow Buffett to the exits on this one.
Image source: Wal-Mart Stores
No. 2: Wal-Mart Stores
Buffett didn't sell his entire stake in Wal-Mart last quarter, but he did pare it back by 949,430 shares.
The nearly one million share reduction leaves Berkshire Hathaway with 55.2 million shares in the retail Goliath, but Buffett isn't shy about unloading big stakes like this in a hurry when it's warranted, and that could mean that Wal-Mart is gone from his portfolio by the end of the second quarter.
In February, Wal-Mart reported that store closures, slowing online sales, and a strong U.S. dollar led to total revenue in the holiday season slipping 1.4%. Those three trends probably continued to weigh on results in the first quarter, but we won't know for sure until the company reports its fiscal 2017 first quarter results on May 19.
Although currency conversion headwinds are taking a big bite out of Wal-Mart's results, investors probably shouldn't worry too much about them. After all, currency exchange risk comes part and parcel with multinationals.
However, investors might want to pay particular attention to what Wal-Mart says about its online sales when it reports its results in a few days. Last quarter, management said its online sales growth had slipped from 22% in fiscal year 2015 to just 8% in the fiscal fourth quarter. If that deceleration in e-commerce growth continues, then it could signal that Amazon has side-stepped Wal-Mart's challenge. If that's the case, then Wal-Mart could struggle to find new avenues to fuel growth in the future.
The article Warren Buffett Sold These Goliath Stocks -- Should You Too? originally appeared on Fool.com.
Todd Campbell owns shares of Amazon.com. Todd owns E.B. Capital Markets, LLC. E.B. Capital's clients may have positions in the companies mentioned. Like this article? Follow him on Twitter where he goes by the handle @ebcapital to see more articles like this. The Motley Fool owns shares of and recommends Amazon.com and Berkshire Hathaway. Try any of our Foolish newsletter services free for 30 days. We Fools may not all hold the same opinions, but we all believe that considering a diverse range of insights makes us better investors. The Motley Fool has a disclosure policy.
Copyright 1995 - 2016 The Motley Fool, LLC. All rights reserved. The Motley Fool has a disclosure policy.